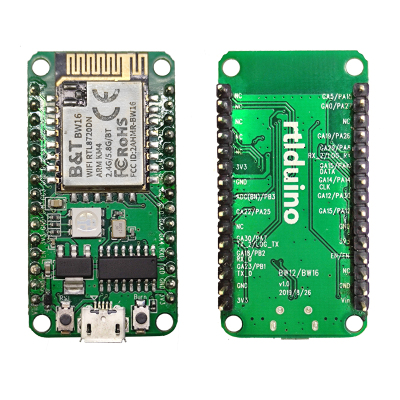 Rtlduino RTL8720DN Dual-Band WiFi Board With 2.4/5GHz Wireless MCU Sells for $6
Before now, most of the WiFi modules that we come across in the IoT space are the ones that work at only 2.4GHz. But things are fast-changing and we are beginning to see a number of them offering dual-band (2.4GHz and 5Ghz) WiFi, one of which is the B&T BW16 dual-band IoT module.
The B&T BW16 module is based on the Realtek RTL8720DN wireless MCU and sells for $3.90 minus shipping fees. If you like how cheap it is and you are interested in it but do not feel like soldering wires or creating your own baseboard, then you will be glad to further meet the new dual-band IoT board called Rtlduino RTL8720DN.
The Rtlduino RTL8720DN in a compact form factor is fitted with a B&T BW16 module and offers an easy way to evaluate the RTL8720DN dual-band WiFi and Bluetooth LE 5.0 microcontroller. The Rtlduino RTL8720DN board is also affordable and sells for only $6 plus shipping.
Here are some of the key features and specifications that the Rtlduino RTL8720DN board has:
B&T BW16 wireless module with:

Realtek RTL8720DN MCU with KM4 Arm Cortex-M4 core @ 200 MHz and KM0 Arm Cortex-M0 core @ 20 MHz
WiFi 2.4G and WiFi 5G with protocol 802.11 a/b/g/n 1×1 from 20/40 MHz up to MCS7
WiFi low power mode support
Bluetooth 5.0 LE support with a frequency range of 2.402GHz – 2.480GHz; Receiver sensitivity of -92 dBm; Transmit Power of +7 dBm
IPEX connector or PCB Antenna
16x castellated holes with GPIO, 2x UART, 1x I2C, 1x SPI, 4x PWM, 1x ADC, 3.3V, GND, and,
3.3 ±5% supply voltage.
Temperature Range: From -20°C to 85°C (operating);  from -40°C to 125°C (storage)
Relative Humidity: 10% ~ 90%
Dimensions: 24 mm x 16 mm x 3 mm
Certifications: FCC, CE, RoHS, and, SRRC

1x Micro USB port
2x 15-pin headers with BW16 I/Os
Reset button
Burn button
RGB LED
5V power supply via Micro USB port
Dimensions: 49 mm x 26 mm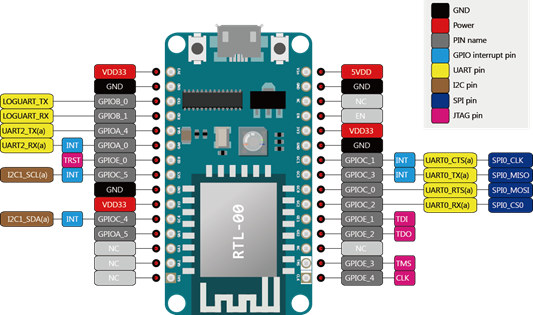 If you're interested in getting one, the Rtlduino RTL8720DN board is currently available and can be purchased at $6 (with shipping) on Aliexpress.
You will find the SDK and a getting started guide that explains how to get started in Windows or Linux here, but if you want a detailed explanation on how to use the board with Arduino IDE plus sample codes for blinking an LED, you can check Arduino China forum or the ambd_arduino repo on Github if you prefer English. Thanks to the person nicknamed "a2302004040" for helping out with most of the explanations.
Join 97,426 other subscribers

Archives