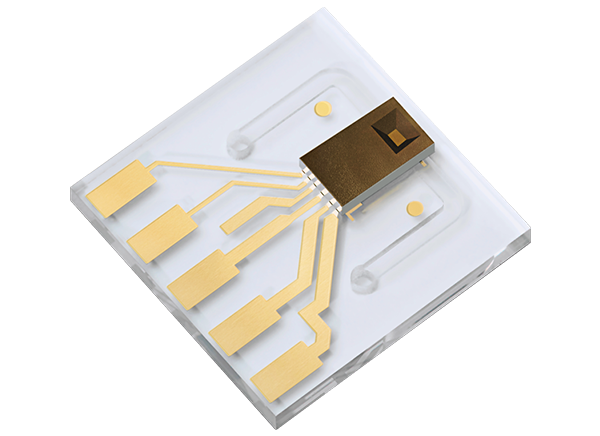 Sensirion LPG10-1000 Digital Planar Liquid Flow Sensor
Sensirion LPG10-1000 Digital Planar Liquid Flow Sensor provides high performance and speed in measuring liquid flow in a planar microfluidic glass substrate with down-mount fluidic ports for highly compact integration into any fluidic manifold system. Measuring 10mm x 10mm x 2.35mm3, the LPG10-1000 is ideal for high-volume applications with strict space limitations. Microfluidics chips and digital microsensor chips are combined to measure liquid flow inside a planar glass substrate. The digital microsensor chip provides full signal processing functionality for a fully calibrated, temperature compensated, linearized digital output.
The LPG10-1000 is a smart sensor solution offering flow rates from the low microliter per minute to 1ml/min. Glass, the wetted material, ensures optimum compatibility with biological and pharmaceutical processes. Due to the small thermal mass, response times below 30ms can be reached. The Sensirion LPG10-1000 Digital Planar Liquid Flow Sensor also offers real-time detection of failures such as clogging, air bubbles, or leaks.
Features
Ultra-small 10mm x 10mm x 2.35mm size
Excellent repeatability
Completely calibrated, digital linearized output signal
Excellent media compatibility and chemical resistance
Media isolated sensing principle – no direct sensor contact with the fluid
Bio-compatible and consists of inert materials
Digital I2C interface
Specifications
1000µl minimum full-scale flow rate
1500µl minimum sensor output limit
Response time

40ms for flow detection
120ms for power-up

Temperature ranges

+5°C to +50°C operating
-40°C to +60°C storage

0 to 95% humidity, non-condensing
3bar (43psi) recommended maximum operating pressure
7bar (101psi) burst pressure
Digital sampling time

74ms at 16-bit
1ms at 9-bit

3.3VDC to 3.6VDC operating voltage range
<6mA typical operating current
Borosilicate glass internal substrate channel material
Downmount fluidic connection
0.1mbar pressure drop at the full-scale flow rate
~11.7µl total internal volume
~0.32g total mass
~0.9mm x 0.9mm cross-section flow channel
Development Tools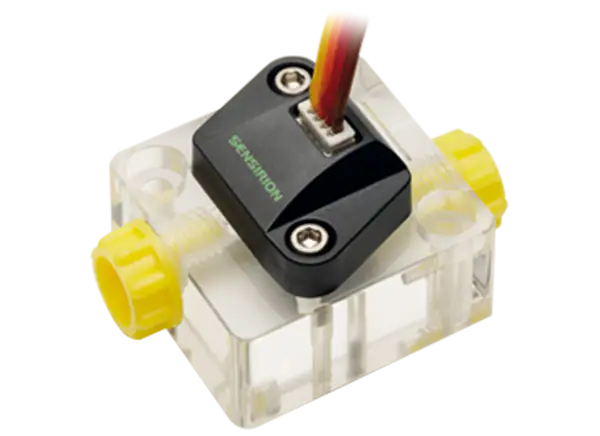 Sensirion LPG10-1000 Evaluation Kit
Evaluation kit for testing the LPG10-1000 Digital Planar Liquid Flow Sensors.
Sensirion LPG10-1000 Evaluation Kit includes one LPG10-1000 sensor, preassembled in a fluidic manifold (PMMA), featuring ¼-28 flat bottom fluidic fittings. The fluidic seal between sensor and manifold is ensured using two O-Rings (FKM). The included connector cap secures the sensor to the manifold and features a 4-pin Molex connector. The included Molex adapter cable, USB cable, and software allow for easy evaluation using a PC.
Kit Contents
1x LPG10-1000 sensor, preassembled in a fluidic manifold (PMMA), featuring ¼-28 flat bottom fluidic fittings
2x O-Rings (FKM)
Connector cap with a 4-pin Molex connector
Molex adapter cable
USB-cable
Software
More information:
Join 97,426 other subscribers

Archives