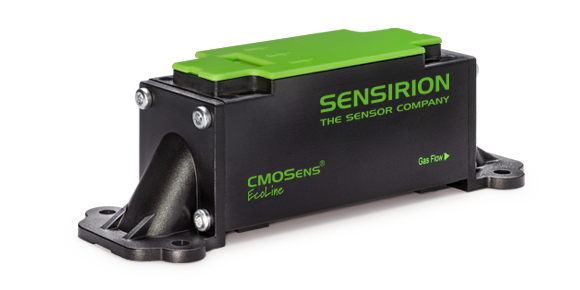 Sensirion Presents Pressure-Resistant Mass Flow Meter
The SFM4200 mass flow meter is a new star in the Sensirion range. Thanks to its high pressure resistance, it can be operated at pressures of up to 8 bar and measures flow rates up to 160 slm with a rapid signal processing time of 0.5 ms. It is particularly suitable for gas mixing in medical applications.
Sensirion is one of the leading manufacturers of innovative sensors and sensor solutions that millions of people rely on every day. With the launch of the SFM4200 digital mass flow meter, Sensirion has once again underscored its commitment to innovation. The SF4200, which measures air, oxygen and other non-corrosive gases with an outstanding level of accuracy, is pressure-resistant than its predecessors and can be operated up to 8 bar pressure, while delivering reliable and precise measurements. With a signal processing time of 0.5 ms, the sensor is incredibly fast, as well as highly accurate. Its pressure resistance makes it ideally suited to high-volume medical applications such as oxygen gas mixing in respiratory applications, where the sensor is integrated into the high-pressure side. Customers can therefore install the SFM4200 flexibly, allowing them to use it to significantly develop their own products or to transform the design.
Success with proven technology
The SFM4200 operates from a 5 Volt supply voltage and features a digital two-wire I2C interface. The measurement results are internally linearized and temperature compensated. The outstanding performance of this sensor is based on Sensirion's patented CMOSens® sensor technology, which combines the sensor element, signal processing and digital calibration on a single microchip. The flow rate of the gas is measured by a thermal sensor element which assures very fast signal processing time and bidirectional measurement with best-in-class accuracy. The well-proven CMOS Technology is perfectly suited for high-quality mass production and is the perfect choice for demanding and cost-sensitive customer-specific applications.
At this year's MD&M West, Sensirion is presenting both new and further developed sensors for humidity and temperature, gas flow and liquid flow as well as differential pressure. Visit Sensirion at booth #811 from February 6 to 8 to learn more about the SFM4200 and latest cutting-edge products. More information is available on Sensirion's website.
Join 97,426 other subscribers

Archives