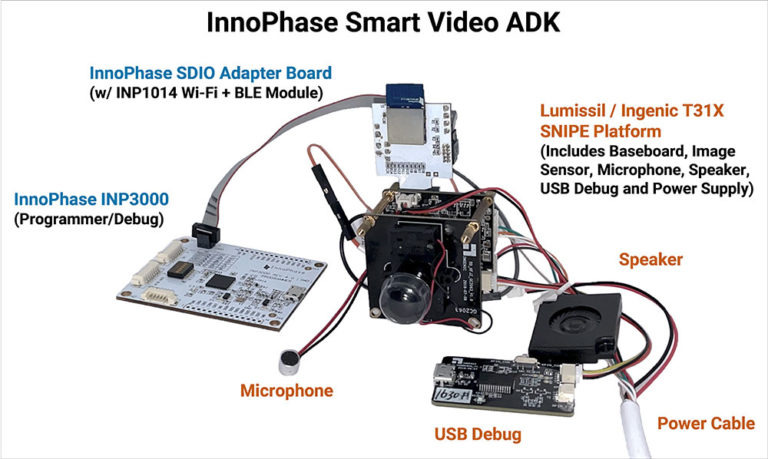 Smart Video ADK with exteded battery life
Specialist in extreme low-power wireless IoT modules and a fabless semiconductor company, InnoPhase has announced its partnership with Ingenic Semiconductor Co Ltd. which is known to be superior in the world of microprocessors and CPU technologies. The primary aim of this partnership is to jointly market AI-vision systems. This remarkable collaboration has launched its Smart Video ADK (Application Development Kit) based on InnoPhase's Talaria TWO WiFi module and Ingenic's T31 Video Processor.
The incredible run of this Smart Video ADK is largely due to Talaria TWO and T31 video processors. Talaria TWO Wifi Module's digital radio offers ultra-low power cloud connectivity and T31 Video Processor provides quick, high-performance image processing. Providing deep learning algorithms, Smart Video ADK enables a user to create cutting-edge solutions. Integrating the Smart Video ADK with high-performance video processing and Wi-Fi networking made it possible to build a low-power device.
Specifications of Core Components
The SoC's novel architecture meets the requirements of video devices such as high-performance processing and encoding of high-quality photos and videos.
The CPU provides ultra high-frequency up to 1.5GHz and an independent RISC-V lite core. This video processor also gets an SMD128-based Vector Deep Learning accelerator enhancing the 3D graphics and audio/video processing.
It consists of an H.264/H.265/MJPEG video encoder having a maximum resolution of 2592 x 1920 at 30fps along with a memory capacity of 512Mbit or 1Gbit.
Ingenic's T31 video processor includes low light and surveillance scenario-specific optimizations. It features 2D / 3D noise reduction and distortion correction to achieve clear image quality for better object recognition.
The featuring integrated Audio Codec encodes/decodes the echo-less audio with the support of an I2S interface for the video processor.
The T31 video processor has applications such as mobile cameras, security surveys, video analysis, and video and voice communication.
For more information on this video processor, visit the official website.
InnoPhase Talaria TWO Wifi Module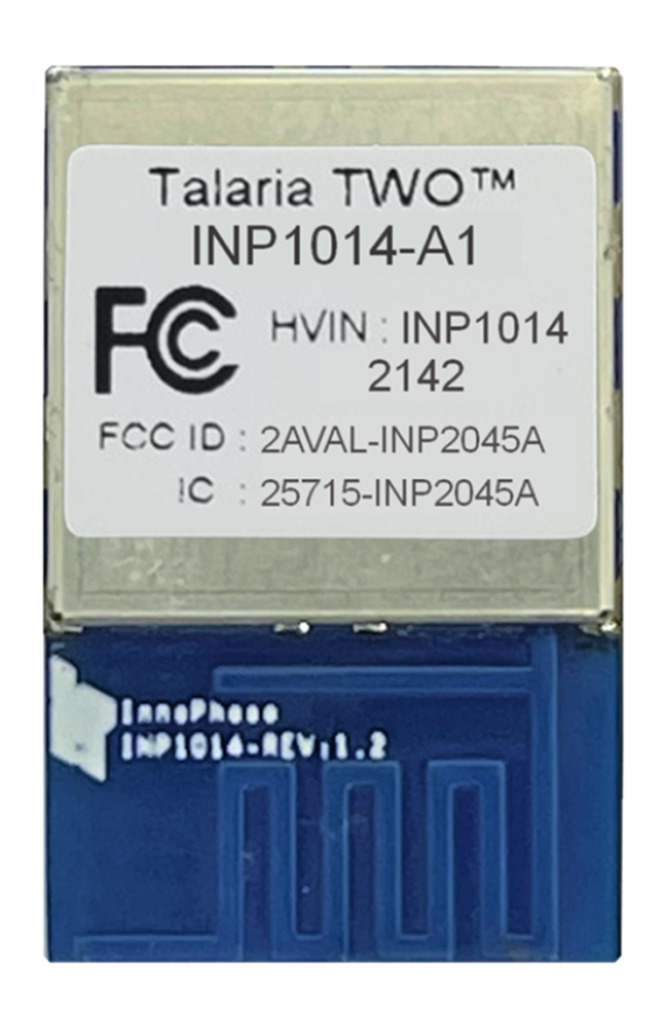 The Talaria TWO platform is the most power-efficient solution with single-band 802.11b/g/n Wi-Fi and Bluetooth Low Energy (BLE) 5.0 long-range wireless standards.
With the Arm Cortex-M3 running at 800 MHz, it supports maximum frequency up to 2.4GHz.
The Talaria TWO consists of an SDIO peripheral interface to link with the T31 video processor.
Ultra-low-power Wi-Fi maintains internet/cloud connectivity for battery-based products. It also features a "Dual-Stack" software that divides the processing work between the T31 and Talaria TWO for low power consumption.
Due to its exceptionally low constant current, the device facilitates a new generation of battery-operated direct-to-cloud IoT devices.
Smart homes and surveillance, asset tracking, smart buildings, and equipment maintenance can be some of its applications.
For more information on InnoPhase Talaria TWO check out our blog.
Smart Video ADK's modes of operation
A user can operate this smart video kit in two modes:-
Wi-Fi Idle Connected Mode
Talaria TWO is linked to a Wi-Fi router, where it processes beacons and sends Keep-Alive messages as needed.
Ingenic T31 Video Processor platform is completely shut down
Active Video Capture Mode
The Ingenic T31 actively captures video in High-Resolution/30fps and transmits it to the Talaria TWO through the SDIO interface.
Talaria TWO remotely transmits vast data packets utilising high-bandwidth Wi-Fi.
Smart Video ADK's Long Lasting Battery Life

The main focus of this Smart Video ADK is to provide a less power-consuming battery. As a result, the idle Wifi usage is incredibly low, allowing the active video capturing mode to use its maximum power. The estimated battery life is 14.4 months on a 3000mAh while operating at a 99.3% idle with a 0.7% video capture ratio. This will give rise to AI cameras that can work for several months on a single charge under any circumstances.
Standard Linux commands can easily control and instruct the Wifi and BLE wireless connections. The Ingenic T31 provides Linux drivers as well as AI algorithms for person detection, facial detection/recognition, cry detection, vehicle detection, pet detection and also quick start and user guides. Therefore this Smart Video ADK can be used as security cameras, baby monitors, access control systems, and identity verification systems.
In the press release Wiren Perera, Vice President and the General Manager at InnoPhase said
"The incredible power efficiency of InnoPhase's wireless modules along with Ingenic's industry-leading T31 video processor will be a game-changer for our joint customer."
To know more about the product and its availability, visit the product page.
Join 97,426 other subscribers

Archives