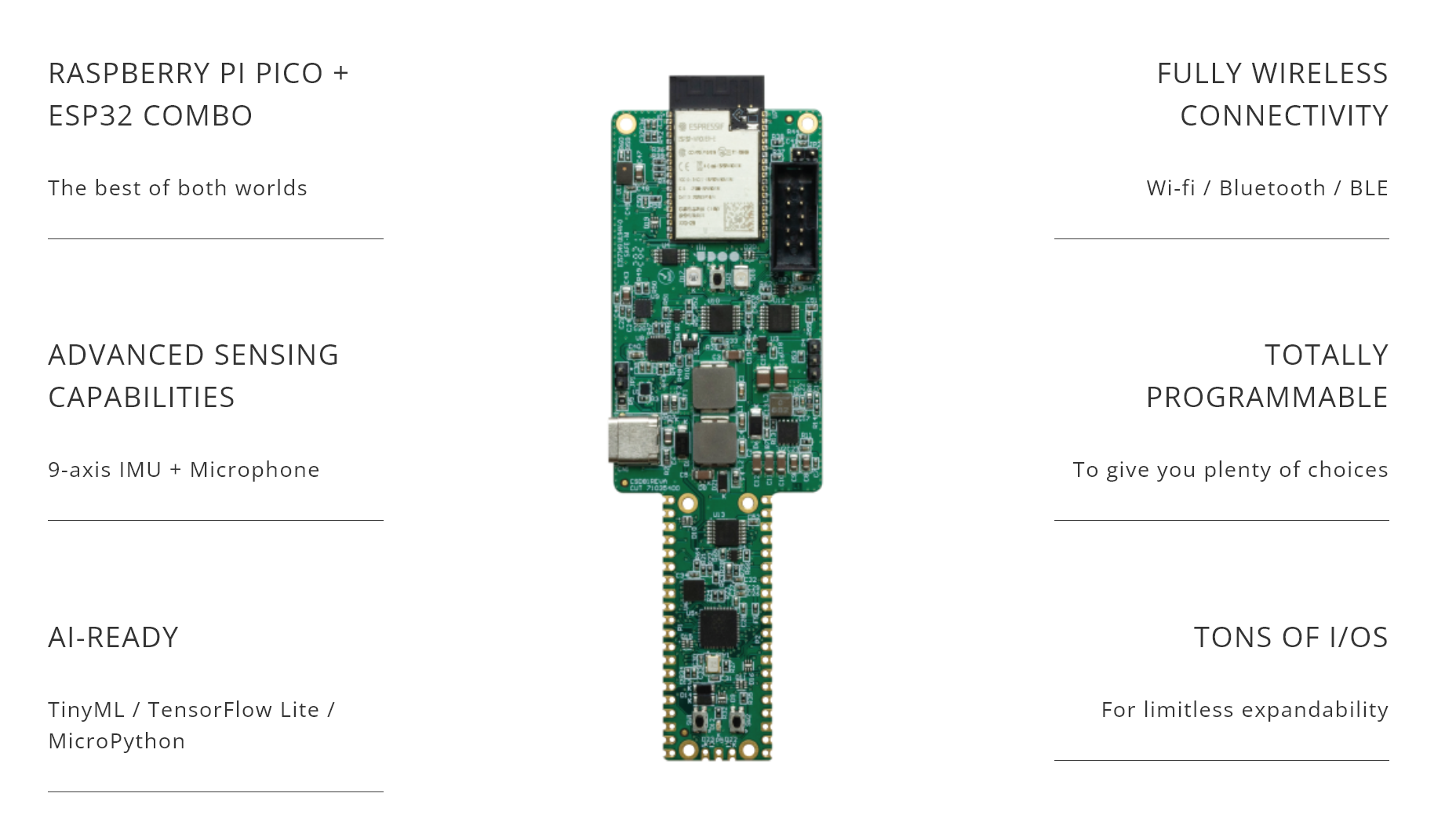 UDOO KEY — A Raspberry Pi RP2040 + ESP32 AI Board Coming Soon For $20
A number of AI boards have reached the hardware market for DIY and makers in the past years but none seem to be as flexible as the UDOO KEY. The UDOO KEY is an UDOO-Italy newest launch created with both Raspberry Pi RP2040 and ESP32 on a single board for flexible AI solutions.
The board is fully programmable to give flexibility of choices, allowing the use of either RP2040, ESP32, or both at the same time for applications. The RP2040 based aspect of the board features dual ARM Cortex-M0 with 64 M-bit external QSPI flash, 246KB SRAM and 133MHz speed while the ESP32 compatible compatible part carries a dual-core Xtensa 32-bit LX6 with 16MB flash, 8MB PSRAM, WiFi, Bluetooth and Bluetooth Low Energy (BLE). The ESP32 module also supports full access to ESP32 firmware for programming on your terms.
The UDOO KEY is built to grant user access to UDOO's AI platform, Clea, and pre-trained AI models for quick solutions in DIY, IoT analytics, over-the-air updates and AI applications. The UDOO KEY supports an accessory compatible with Raspberry Pi Pico and Olimex UEXT modules – ESP32 support. The board is also equipped with a 9-axis IMU and a microphone for high-end sensing functionalities as well as several inputs and output interfaces for large expandability.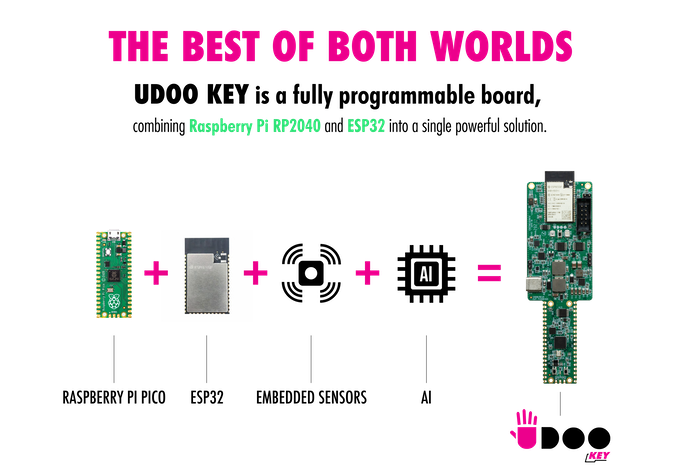 The UDOO KEY also supports serial communication via a serial port and can be programmed through a USB-C port. The UDOO KEY is promoted as an open-source and open-hardware device and UDOO promises to release its BOM and Schematics as soon as shipping begins.
Key Features and Specifications Include:
ESP32-WROVER MCU — 8MB PSRAM, 16MB flash
RP2040 MCU — 246KB SRAM, 64M-bit QSPI flash
Wi-Fi, Bluetooth and BLE
9-AXIS IMU motion sensor and Omnidirectional digital microphone
5V DC via USB-C
ESP32-WROVER-E — UEXT connector (I2C, SPI, UART)
RP2040 — 26 GPIO pins (with 3 analog inputs), 2 x UART, 2 x SPI controllers, 2 x I2C controllers, 16 x PWM channels, 8 programmable I/O
Dimension: 130 mm x 40 mm
As for the software, both the pico and ESP32 MCU support TinyML, TensorFlow Lite, MicroPython, C/C++ programming environment, Arduino IDE, and a fully open-source free RTOS firmware. It also supports some common and ready-to-use SDKs and Clea. Clea is an AI and IoT platform based on Astarte and Edgehog open-source projects. While Astarte allows management and processing of IoT data with ESP32 SDK of ESP-IDF, Edgehog allows fleet management and over-the-air updates.
The UDOO KEY supports applications like predictive maintenance, sound recognition, keyword recognition, object detection, gesture recognition, and face recognition.
As of this writing, the campaign for UDOO KEY just ended on Kickstarter under 12 rewards between $4  and $382 with estimated delivery in January 2022 (worldwide). Its sales are expected to commence soon, but you can keep in touch with UDOO by signing up with your email to know when the UDOO KEY is available.
Other useful details on the board can be found on the company's website and on the Kickstarter page.
Subscribe to Blog via Email
Join 97,477 other subscribers
Archives