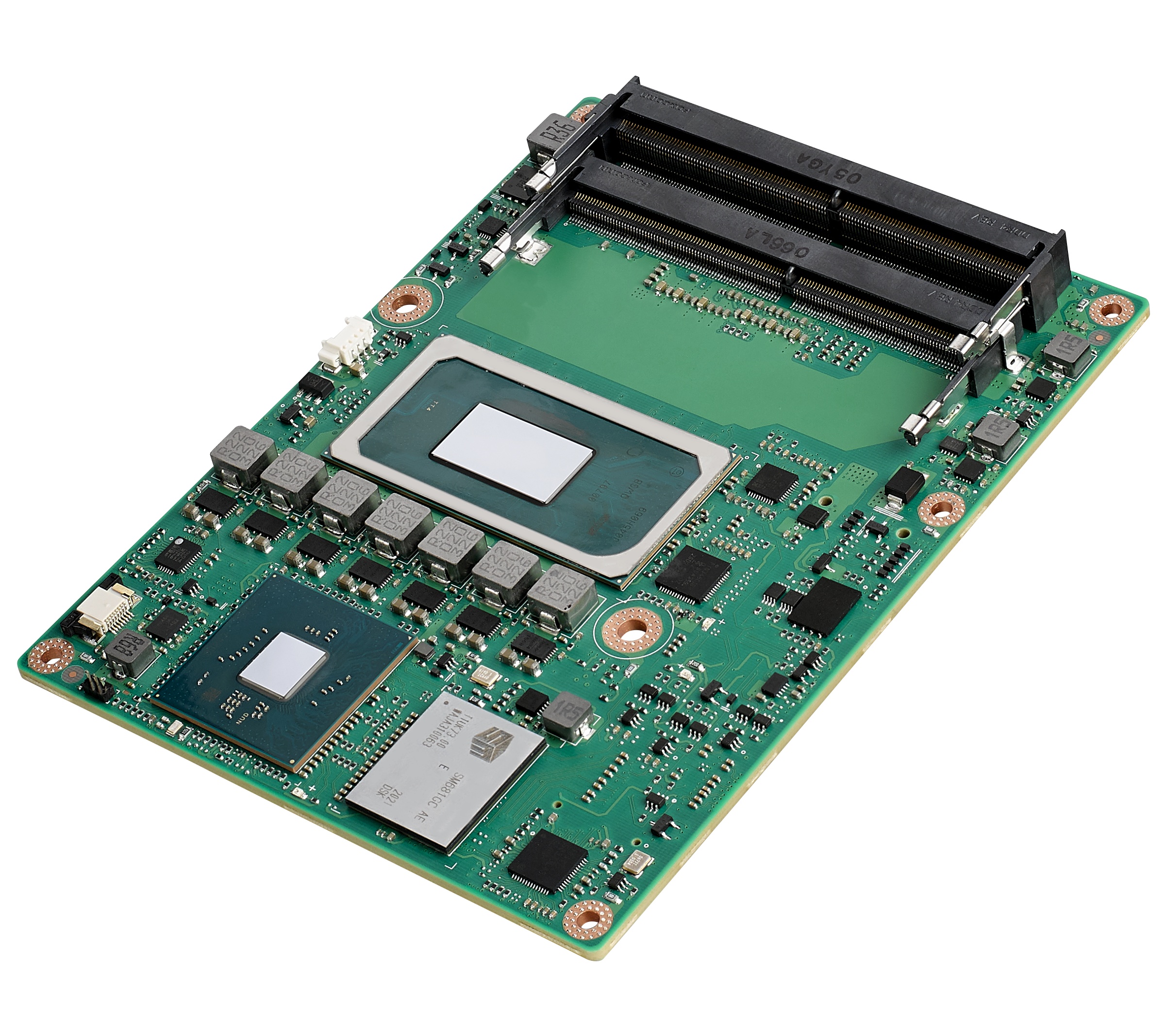 SOM-5883 with 11th Gen. Intel® Core™ Processors Empower Breakthrough Performance and Next Gen. I/O Expansion
Advantech, a leading embedded and AIoT solutions provider, has released the new SOM-5883 Computer-on-Module for high-performance edge computing applications. SOM-5883 is a COM Express Basic Type6 Module, with integrated 11th Gen. Intel® Core™ processors (formally called Tiger Lake-H). It offers octa-core computing performance under TDP 45Watt, with excellent Intel Iris Xe graphics and ready-to-use Edge AI Suite software toolkit, making SOM-5883 an ideal solution for medical imaging and AI applications.
To resolve the heavy workload of image processing applications, SOM-5883 is designed to support up to 128GB DDR4 3200 SODIMM, with high capacity and high-frequency memory technology paired with ground-breaking computing and graphics performance. In addition, there are numerous super speed I/O interface including PCIe Gen4(16GT/s) and USB3.2 Gen2(10Gbps), 2.5Gbase-T for enhanced system expansion. With optional NVMe SSD and TPM2.0 onboard design, -40~85oC operating temperature and 8.5~20V power input, SOM-5883 is more reliable and delivers greater security for edge computing requirements.
Breakthrough Performance: Octa-Core 11th Gen. Intel Processors and QFCS
Equipped with 11th Gen. Intel Processors, SOM-5883 is the first COM Express Type6 module that supports up to 8 Core processors and 128GB DDR4 memory. The SOM-5883 offers a 1.7X computing performance growth and 1.5X 3D graphics upgrade. Advantech provides Edge AI Suite containing Intel Open VINO and more than a hundred AI models to help customers quickly find the right SKU of target AI performance. SOM-5883 has four independent displays up to 4K over three DisplayPort 1.4/HDMI 2.1, optional eDP or LVDS, and VGAl, and it is configurable up to two ports 8K HDR outputs.
Moreover, this product boasts excellent power efficiency ensuring outstanding computing performance while keeping the same 45-Watt CPU TDP as former generations, making it an ideal update on existing systems. With Advantech's unique QFCS (Quadra flow cooling system) thermal technology, SOM-5883 can release 100% CPU power and deliver optimal performance. The thermal solution design is not only efficient in heat dissipation but also thin, quiet and light, so customers can easily integrate into a 1U height slim chassis.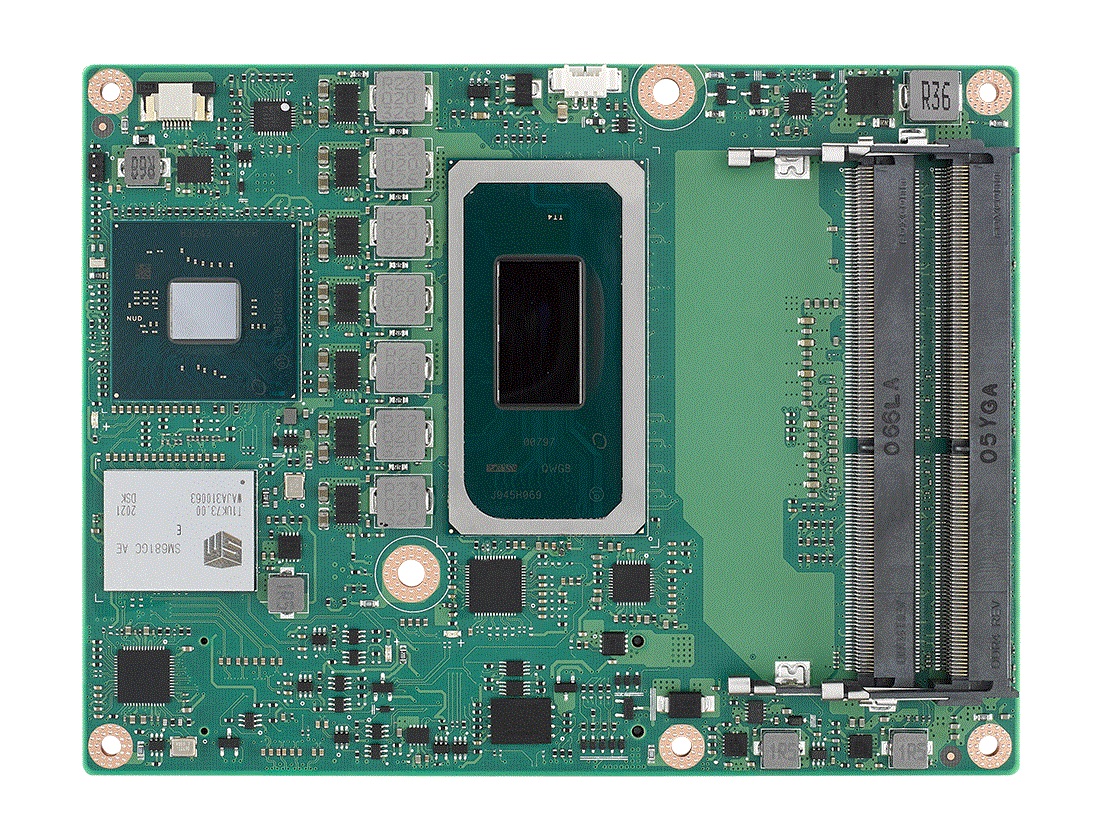 Next Gen. I/O Interface: x16 PCIe Gen4, 2.5GbE with TSN, and USB4
SOM-5883 is the first COM Express Type6 module offering x16 PCIe gen4, while its bandwidth is double to 16GT/s allowing 31.5GB/s throughput via 16 PCIe lanes. With this, graphics-driven applications such as ultrasound can achieve much more accurate diagnosis by the combination of native graphics engine and external expansion for system configuration. At the same time, SOM-5883 supports multiple cutting-edge I/O technologies. It enables super speed data transmission with improved bandwidth of 2.5G LAN and an NVMe SSD onboard, with the capability to transfer huge data between AIoT applications. The 2.5G LAN equipped with TSN (Time Sensitive Networking) is the ideal choice for automation or edge applications requiring low-latency. This technology fulfills the demand of real-time traffic, prioritising critical data in the communication process, such as transferring command, actions or safety information on time. It also supplies extraordinary USB4, which can be configured as DisplayPort, Thunderbolt, USB 3.2, and USB 2.0 in a slim USB-Type-C connector. Advantech also offers USB4 reference design documents and SOM-MZ10 development board, to help its partners accelerate the implementation of new I/O technology.
Key Features
COM Express R3.0 Basic Type 6 Module
11th Gen. Intel® Xeon, and Core™ i7/i5/i3/Celeron™ Processors
Up to 128GB DDR4 3200MT/s with ECC support
Four independent displays with 3x DDI, eDP/LVDS or VGA.
1 PCIe x16 Gen 4, 8 PCIe Gen 3, 4 USB 3.2 Gen 2, 2.5G LAN w/TSN, 2 SATA3 Ports
Supports Advantech iManager, Edge-AI Suite and WISE-DeviceOn
Operating Temp: Standard: 0 ~ 60 °C (32 ~ 140 °F), Extended: -40 ~ 85 °C (-40 ~ 185 °F)
Reliable Design and Easy Management for Edge Computing
As well as its excellent performance, the new SOM-5883 boasts an optimized design to adapt to diverse applications. It features ECC memory for the error correct function, TPM2.0 chip onboard to prevent cyber-threats, 8.5-20V wide range power input, and -40o~85oC wide operating temperature; the NVMe SSD soldered down design makes it more robust and resistant to vibration when operating in harsh environments, especially in edge computing applications. Beyond the hardware, SOM-5883 also supports BIOS storage protection, security boot, BIOS power-management, plus WISE-DeviceOn for remote hardware monitoring and OTA (over-the-air) software update to prevent system malfunction.
For more information, please contact the Advantech sales support team locally or visit the company's website: https://www2.advantech.com/embedded-boards-design-in-services/com/
Join 97,426 other subscribers

Archives