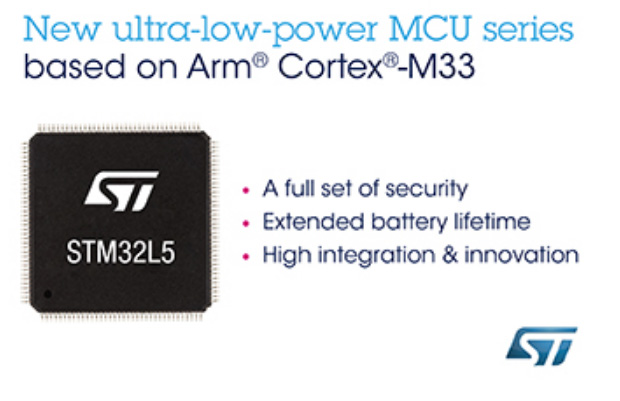 STMicroelectronics STM32L5 series of ultra-low-power MCUs
The STM32L5 microcontroller series is the solution and provides a new optimal balance between performance, power, and security
Security has emerged as one of the 3 key areas that developers of embedded and IoT applications are thriving to improve. The STM32L5 microcontroller series is the solution and provides a new optimal balance between performance, power, and security. The STM32L5 MCU series harnesses the security features of the Arm Cortex-M33 processor and its TrustZone for Armv8-M combined with ST security implementation. ST-proprietary ultra-low-power technologies create a class-leading MCU for energy-conscious applications such as the Internet of things (IoT), medical, industrial and consumer.
Key features
More Security with TrustZone Security and ST Security Implementation
Lower Power Consumption
Integration, Size, Performance: More performance, Large Memory Size and Wide Portfolio
A Full Set of Security Options​​
Additional features
A full set of security options:
Flexible hardware and software secure isolations with TrustZone
Enhanced security services:

dedicated secure user memory space for Secure Boot, symmetric and asymmetric crypto accelerations, memory and IP protection
independent readout protection between secure/non-secure domains, active I/O tamper detection
certified crypto lib, embedded Secure Firmware Install loader and ecosystem.
Low power consumption:
EEMBC ULPBench®: 402 ULPMark-CP score
Embedded SMPS step down converter (optional)
Best power consumption numbers with full flexibility:

33 nA in shutdown mode
3.6 µA in stop mode with full SRAM and peripheral states retention with 5µs wake-up time
Down to 60 µA/MHz in active mode
Integration, size, and performance:
Better application responsiveness:

New Arm® Cortex®-M33 at 110 MHz performance: +20% versus Cortex®-M4
New ST ART Accelerator: working both on internal and external Flash (8 Kbytes of instruction cache)

Capable of achieving 165 DMIPS and 442 CoreMark scores
High integration and innovation: large memory, USB Type-C with power delivery controller, CAN FD
Large portfolio: 7 package types (LQFP48, QFN48, LQFP64, WLCSP81, LQFP100, UFBGA132 and LQFP144)
Applications
Factory Automation
Motor Control
Electricity Meter
Home Automation
Smart Bike
Electronic Door Lock
Available tools
Commercial Product : NUCLEO-L552ZE-Q Distri buy Cost (USD) : 16$ Recommended Resale Price (USD) : 20$ Commercial Product: STM32L562E-DK Distri buy Cost (USD) : 61$ Recommended Resale Price (USD) : 76$ Commercial Product: STM32L552E-EV Distri buy Cost (USD) : 220$ Recommended Resale Price (USD) : 275$  STD. BASE QTY: 1 STD. BULK QTY: 1 Actual Xrate : 1 USD = 0.89337 EUR