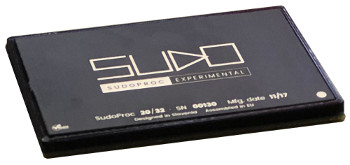 SudoProc – A solderable 1.8GHz Quad Cortex-A17 module With 4GB RAM and HDMI 2.0
A Slovenia based startup Sudo Systems will soon launch a module called SudoProc. This module is highly compact (65 x 40 x 4.3mm) and solderable. It contains Rockchip's 1.8GHz, quad-core, Cortex-A17 SoC RK3288 SoC with 600MHz Mali-T764 GPU. The highlighted feature set includes 4GB of dual-channel 1066MHz LPDDR3 RAM. SudoProc also includes an embedded security engine, a Gigabit Ethernet controller, and support for HDMI 2.0 4K with 10-bit H.265 video decoding.
This is only the second, independently available RK3288-based "computer-on-module" available out there. Boardcon's MINI3288 is also available on its sandwich-style EM3288 SBC. The RK3288 is the backbone of Android mini-PCs and also powers several Linux/Android-based open source Single Board Computers(SBC). The SudoProc supports Android 5.0 to 7.0, as well as Debian, Ubuntu, and an in-house developed SudoOS Linux distribution.
The SudoProc module offers a lot of RAM along with a huge amount of onboard eMMC 4.5 32GB storage. It is expandable up to 512GB. There's also support for 2x SDIO 3.0. It has HDMI 2.0 for video support and SPDIF and I2S/PCM take care of Audio.
The 218-pin SudoProc is further provided with interfaces including USB 2.0 host and OTG, as well as 5x UART, 5x I2C, 3x SPI, 4x PWM with the interrupt. SudoProc also has up to 100 GPIOs which are programmable as interrupt inputs. Other listed I/Os includes 3-channel, 10-bit SAR–ADC, 8-bit TS stream shared with CIF, a "Host" interface shared with GMAC, and a GPS interface. On-demand optional I/O incorporates HSIC 2.0, PS/2, and Smart Card.
The 5V/3A module supports 1.8V to 3.3V logic level output and allows remote control of the PMIC. Sudo Systems did a good job with its thermal dissipation design. There's an integrated heatsink to take care of it. With the maximum thermal dissipation of 10W, the module's estimated workings temperature is 25°C to 85°C.
In February, the SudoProc will open for pre-orders in limited quantities and will be shipped by March. The price is about $300, including a development board of the module. For further information, contact Sudo Systems at info@wearesudo.com.
Update (April 3rd, 2018): In a recent email, Sudo Systems let me know that they've decreased the price which is around $270 right now per unit. Universities and students are getting up to 50% discount on that price as well.
Join 97,426 other subscribers

Archives