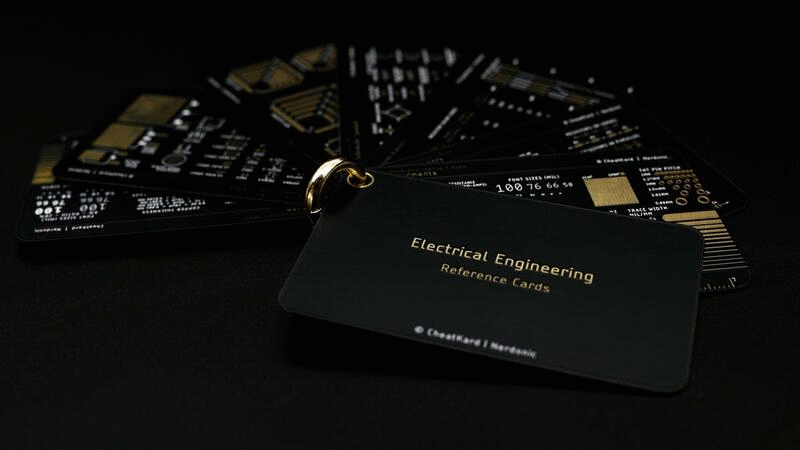 This CheatKard Lets Electrical Engineers Increase Their Efficiency At Work
Are you an electrical engineer and always looking for reference sheets to assist you with calculations and assumptions? Then this credit card-sized CheatKard will help you to ease your life as an electrical engineer. Nerdonic, known for its custom electronics, IoT & rapid prototyping, had introduced the Nerdonic PCB business reference card. This reference card was nothing but a business card provided to the businesses and customers, which was not made up of paper. With positive feedback from the community, the company launched a Kickstarter crowdfunding project to help electrical engineers with small-sized reference cards for all kinds of work (related to electrical engineering).
It has become difficult for all professionals to get books and read hundreds of pages or Google to get some information. To make this easy, Nerdonic's credit card-sized CheatKard is portable, allowing you to boost your efficiency in all circumstances. Even if you do not have access to the internet, you can always refer to this portable reference card. This product is made in a credit card size because you can keep it in your wallet, being accessible anywhere and anytime.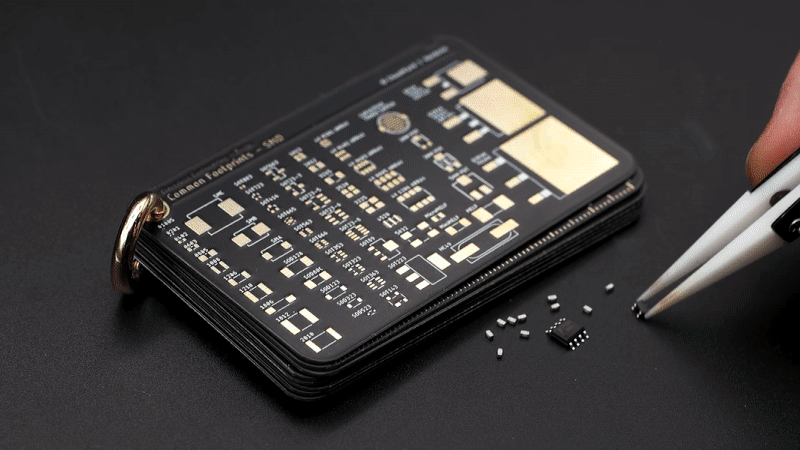 "Gone are the days of trawling through an abundance of varied search results and forum posts to find the answer you need or flipping to page 102 in your chunky Electrical Engineering textbook," Nerdonic says. "CheatKards are small, lightweight, with concise, accurate information and references for you to use whenever you need them."
The aesthetics of the reference cards add value to the overall usefulness. CheatKard comes in gold plated letters with a black background, giving it a luxurious look. The product's front side has gold-plated lettering and a key-ring hole, while the backside is blank for you to write your details. The vital part of the CheatKard is the cards within these two that include the most resourceful and easily accessible information for all the levels (related to electrical engineering), let that be a student or a professional.
Coming to the information that you will get with this CheatKard is as follows:
Measurement Card: AWG wire gauge/diameter/electrical resistance, Font sizes, Surface mount (SMD) pin pitch gauge, Through-hole (THT) pin pitch gauge, 1mm/1cm square, trace width/amp gauge, Ruler (CM & INCH), Electrical/Number/Units conversion & PCB copper thickness
Common Schematic Symbols Card: Power Sources, Ground, Diodes, Resistors, Capacitors, Inductors, Optoelectronics, Transistors, Transformers, Logic Gates, Others (Relay, Opamp, Motor, Crystal Oscillator, etc.)
Component Values Card: Resistor Bands & Color Codes, Capacitor Codes (Ceramic & Electrolytic)
Common Footprints SMD Card: 4x 0603 array, 4x 0805 array, 4x 1206 array, MicroMELF, MiniMELF, MELF, HC49, Capacitive Touch Switch, Panasonic A/B/C/D/E/F/G, SOP/WIDE SOC 1.27MM, TSSOP (TYPE 1) 0.5MM, SO/NARROW SOIC 1.27MM, TSOP, 0.5MM, TSSOP (TYPE 2) 0.65MM, SOIC 1.27MM, SSOP 0.65MM, MSOP 0.5MM, and many more
Common Footprints SMD 2 Card: QFP 32/48/64/80/100 0.4MM/0.5MM/0.65MM/0.8MM, BGA 0.4MM/0.5MM/0.65MM/0.8MM/1.0MM/1.27MM Equilateral grids
PCB Design Card: VIA size gauge/Size (MM & MIL)/Amps across copper thicknesses, Copper thickness conversion, PCB layer makeup for 1/2/4 layer PCB, ENIG & Tin plating finishes, Panelization (Mouse-bites/V-cut), PCB thermals explanation, Meanders explanation, PCB finishes, Ruler (INCH), and many more.
Laws And Theory Card: OHMs law, Resistors in series, Resistors in parallel, Capacitors in series, Capacitors in parallel, Kirchhoff's law (First and Second), Coulomb's law, Faraday's law, Lenz law.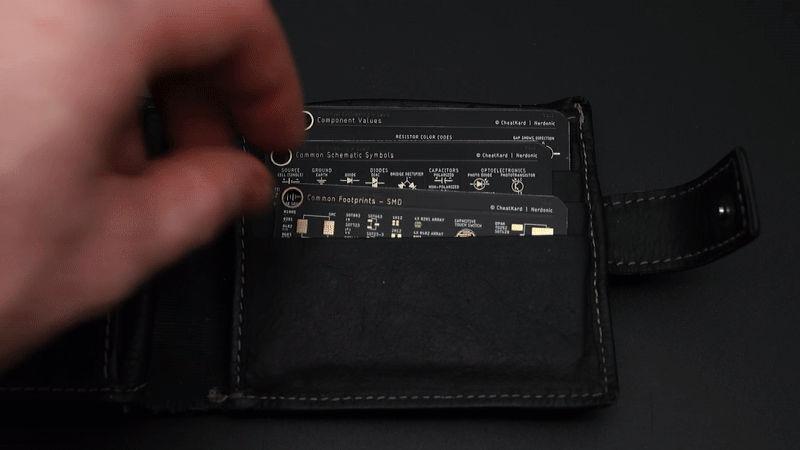 These are the details you will get in a single set of CheatKards; isn't it amazing? For you to go back to the basics of law and circuit theory, you have a reference card or even to get resistor values. More information on the resources available in the reference cards is provided by the manufacturer on the crowdfunding project page.
One of the things I like about the product is the portability, and the amount of information available is excellent. Buying this always gives you the pride of getting a tree planted with the amount paid for this product. Thanks to Nerdonic, who has supported the environmental cause through selling such valuable and resourceful products. As expected, the project is funded 25 times more than the goal. If you are interested in getting the reference cards, the crowdfunding is still live with the base amount of £28 to get the CheatKard.
Please visit the Kickstarter product page for more information.