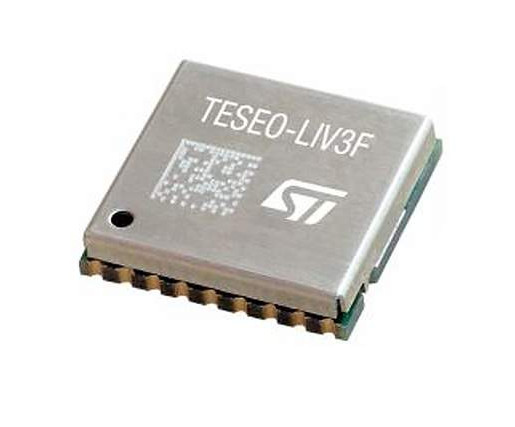 Tiny GNSS module by STMicroelectronics supports GPS, Galileo, GLONASS and BeiDou
STMicroelectronics lunched the first GNSS module (Global Navigation Satellite System) with the name Teseo-LIV3F. The module is interesting because it contains some cool features. The GNSS module supports GPS, Galileo, GLONASS, QZSS and also BeiDou.  The dimension of module is 9.7 x 10.1 mm and the communication interface is standard UART and I2C (100/400KHz).
The Teseo-LIV3F module features temperature-compensated 26 MHz oscillator for higher data accuracy. Furthermore you can use it as real-time clock (RTC).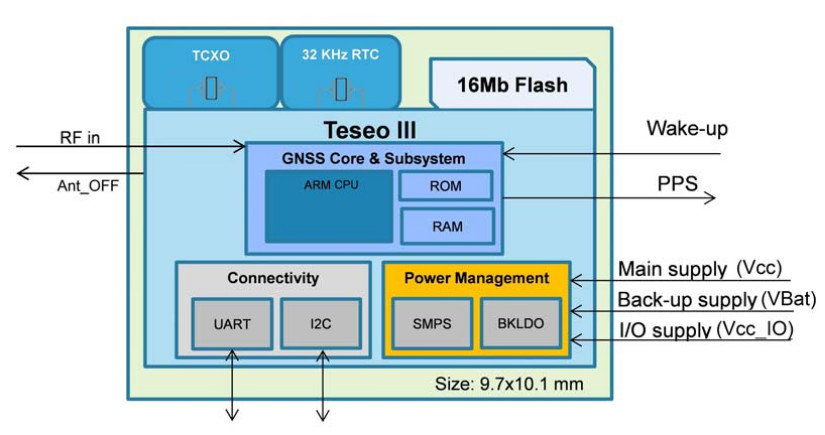 The I2C address is configurable through "firmware configurator" (PC Tool Teseo-Suite Light) and the firmware can be easily updated. The power consumption of GNSS module can be controlled by two standby modes – software and hardware standby. When you use hardware standby mode, the consumption is wonderful 6 uA and if you use software standby mode you achieve apower consumption of only 12 uA.
The module also features"data logging" properties. The position data can be saved for up to 12 hours with 1 Hz sample rate and you can use standard or circular buffer.
Specifications
Power voltage: 2,1 – 4,3 V
Power consumption: 72 mW (GPS, VCC = 2,1V) or 90 mW (GPS and Glonass, VCC = 2,1V)
Maximal velocity: 515 m/s
Maximal altitude: 18 000 m
Hot start: max 2,5 s
Cold start: max 36 s
Warm start: max 29 s
The price of module is 15 USD and it's available on digikey.com
Datasheet: https://www.st.com/resource/en/datasheet/teseo-liv3f.pdf
More info: https://www.st.com/content/st_com/en/products/positioning/gnss-modules/teseo-liv3f.html
Join 97,426 other subscribers

Archives