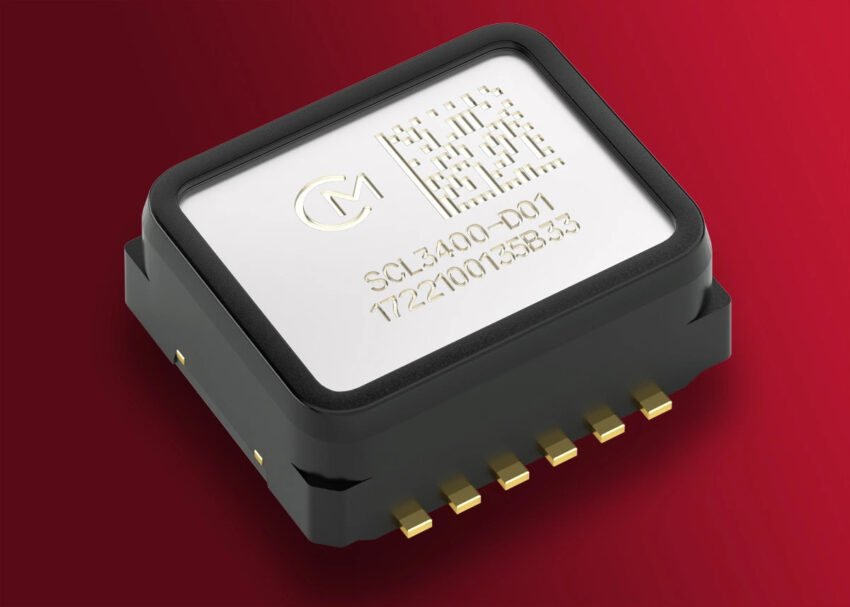 Two-axis inclinometer for harsh environments eliminates need for recalibration

The new SCL3400 MEMS inclinometer from Murata is suitable for industrial applications that require high stability, accuracy and reliability.
Featuring minimal offset drift of ≤0.12° over its lifetime, the SCL3400 can be used in isolated locations with little or no maintenance, as no recalibration is required to maintain accuracy.
Intended for use in tough industrial environments, the sensor provides stable angle readings on two axes with a maximum sensitivity error of 0.7% over a wide range of temperatures, and in the presence of vibration.
Users can select between two measurement modes: ±30° with 10 Hz measurement bandwidth, and ±90° with 40 Hz measurement bandwidth.
Features
SPI digital interface
0.0009°/√Hz noise density
3.3 V supply voltage
8.6 mm x 7.6 mm x 3.3 mm package
Operating-temperature range: -40°C to 85°C
The SCL3400 is suitable for structural health monitoring, an application in which changes to structures such as bridges, tunnels and buildings are measured and monitored over a long period of time, and often in harsh exterior conditions. The device is also suited to use in construction tools and systems, such as rotating lasers, digital bubble levels and surveying instruments, in which accurate tilt sensing is required.
The SCL3400 sensor draws 2 mA during operation, making it suitable for battery-powered applications. The sensor may be used to replace the Murata SCA103T single-axis analog inclinometer. The SCL3400 is also fully pin-compatible with the SCA3300 accelerometer and SCL3300 inclinometer.
more information: https://www.murata.com/-/media/webrenewal/products/sensor/pdf/flyer/murata-sensors-for-structural-health-monitoring.ashx
Join 97,426 other subscribers

Archives