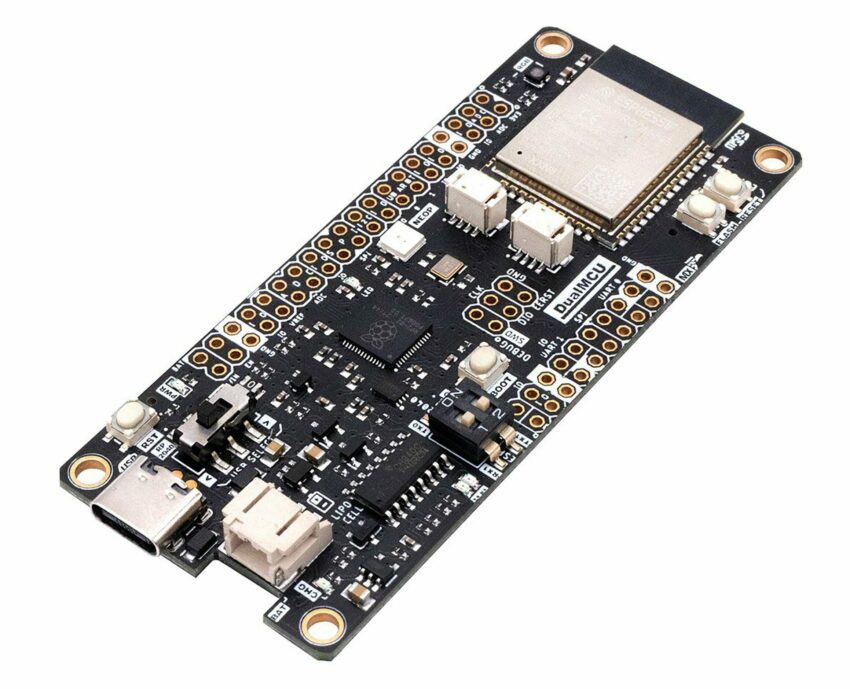 UNIT DualMCU Bands Together ESP32 and RP2040
With so many development boards available in the market, it is piquing to find a board with scope for versatility and heavy processing power. Additionally, the target use cases involving ESP32 generally require more I/O for data transmission, and RP2040 projects lack support for WiFi and Bluetooth connectivity. UNIT Electronics attempts to solve this problem with its new DualMCU. Hence, this development board combines the features of two 32-bit microprocessors– Espressif ESP32, more specifically, the ESP-WROOM-32, and Raspberry Pi RP2040.
The ESP-WROOM-32 module has two Tensilica Xtensa LX7 with a clock speed of up to 240MHz and SRAM of 520kB, WiFi, Bluetooth/Bluetooth Low Energy (BLE) radio. Meanwhile, the RP2040 constitutes two Arm cortex-M0+ with a clock speed of 133MHz and 264kB of SRAM, along with 16MB of external FLASH memory. It also supports 30 GPIO pins, 4 ADC channels, 16 PWM channels, and useful PIOs to further increase the development board's applications.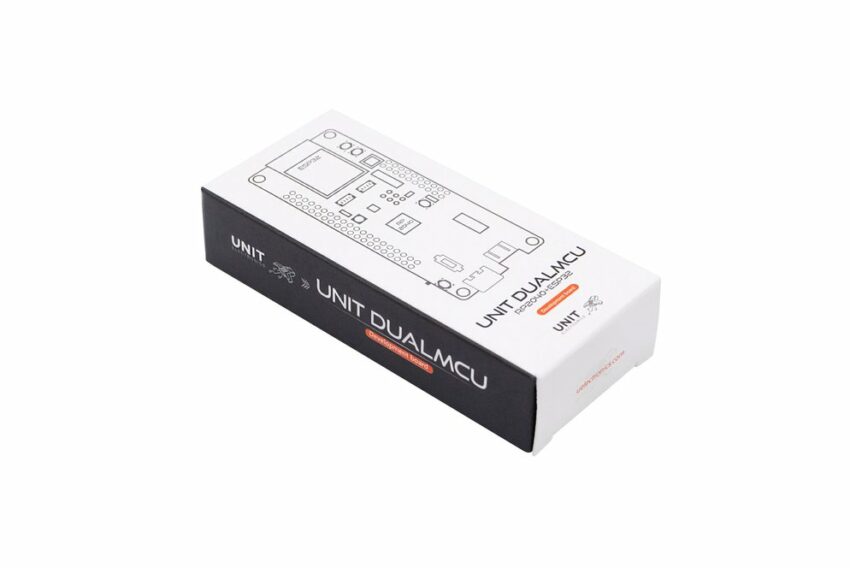 The most relevant features of the DualMCU are:
Combines the Raspberry Pi RP2040 microcontroller and the Espressif ESP32 chip on a single board.
Offers Bluetooth and Wi-Fi connectivity for Internet of Things projects.
Has a compact size of 36mm x 84mm and utilizes surface mount technology.
Features four programmable cores with wireless functions and advanced capabilities.
The RP2040 microcontroller has a clock speed of 133MHz, 264kB of SRAM, support for up to 16MB of external flash memory, 30 GPIO pins, 4 ADC channels, and 16 PWM channels, among other characteristics.
The ESP32 chip has a clock speed of up to 240MHz, integrated Wi-Fi and Bluetooth connectivity, and support for multiple wireless protocols, among other characteristics.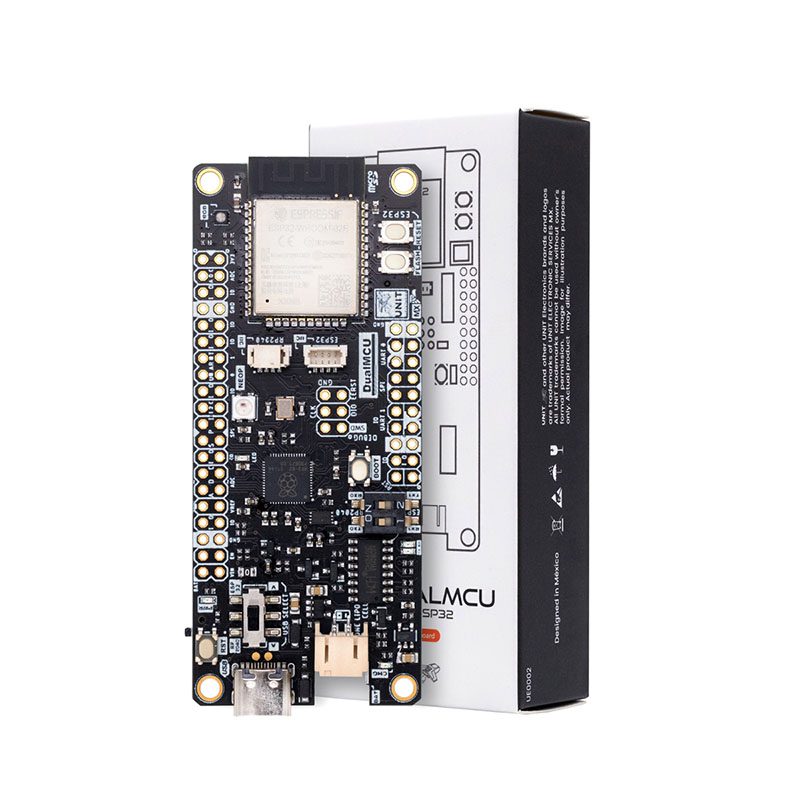 With its Dual CORE architecture, this development board comes with robust capabilities for IoT projects in addition to its advanced low-power features and WiFi/Bluetooth connectivity. But, the board has four programmable COREs–two Arm cortex-M0+ and two LX7, coming with wireless features and with Arduino IDE and MicroPython support for programming. This means that one can program each core using MicroPython, CircuitPython, as well as with Arduino Programming Language.
The DualMCU can have a great range of applications in the Internet of Things(IoT),  prototyping, evaluation and development, and robotics.  Also, the high processing capacity from RP2040, along with its flexible programming support, enables the board to be used in extensive applications involving motor control and machine learning.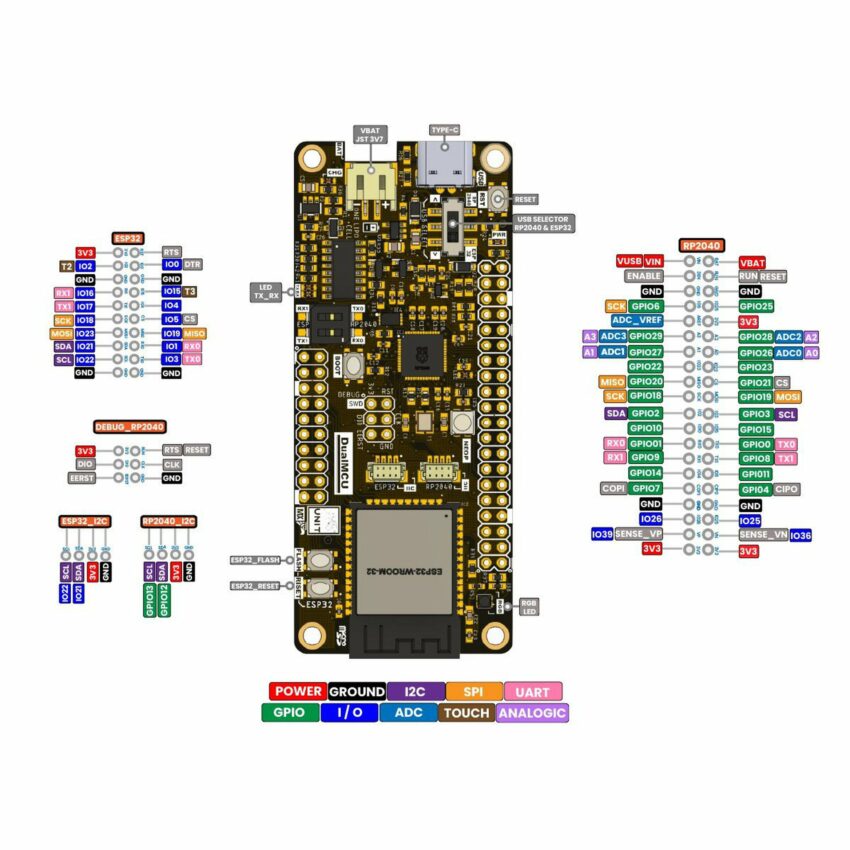 Both the microcontrollers on the DualMCU can largely function independently despite them being on one compact development board of 36×84mm. The positioning of the GPIOs of both the microcontrollers is such that the DualMCU is two boards in one with the advantage of easy and low-form friendly co-interaction among them. The former can be done by using standard UART, SPI, or I2C, but it's up to the user to base interactions on their individual needs.
The UNIT DualMCU is available on Tindie for $15. The documentation, schematics, and more information is available on GitHub
Join 97,426 other subscribers

Archives