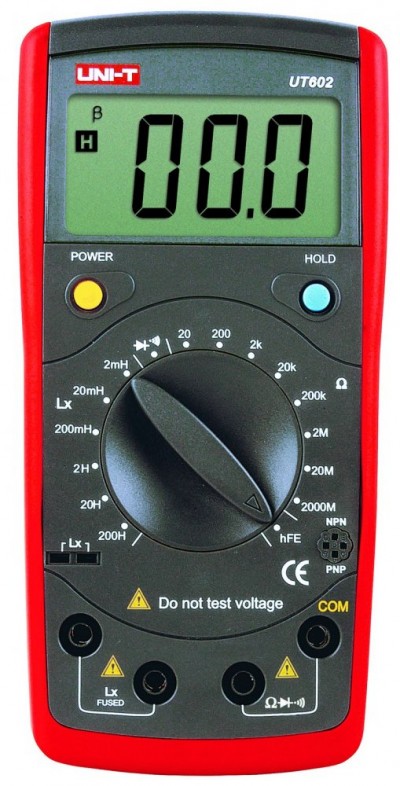 UT602 – for those who are interested in miliOhms
We have for you a measuring device able to measure even small resistance with 0.01 Ohm resolution.
UT602 is exactly that device, which you may have missed at development of devices operating with higher currents, where every resistance (lead, connector, joint,…) acts negatively, as well in applications using small resistors (shunts for current measuring and similar).
UT602 might be easily classified as a common multimeter if not having one useful measuring range marked as "20 Ohm". The device is able to measure with 10 miliOhm in this range. Naturally, a measured value also depends on resistance of testing leads but in praxis it´s always possible to find out this added inaccuracy by their connection to each other before measurement.
Inductors also belong to components frequently used in devices using high currents (switch-mode power supplies, filters,….), that´s why a possibility to measure inductance (with 1uH resolution) is certainly valuable feature. Diode and transistor testing as well as continuity tester (buzzer) are "extra bonus".
Detailed description will provide you the UT602 user guide. UT602 is our stable stock item.



UT602 – for those who are interested in miliOhms – [Link]