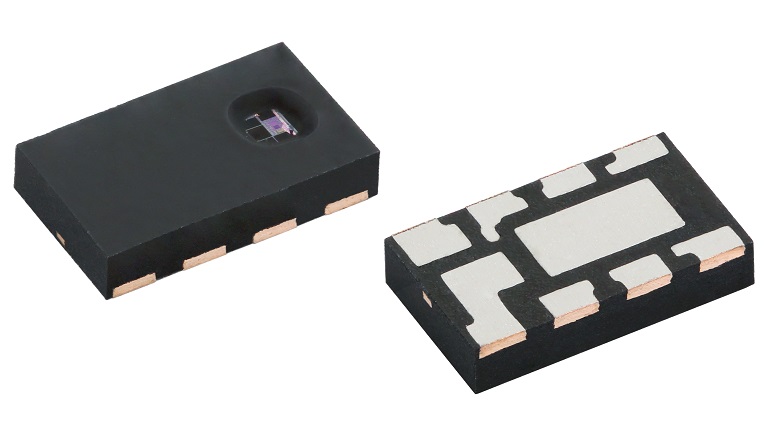 Vishay VCNL4035X01 fully integrated proximity and ambient light sensor
Vishay introduces a new fully integrated Automotive Grade proximity and ambient light sensor for gesture recognition
Vishay introduces a new fully integrated Automotive Grade proximity and ambient light sensor for gesture recognition. Featuring Filtron™ technology, the Vishay Semiconductors VCNL4035X01 combines photo-detectors for proximity and ambient light, a signal conditioning IC, a 16-bit ADC, and a driver for up to three external IREDs in one compact 4 x 2.36 x 0.75 mm surface-mount package. The AEC-Q101 qualified sensor features an interrupt function and supports the I2C bus communication interface for portable electronics and smart home, industrial, and automotive applications.
Key features
Integrated modules: ambient light sensor, proximity sensor, and signal conditioning IC
Operates ALS and PS in parallel structure
Filtron technology adoption for robust background light cancellation
Low power consumption I2C (SMBus compatible) interface
Additional features
Integrated modules:

Ambient Light Sensor (ALS)
Proximity Sensor (PS)
Signal conditioning ICL

Operates ALS and PS in parallel structure
FiltronTM technology adoption for robust background light cancellation
Temperature compensation:
Low power consumption I2C (SMBus compatible) interface
Output type:
Operation voltage:
Floor life:

168 h, MSL 3, according to J-STD-020

 Package type:
Dimensions (L x W x H in mm):
AEC-Q101 qualified
Vishay's VCNL4035X01's 16-bit high-resolution ALS offers excellent sensing capabilities with sufficient selections to fulfill most applications whether dark or high transparency lens design. Both the ALS and PS have programmable interrupt features of individual high and low thresholds, which offer the best utilization of resource and power saving on the microcontroller.
The proximity sensor features an intelligent cancellation scheme so that the cross-talk phenomenon is eliminated effectively. To accelerate the PS response time, smart persistence prevents the misjudgment of proximity sensing but also keeps a fast response time. Active force mode, one time trigger by one instruction, is another good approach for more design flexibility to fulfill different kinds of applications with more power saving.
The adoption of patented Filtron™ technology achieves the closest ambient light spectral sensitivity to real human eye responses and offers the best background light cancellation capability (including sunlight) without utilizing the MCU's resources. The VCNL4035X01 provides an excellent temperature compensation capability for keeping output stable under various temperature configurations. It is packaged in a lead-free 8-pin molding package, which offers the best market-proven reliability quality.
more information: https://www.vishay.com/optical-sensors/gesture-sensors/
Join 97,426 other subscribers

Archives