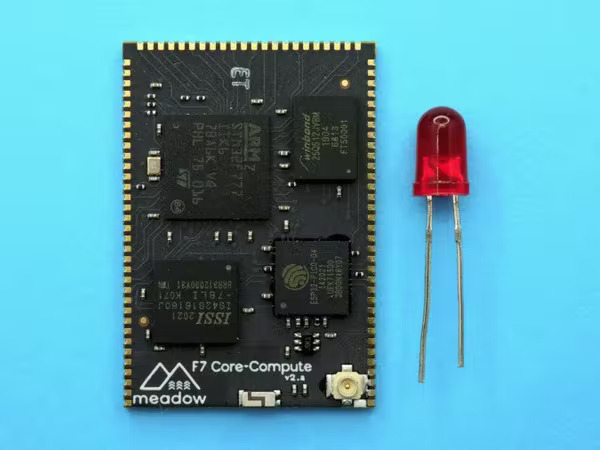 Wilderness Labs Meadow F7 Core-Compute System on Module powered by an STM32 and ESP32
Portland-based embedded device manufacturer Wilderness Labs has introduced the Meadow F7 Core-Compute System on Module based on the popular F7 Feather microcontroller development board. The hardware is aimed to expand the reach of the IoT platform to enable the 10MM+ .NET developer community to build secure embedded hardware in less time and cost. At the heart of the Meadow F7 Core-Compute System on Module is the integration of the STM32F7 microcontroller along with the ESP32 coprocessor in a small form factor measuring just 24.5×34.5 mm.
The STMicroelectronics STM32F7 is a high-performance microcontroller powered by an Arm Cortex-M7 processor core to deliver 1082 CoreMark/ 462 DMIPS at 216 MHz CPU frequency. The 32-bit Arm Cortex-M7 processor features dedicated digital signal processing IP blocks, including an optional double-precision floating-point unit. The STM32F7 microcontroller is designed for artificial neural networks, connectivity, graphical user interface, and motor control-based applications.
Our customers tend to be building industrial and commercial IoT solutions, in many cases, they're modernizing industrial processes and integrating into SCADA architectures. Much of the existing infrastructure they're working with is woefully insecure, so it's gratifying to be able to provide them with a rapid-development platform that allows them to use their existing skills to unlock hardware development, while also providing security by default, said Bryan Costanich, Wilderness Labs' co-founder and CEO.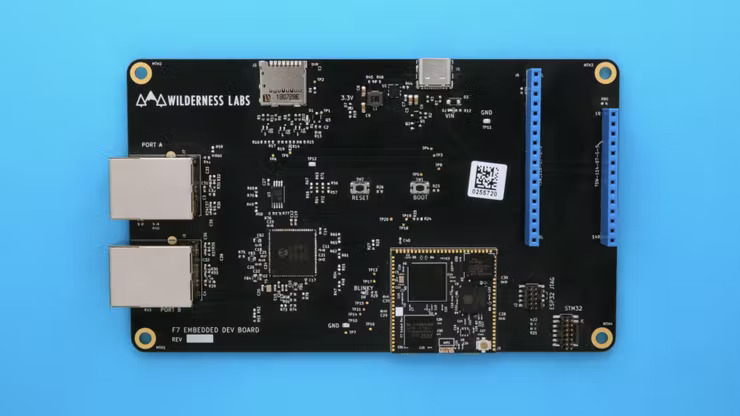 In terms of wireless connectivity, the Meadow F7 Core-Compute System on Module enables developers to take advantage of Bluetooth Low-Energy and Wi-Fi to build low-power IoT solutions. As small as the U.S. Quarter dollar, the Meadow F7 Core-Compute System on Module adds a reduced media-independent (RMII) interface for ethernet connectivity for industrial use cases.
By offering the Core-Compute module, we're able to significantly reduce our customers' time to market, as well as ease a lot of their supply-chain challenges, given how hard it is to get a hold of these microcontrollers since we're on direct allocation from the manufacturer." Referring to the new normal of lead times for microcontrollers of two years or more, Costanich further added.
The Meadow F7 Core-Compute System on Module has 64MB of flash storage and 32MB of memory with an onboard Antenna and external µFl Antenna connector. Meanwhile, the Meadow F7v2 Core-Compute Dev Kit has two dual ethernet ports and an SD card slot for increasing the onboard storage. Both embedded devices are currently available for preorder with expected shipping on July 1, 2022. The Meadow F7 Core-Compute System on Module is priced at $45.00 and the Meadow F7v2 Core-Compute Dev Kit can be bought for $100.00 with a limit of 25 and 5 per customer respectively.
Join 97,426 other subscribers

Archives