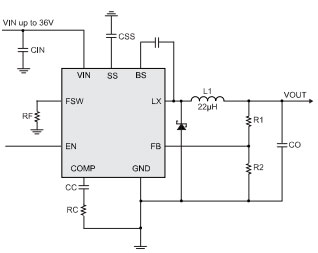 Alpha & Omega's high efficiency and simple to use regulators are designed for automotive, telecom, and networking equipment
Alpha & Omega Semiconductor's AOZ128x series are high efficiency, simple, step-down regulators ranging from 0.6 A to 4 A of continuous output current. These EZBuck regulators work from a 3 V to 36 V input range depending on the device. They also offer an adjustable output voltage down to 0.8 V. The fixed switching frequency of 1 MHz PWM operation in the AOZ1282 and 1.5 MHz PWM operation in the AOZ1281 allow for a reduced inductor size, while the AOZ1284 offers a switching frequency of 200 kHz to 2 MHz with an external resistor. The AOZ1284 also offers an integrated N-channel high-side power MOSFET.
These regulators feature internal soft start as well as an adjustable soft start (AOZ1284). The devices support fault protection including thermal shutdown, short-circuit protection, and cycle-by-cycle current limit. The EZBuck series are offered in SOT23-6L, DFN 2×2, and EPAD SO-8 packages making them ideal for automotive, telecom, and networking equipment.
Features
3.0 V to 36 V operating input voltage range
0.6 A to 4.0 A continuous output current
Up to 95% efficiency
Adjustable output voltage range from 0.8 V to 30 V
Cycle-by-cycle current limit
Short-circuit protection
Overvoltage protection
Overtemperature protection
Adjustable switching frequency from 200 kHz to 2 MHz (AOZ1284)
Internal soft start
Available in SOT23-6L, DFN 2×2, and EPAD SO-8 packages
[via]