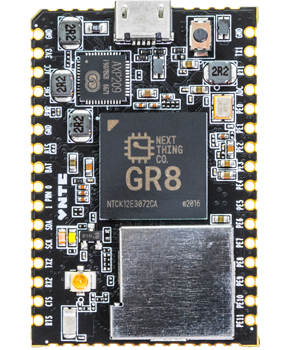 C.H.I.P Pro The New GR8-Based Module
NextThing Co., is a hardware company that has the goal to create things that would inspire creativity, and help people chase their own ideas of what needed to exist.  After producing their world's first $9 computer C.H.I.P, they are ready now to launch a new product!
C.H.I.P Pro,  the newest addition to the Next Thing Co. family, is powered by GR8, a system-in-package (SiP) that was designed by Next Thing Co. GR8 features a 1GHz Allwinner R8 ARM Cortex-A8 processor, Mali400 GPU, and 256MB of Nanya DDR3 DRAM. in a 14mm x 14mm FBGA package. C.H.I.P. Pro is a system-on-module (SoM) that has 512MB of high-speed NAND storage flashed with NextThing Co.'s GadgetOS. Gadget is an Open Source Linux-based OS, software toolchain, and cloud infrastructure which is designed to bring the speed, openness, and productivity of modern software development to the world of embedded hardware. C.H.I.P Pro can be powered by USB or battery, intelligently managed by the AXP209 power management unit.
The Pro also features 802.11 b/g/n WiFi, Bluetooth 4.2, and is fully certified by the FCC. This board will be available in December at supposedly any quantity for $16.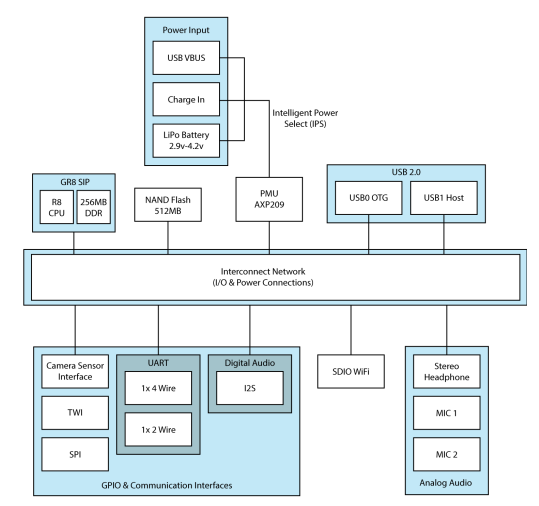 C.H.I.P Pro design defines two possibilities of installations; either in a product or in a single board computer designed for a breadboard. Its SMT-ready castellated edges and elements on both sides will make reflow soldering not so preferable. Instead, header pins, a 'debug board', and two C.H.I.P Pro units are introduced in one package for only 49$ to make soldering easier and to start installing the unit in applications. Due to its size and efficiency, it could be a good competitor for Raspberry Pi Zero.
C.H.I.P. was designed to be used in computer powered products, but it was recognized later that it wasn't always the best fit. Many of the design choices of C.H.I.P make it hard to build into products. C.H.I.P. Pro addresses this issue, implements feature requests from the community, and is engineered to embed in products. C.H.I.P. and C.H.I.P. Pro are similar in many important ways, but they differ in some features. Here are C.H.I.P Pro advantages:
Industrial Grade —512MB SLC NAND
Updated Realtek WiFi / BT chipset with B/G/N & BT 4.2
Digital Audio / Support for SD Cards via pins
USB Breakout for PCB Designs incorporating USB based peripherals
Breadboard and SMT Placeable
A complete suite of certifications: WiFi Alliance, Bluetooth Consortium, FCC, CE, ROHS
Based on GR8 making it 76% smaller than C.H.I.P.
Better power consumption with ~3mA suspend to RAM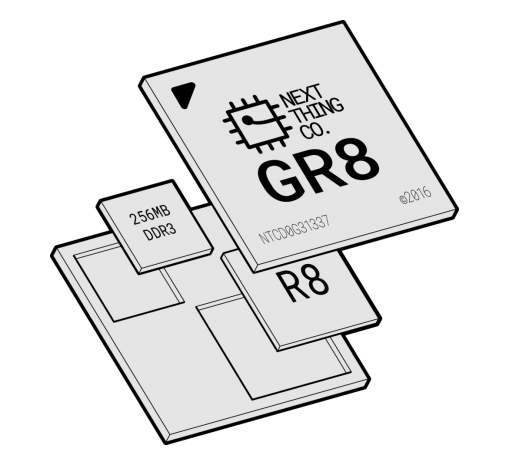 C.H.I.P. Pro is powered by GR8, a system-in-package provides a powerful application processor and DDR3 SRAM which eliminates the need for high-speed routing and reduces manufacturing complexity. GR8 is $6 in any quantity and includes the Allwinner AXP209 power management unit.
GR8 also features many popular peripheral interfaces: Two-Wire Interface, two UARTs (one 2-wire and one 4-wire), SD Card-ready SPI, two PWM outputs, a 6-bit ADC, I2S digital audio, S/PDIF IEC-60958 digital audio output, two HS/FS/LS USB PHYs (one USB 2.0 Host and one USB 2.0 OTG), a CMOS Sensor Interface.
Although it is doubtless that C.H.I.P. Pro will be installed and used in various projects, making GR8 module available for customers is something huge. Providing a jellybean part that contains an entire Linux system makes it possible to add the power of open software into any project and it opens the door for more applications to come.
Further details can be reached at C.H.I.P Pro and GR8 datasheets and at NextThing Co. forums.
Via: Hackaday