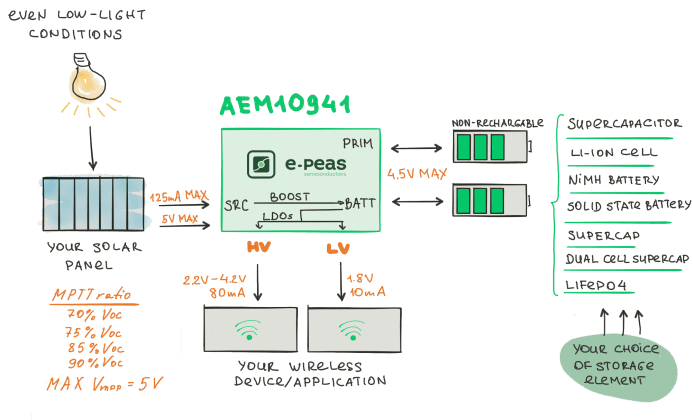 E-peas' photovoltaic energy harvesting IC solution – AEM10941 – is the next generation integrated energy management subsystem that extracts DC power from up to 7 cells solar panels to simultaneously store energy in a rechargeable element and supply the system with two independent regulated voltages. This allows product designers and engineers to extend battery lifetime and ultimately get rid of the primary energy storage element in a large range of wireless applications like industrial monitoring, home automation, wearables.
The AEM10941 harvests the available input current up to 125 mA. It integrates an ultra-low-power Boost converter to charge a storage element, such as a Li-Ion battery, a thin film battery or a super- or conventional capacitor. The Boost converter operates with input voltages in a range of 50 mV to 5V. With its unique cold-start circuit, it can start operating with empty storage elements at an input voltage as low as 380 mV and an input power of just 3 µW.
The low voltage supply typically drives a microcontroller at 1.8 V. The high voltage supply typically drives a radio transceiver at a configurable voltage. Both are driven by highly efficient LDO (Low Drop-Out) regulators for low noise and high stability.
more -> https://e-peas.com/products/energy-harvesting/photovoltaic/aem10941/