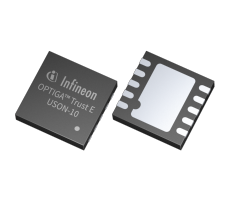 by Martin Cooke @ elektormagazine.com:
Protection of Intellectual Property is a major issue as industrial systems become increasingly more interconnected. According to Bartol Filipovic, head of the Product Protection and Industrial Security department at the Fraunhofer Institute for Research "Most companies have no idea just how easy it is to copy their products, encrypted software is not enough to protect standard products or machine code. The software must be ideally stored inside protected hardware."

Infineon has developed a broad range of semiconductor technologies to counter these growing security threats. The OPTIGA Trust E SLS32AIA hardware security device provides a cost effective solution for high value goods. It forms part of the OPTIGA™ Trust family high-security solution for industrial automation systems, smart homes, consumer and medical devices. The OPTIGA™ Trust E provides enhanced protection of services, business models and user experience. Based on its 1-way authentication mechanism, it uniquely identifies objects and provides protection of Public Key Infrastructure (PKI) networks.
Infineon's Security Chip – [Link]