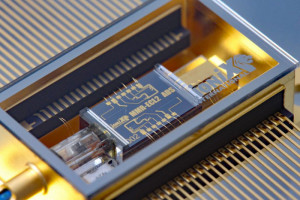 290Hz Narrowband Laser On Chip For Numeros Photonic Applications
Researchers from the MESA+ research institute at University of Twente have collaborated together with the provider company of the customized microsystem solutions "LioniX International" to achieve the lowest bandwidth tunable diode laser on a chip.
The newly-developed laser operates in the IR region at 1550 nm with an 81 nm tuning range, which means that users can choose the color of the laser themselves, within a broad range. The laser is an integrated InP-Si3N4 hybrid laser consists of two different photonic chips, optically connected to each other.
Photonics is a key technology that makes numerous other innovations possible. So that, scientists and researchers are making big efforts at this field including deployment of photons for transporting and processing data.
To make photonic chips function as efficient as possible, we need to be able to control the light signals. Which means that all transmitted light particles should have the same frequency and wavelength as possible. The university researchers have succeeded developing a tiny laser on a chip with a maximum bandwidth of just 290 Hertz.
Our signal is more than ten times more coherent – or clean – than any other laser on a chip.
~ Professor Klaus Boller, the research leader
This record laser will have countless applications especially in fiber optic communications that require high data rate. This applications includes 5G mobile networks, accurate GPS systems and sensors for monitoring the structural integrity of buildings and bridges.
You can find out more details here.
Join 97,426 other subscribers

Archives