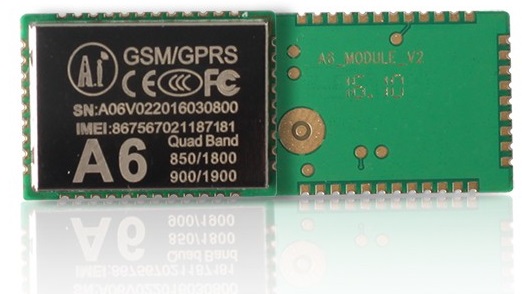 ShenZhen Ai-thinker CO.,a leading enterprise in the Internet of Things (IoT) industry and the maker of the ESP-12E module, had launched a new killer module: $3.60 GSM GPRS A6 Module!
Providing a chip cheaper than the popular ESP8266 seems to be promising and opens doors for future IoT inventions. This module seems to be a big competitor for SIM900 series module.
This chip is considered the cheapest platform that connects to the internet via GSM/GPRS and at the same time works as a traditional GSM module.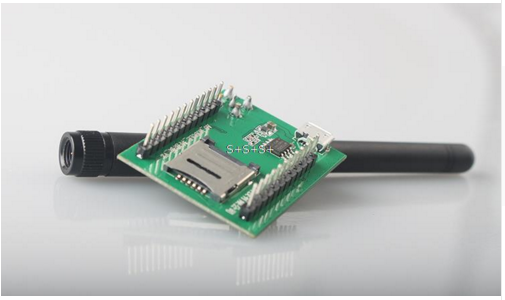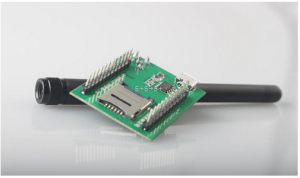 This module is coming in market as a SMT package, like ESP12E, but there are many vendors already making breakout board with antenna out and SIM card slot, for an extra dollar.
Technical Specifications
Dimensions 22.8 × 16.8 × 2.5mm;
Working temperature -30 Celsius to + 80 Celsius;
Working voltage 3.3V-4.2V;
Power voltage> 3.4V;
Standby average current 3ma less;
Support GSM / GPRS four bands, including 850,900,1800,1900MHZ;
Support China Mobile and China Unicom's 2G GSM network worldwide;
GPRS Class 10;
Sensitivity <-105;
SMT 42PIN
Support voice calls;
Support SMS text messaging; can use SMS to config module
Support GPRS data traffic, the maximum data rate, download 85.6Kbps, upload 42.8Kbps;
Supports standard GSM07.07,07.05 AT commands and extended commands;
Supports two serial ports, one serial port to download an AT command port;
AT command supports the standard AT and TCP / IP command interface;
Support digital audio and analog audio support HR, FR, EFR, AMR speech coding;
Support ROHS, FCC, CE, CTA certification;
Support up to 8 channels network connections
Low power consumption: standby least is 3mA
A6 semi-hole technology, enabling rapid production modules through standard SMT equipment, providing customers with highly reliable connection, especially for automation, large-scale, low-cost modernization of production methods.
It can be used with AT Commands like the commands for other GPRS/GSM modules SIM800/SIM900. Thus, it is possible to use the same libraries
How to use A6 GSM GPRS module:
Connect UART_TXD to RX of the FTDI
Connect UART_RXD to TX of the FTDI
Connect GND to the GND of the FTDI
Connect VCC5.0 To the PWR_KEY pin
Connect a Micro Usb for the power(with any smartphone charger)
After 4-5 second you can remove the connection between VCC5.0 and PWR_Key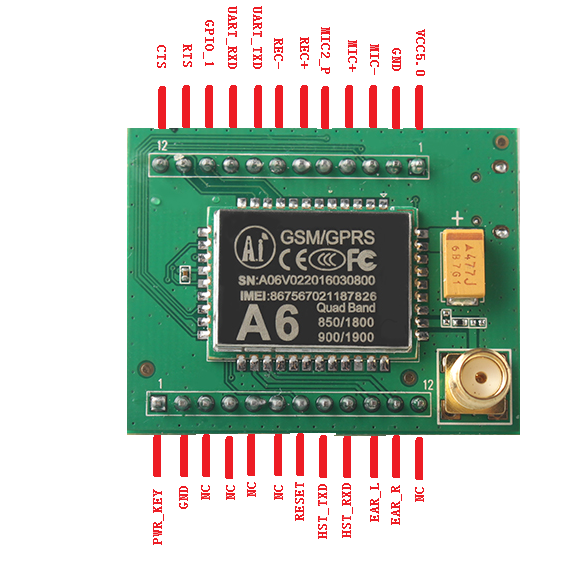 You can use it with the Arduino software, just choose a port and open the serial monitor with 115200 baud. To set up the connection send "AT", and if you see "OK" then everything works.
A project using the module, download the software, documents, and codes from here. Also watch a test demo.
The module is said to be the smallest available industrial grade quad-band GSM / GPRS module. You can order A6 module for $3.20 from ElectroDragon store.
Datasheet is only available in Chinese. More details about the A6 – A6c – A7 family can be reached at this document and at the A6 module documentation.
Join 97,426 other subscribers

Archives