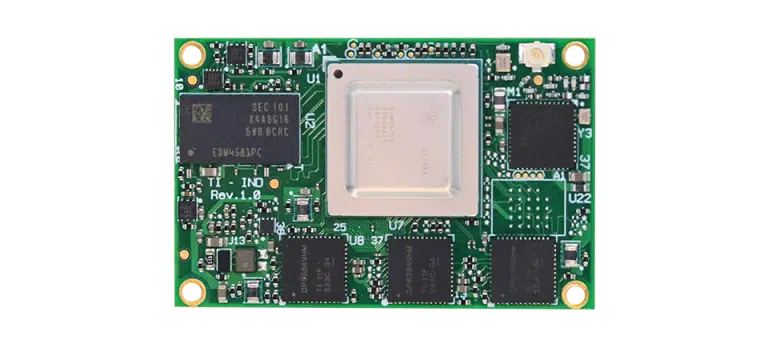 AM64 Sitara Series Dedicated to Edge Computing Devices for Industry 4.0
Edge computing remains advantageous in applications where real-time processing and proximity of the data with overall efficiency, over cloud computing. Considering the lack of options in the edge computing space, Texas Instruments have launched the 5 AM64 Sitara series of edge computing processors.
The AM64 Sitara series members are: AM6442, AM6441, AM6421, AM6412 and AM6411.
Integration of Dedicated Cores for Special Tasks
By taking advantage of the ARM architecture, the AM64 Sitara series integrates multiple processors which specialize in specific tasks solely edge computing work like real-time data handling, networking and on-the-go task optimization for various industrial applications. With high-level OS and service features handled by the Cortex A53 CPU cores, the Cortex R5F cores are dedicated to real-time computing of data. In this way, the operations of the processor are split into various processing nodes so they do not interrupt operations for completing tasks.
The processor specifications are as follows:

Despite having few disparities in lower-end models, every processor is designed to be cost-effective as well as energy efficient with lower-end models requiring less power for conducting operations. These disparities prove indispensable when overall energy consumption and cost are prioritized over extra performance in applications.
Few Extra Features that Add Up
Paired with the above-given specifications, every processor also has a Cortex M4 microcontroller unit clocked at 400 MHz for performing microcontroller duties. For added safety, the Cortex M4 gets an isolated channel for device control with error-checking functionality. This processor is important for the connection and control of peripherals, sensors, transducers, and equipment that is available in the industrial environment without errors due to interference from other internal components of the processor. Even though edge computing is its forte, security has not been compromised, and multiple security features like cryptography accelerators, trusted execution environment, IP authorization, and anti-cloning protection.
In addition to supporting LPDDR4 memory and OSPI, eMMC, SD, and USB 3.0 storage interfaces, the AM64 Sitara series supports PCIe Gen 2 and Gigabit Ethernet that expand the usability of the device without the requirement of proprietary connectivity interfaces. Also, support for Industrial Ethernet (for 3 upper models) and Time Sensitive Networking become a core feature of how this device functions in its intended use cases along with support for Wi-Fi, Bluetooth, and Zigbee.
Software Support and Applications
As an ARM-based microprocessor, the Sitara series supports Linux and RTOS as operating systems to be installed to the storage attached enabling features like faster development, remote diagnostic and monitoring, AI and machine learning models and system configurability to implement on-demand business policies.
Moreover, the TSN feature discussed above enables connection to various device control and networking standards like EtherCAT, PROFINET, and ETHERNET/IP.
The intended applications of these microprocessors are edge devices that are connected to various instruments and devices in an industrial environment like a factory floor. Every task that is machine-enabled, can be optimized and latency can be reduced with real-time processing of the Sitara series of processors along with collection of data, and implementation of AI using large data models that are created using edge devices.
Finally, it can be concluded that the AM64 Sitara series of edge processors was created by Texas Instruments to give a push to edge computing for task optimization in an industrial environment.
For further details and content available for the products discussed above, visit their website.
Join 97,426 other subscribers

Archives