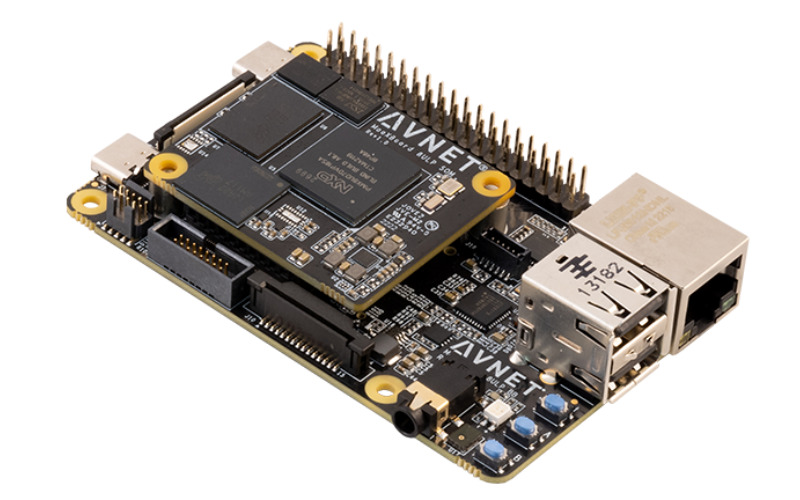 Avnet MaaXBoard 8ULP comes with i.MX 8ULP processor, designed for edge applications
New York-based electronics distributor and manufacturer, Avnet, has launched the MaaXBoard 8ULP single-board computer to help embedded engineers in developing secure intelligent edge applications. To improve overall compatibility and performance, the hardware platform comes with a multifunctional interface and supports various communication protocols.
Avnet MaaXBoard 8ULP single-board computer is designed with NXP i.MX 8ULP processor that features two Arm Cortex-A35 processor cores and an Arm Cortex-M33 core. The application processor is tightly integrated with 3D/2D GPUs, a Cadence Tensilica Hifi 4 DSP, and Fusion DSP for low-power edge AI applications. One of the most highlighting features of the MaaXBoard 8ULP is that it comes with NXP's EdgeLock secure enclave, which is pre-configured to simplify complex security implementation and improve time to market.
"Use of the NXP i.MX 8ULP applications processor and PCA9460 PMIC on the Avnet SOM provides a promising new option for developers implementing energy-efficient, secure edge-AI applications with advanced audio and display capabilities," said Amanda McGregor, senior director of Product Innovation, Advance Edge Processors, NXP.
Specifications of Avnet MaaXBoard 8ULP:
SoC: NXP i.MX 8ULP processor featuring 2x Arm Cortex-A35 clocked at a frequency of 1GHzand an Arm Cortex-M33 processor core
Memory: 2GB LPDDR4 RAM and 768kB shared memory RAM (8ULP on-chip)
Storage: 32GB eMMC storage
Wireless connectivity: Optional 802.11ac Wi-Fi and Bluetooth 5
USB ports: 2x USB 2.0 host and 1x USB 2.0 device
Display interface: MIPI DSI LCD interface
Camera interface: MIPI-CSI Camera interface
LEDs: 1x user RGB LED
Expansion: RJ45 Ethernet port, U.FL external antenna, 40-pin Pi-HAT expansion header, 16-pin Mikroe click shuttle header, 6-pin WTB header, 10-pin JTAG/SWD debugger header
Power: USB Type-C connector with 5V power input
Operating temperature: 0°C to 70°C
Dimensions: 85×56 mm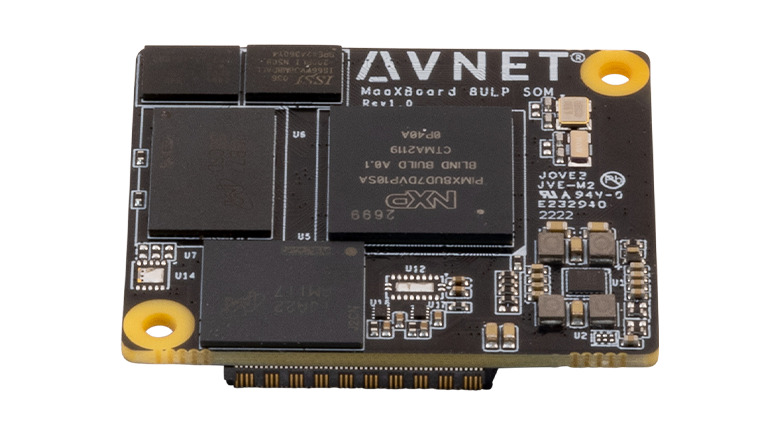 The hardware platform is manufactured as two PCBs– a system-on-module as shown in the figure above is connected to a baseboard through 2x 100-pin connectors to support a rich set of input/output interfaces. Some of these interfaces include a Gigabit Ethernet, two USB 2.0 host interfaces, a Raspberry Pi HAT compatibility through 40-pin header, and a Mikroe Click 16-pin header.
"Utilizing the small form factor of the MaaXBoard 8ULP ensures that the most complex aspects of the hardware implementation are already pre-engineered in the SOM—significantly reducing the engineering risk and providing a path from development to integration into custom products," said Jim Beneke, vice president of Products & Emerging Technologies, Avnet. "It also reduces supply chain risks, since the compact SOM replaces dozens of components, many of which have long lead times."
For more information on the Avnet MaaXBoard 8ULP single-board computer, head to the official product page for more information.
Join 97,426 other subscribers

Archives