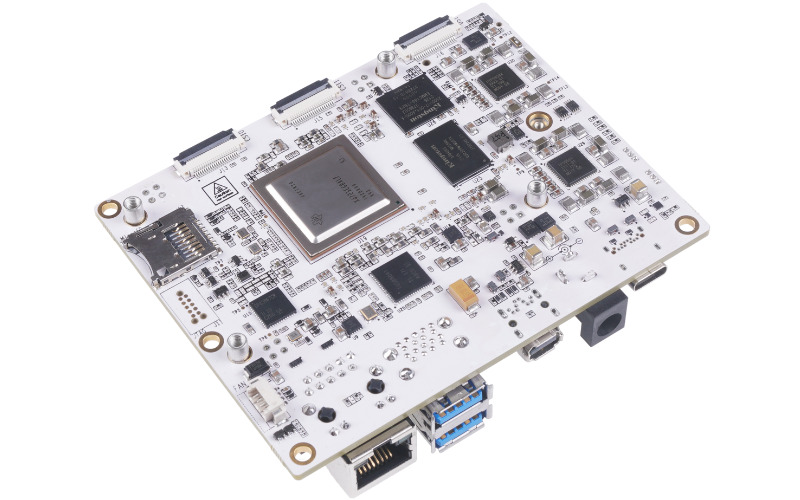 BeagleBone launched a new AI-64 single-board computer for computer vision systems
BeagleBone has announced a new addition to the long list of BeagleBone single-board computers, AI-64, a high-performance computer, custom-made for embedded IoT applications. BeagleBone AI-64 single-board computer is a complete hardware system that is capable of delivering improved performance for advanced artificial intelligence and machine learning workloads. The rich set of peripherals enables developers to build edge IoT applications with a faster time to market.
BeagleBone Foundation claims the AI-64 single-board computer as the "most powerful" AI open-source platform commercially available. The hardware is built on the open-source Linux approach to bring massive computing power to the hands of embedded developers and hardware engineers. The hardware platform gets Texas Instruments' TDA4VM system-on-chip that features a dual-core Arm Cortex-A72 processor core, tightly integrated with the PowerPR GPU and a programmable C7x DSP core. The onboard deep learning, machine vision, and multimedia accelerator allow developers to applications related to computer vision, machine learning, vision analytics, autonomous robots and drones, media servers, home security, smart buildings, and retail automation.
"We believe this board will capture the imagination of designers and empower them to build complete and powerful AI systems" stated Christine Long, CEO of the BeagleBoard.org® Foundation. "At an extremely competitive price point, we are excited about the new applications that BeagleBone AI-64 will enable for new and experienced users."
Recommended reading: What is AI inference at the edge?
Specifications of BeagleBone AI-64 single-board computer:
SoC: Texas Instruments' Jacinto TDA4VM system-on-chip with 2x Arm Cortex-A72 processor core clocked at a frequency of 2GHz
GPU: 3D GPU PowerVR Rogue 8XE GE8430 up to 750MHz, 96GFLOPS, and 6Gpix/sec
Memory: 4GB LPDDR4 RAM
Storage: 16GB eMMC flash storage with microSD card slot for expansion
Onboard modules: On-die processor temperature sensor
Interfaces: M.2 e-key PCIe connector to interface Wi-Fi and Bluetooth modules, USB 3.0 Type-C interface for power, 2x USB 3.0 Type-A interface, Gigabit Ethernet
Display: 4-lane DSI connector for display options
Camera: 2x 4-lane CSI connector for camera modules
Serial communication: 2x I2C, 2x SPI, 4x UART
Buttons: 1x boot button, 1x reset button, 1x power button
Power: USB Type-C port for power
LEDs: 1x power indication, 5x user LEDs
Software: Zero-download out-of-box software experience with Debian GNU/Linux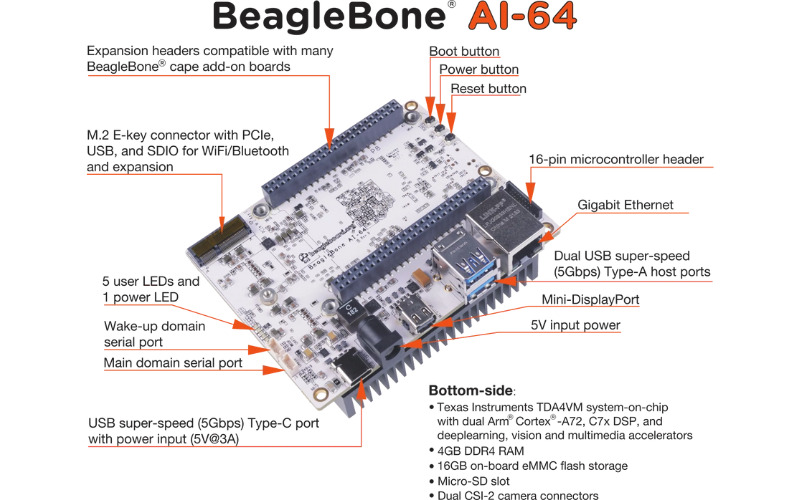 BeagleBone AI-64 single-board computer is manufactured with an open-source focused toolchain and development environment, a web browser, power source, and network connection that is required for performance-optimized embedded applications. The manufacturer has provided "zero-download out-of-box software experience" with pre-installed Debian GNU/Linux. The famous BeagleBone expansions with BeagleBone cape headers provide the flexibility to interface hundreds of open-source hardware that are available in the market.
"BeagleBone AI-64 represents a major milestone for BeagleBoard.org, satisfying some of the most requested features from our developer community," stated Jason Kridner, BeagleBoard.org Foundation board president "including 64-bit support and inclusion of PCIe on an expansion header."
The hardware is currently available for orders on Farnell UK e-commerce store for £140.00 excluding VAT. For more information on the BeagleBone AI-64 single-board computer, head to the official product page.
Subscribe to Blog via Email
Join 97,500 other subscribers
Archives