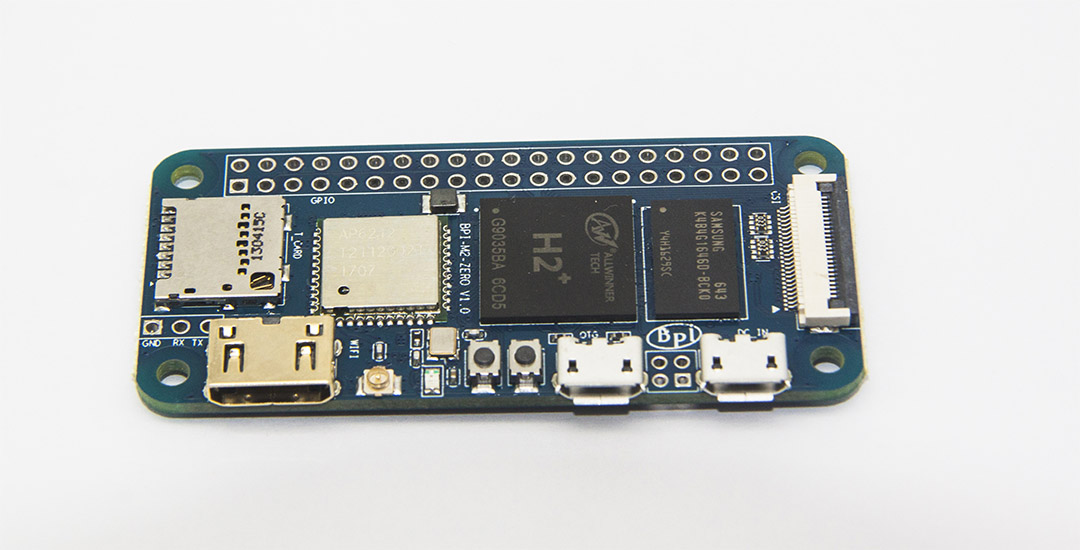 BPi M2 Zero, A Clone of Raspberry Pi Zero
A few days ago, we talked about the Banana Pi M2 Magic as the smallest Banana Pi board. Now we have the Banana Pi M2 Zero, another board by Sinovoip that follows the Raspberry Pi Zero form factor.
The BPi M2 Zero features Allwinner H2+ quad-core processor with 512MB SDRAM memory. The board size is only 60mm x 30mm, the same size of Raspberry Pi Zero W and also has the same interfaces.
M2 Zero design makes it ideal for light-weight systems with some space-limited applications. Like other members of Banana Pi, it supports both Linux and Android operating systems.
WiFi and Bluetooth LE are supported by the AMPAK AP6212 module. An IPEX connector will allow you to install an external antenna to improve reception, increase range or install in a metal box. And there is no clarification if the antenna is shared with Bluetooth.
Banana Pi M2 Zero Specifications
CPU: quad-core cortex -A7 H2+CPU quad-core cortex -A7 H2+
GPU: Mali-400 MP2
Memory: 512MB DDR3 SDRAM (shared with GPU)
Storage support: MicroSD Card(up to 64GB)
WiFi: 802.11 b/g/n (AP6212)
Bluetooth: BT4.0 (AP6212)
Video In: CSI connector that supports 8-bit YUV422 CMOS sensor CSI, CCIR656 protocol for NTSC and PAL, 5MP camera, 1080p video @30Hz
Video Out: Mini HDMI
Power Source: 5V 2A Micro USB
USB Ports: USB OTG(Micro USB)
Buttons: 2GPIO 40 Pins
OS support: Android and Linux etc.OS
Dimensions: 60mm x 30mm
Weight: 35g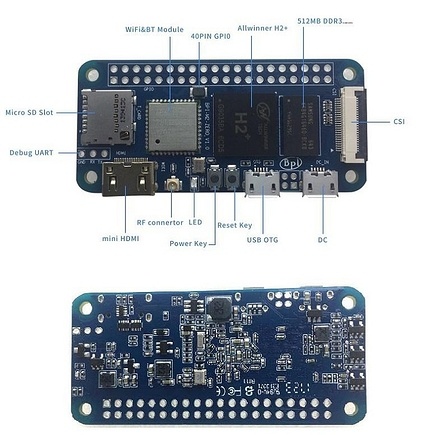 The Banana Pi M2 Zero is available now on the AliExpress website at a price of $13 without shipping. Till now, only Ubuntu 16.04 and Arabian images are available on the download page. And also the documentation and drivers are not ready yet.
Join 97,426 other subscribers

Archives