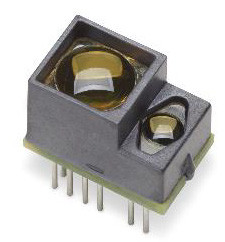 Broadcom AFBR-S50 ToF laser light sensor measures up to 10 meters
The AFBR – S50 is a multipixel distance and motion measurement sensor. It has an integrated 850nm vertical cavity surface emitting laser (VCSEL) which uses a single voltage supply of 5V. It's measurement rates are quick and as fast as 3 kHz, which is a distinguishing feature. However, this is not the reason why the AFBR – S50 stands out. It is different because unlike other Time of Flight (ToF) ranging sensors, the AFBR – S50 can measure up to 10 meters whereas similar sensors don't get close to that.
Furthermore, the sensor works on the principle of Optical Time of Flight. Time-of-Flight principle (ToF) is a method for measuring the distance between a sensor and an object, based on the time difference between the emission of a signal and its return to the sensor, after being reflected by an object. If you have used the popular HC-SR05 Ultrasonic sensor, then you have seen this principle in action. The AFBR – S50 can be used both inside and outside to cover wide ranges of ambient light. It supports almost 3000 frames every second with an accuracy of less than one percent on diverse types of surfaces.

The multi-pixel sensor works with up to 16 illuminated pixels out of 32 and with its best-in-class ambient light suppression of up to 200kLx, to ensure smooth usage outside. It uses SPI Interface to communicate with a host device. AFBR – S50 not only works outside but it is also equally effective on colored, white, black and metallic reflection objects.
Broadcom has released two different versions of the sensor:
AFBR-S50MV680B

680nm laser light source.
One illuminated pixel
FOV (Field Of View) 1.55° x 1.55°
Single voltage – 5V supply

AFBR-S50MV85G

850nm laser light source
9-16 illuminated pixels
FOV 6.2° x 6.2°
Single voltage – 5V supply
Below are the General Specifications for the Multipixel sensor:
Integrated 850nm laser light source.
Between 9-16 illuminated pixels.
FOV 6.2°x 6.2° (1.55 x 1.55°/pixel).
High-speed measurement rates of up to 3 kHz.
Variable distance range up to 10m.
Operation up to 200k Lux ambient light.
Works well on all surface conditions.
SPI digital interface (up to 20 MHz).
Single voltage supply 5V.
Integrated clock source.
Laser Class 1.
Accuracy < 1 percent.
Drop-in compatible with the AFBR-S50 sensor platform
Applications for the ToF sensor can be found in areas of industrial sensing, gesture sensing, distance measurement, robotics, drones, automation, and control. The AFBR-S50 is available, but the price is currently undisclosed. You can contact Broadcom sales for more information. More details can be found on the product page, and the AFBR-S50 datasheet can be found here.
Join 97,426 other subscribers

Archives