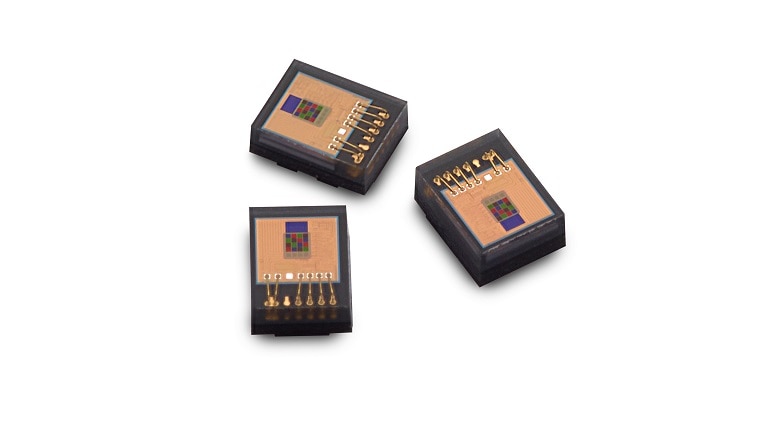 Broadcom APDS-9251 and APDS-9253 ambient light sensors
The Broadcom® APDS-9251-001 and APDS-9253-001 devices are low-voltage digital RGB, IR and ambient light sensor device that convert light intensity to digital output signals.
Key features
Up to 20-bit resolution
I2C compatible interface with dedicated interrupt pin
Individual channels for red (R), green (G), blue (B) and infrared (IR)
Approximate human eye response with green channel
Additional features
The devices use four individual channels of red, green, blue, and IR (RGB+IR) in a specially designed matrix arrangement. This allows the devices to have optimal angular response and accurate RGB spectral response with high lux accuracy over various light sources. They support I2C-bus interface and have a programmable interrupt controller that takes minimal micro-controller (MCU) resources. The color-sensing feature is useful in applications such as LED RGB backlight control, solid-state lighting, reflected LED color sampler and fluorescent light color temperature detection. With the IR sensing feature, the devices can be used to read the IR content in certain lighting condition and detect the type of light source.
Further features:
Miniature package size: L2.00 x W2.00 x H0.65 mm (APDS-9251-001)
Miniature package size: L1.70 x W1.30 x H0.60 mm (APDS-9253-001)
Precise light intensity measurements under diverse lighting conditions and various attentuation materials including dark glass
ALS and RGB sensing with integrated IR-blocking filter
Specially designed matrix arrangement of photodiodes to have optimal angular response
Low power consumption
Applications
OLED display control
RGB LED backlight control
Ambient light color temperature sensing
Join 97,426 other subscribers

Archives