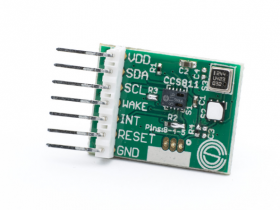 CCS811 – Digital CMOS gas sensors for wearables & IoT
by Graham Prophet @ edn-europe.com:
Cambridge CMOS Sensors is a semiconductor company that designs gas sensor solutions to monitor the local environment; its CCS811 is the first digital product in its CCS800 product family of ultra-low power miniature gas sensors.

The CCS811 integrates a metal oxide gas sensor with a microcontroller sub-system which enables Indoor Air Quality Monitoring, ease of design, extended battery life and reduced system cost for smartphones, wearables and connected home devices. It is based on CCS's Micro-hotplate technology which enables a highly reliable solution for gas sensors, very fast cycle times and a significant reduction in average power consumption compared with traditional metal oxide gas sensors.
CCS811 – Digital CMOS gas sensors for wearables & IoT – [Link]