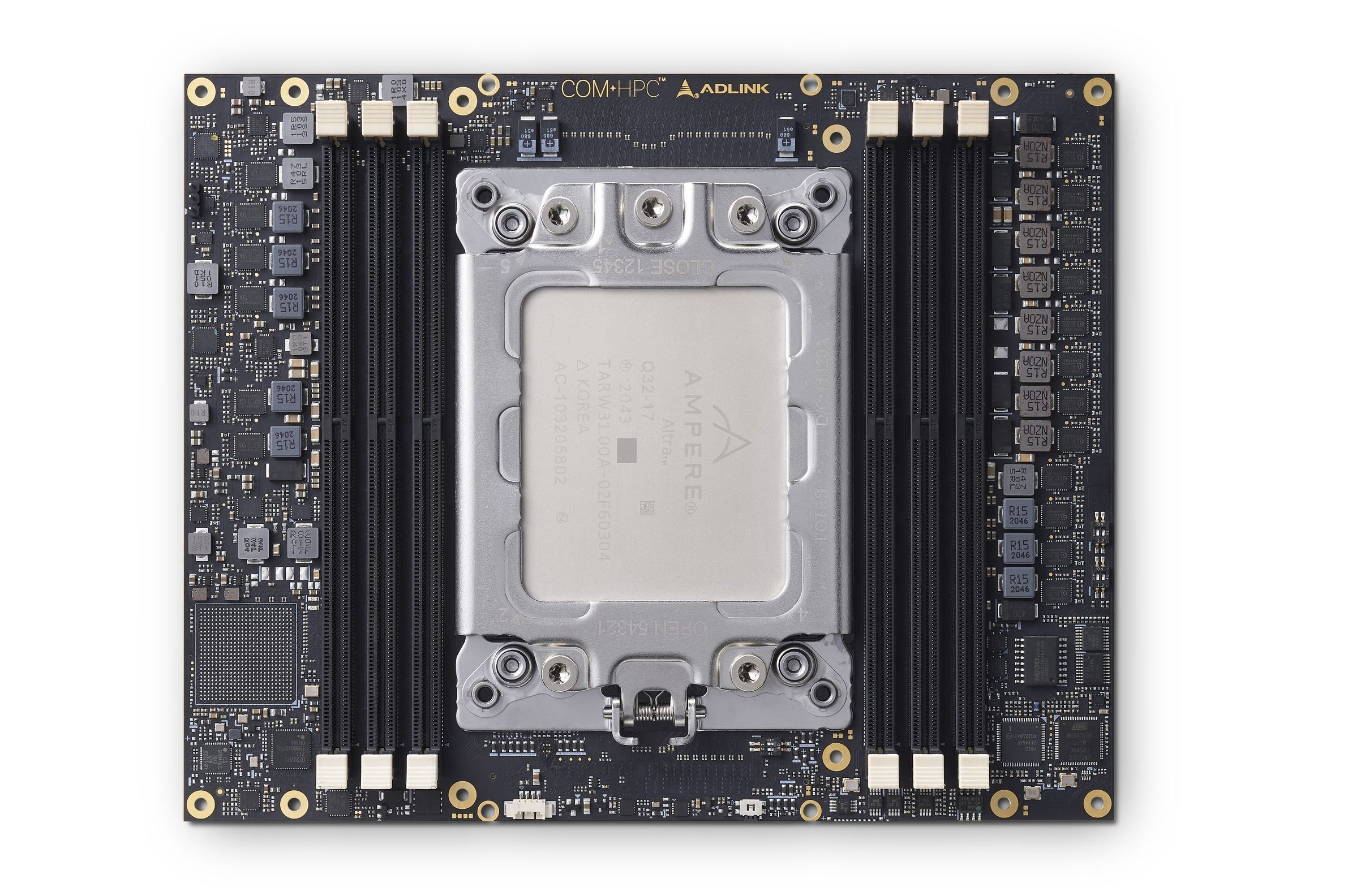 COM-HPC server modules have 80-core Ampere® Altra® Arm-based SoCs for embedded applications
The new COM-HPC Ampere® Altra® is a first-in-its-class power-efficient solution for high performance embedded edge applications.
ADLINK Technology Inc., a global leader in edge computing, introduces the COM-HPC Ampere® Altra®, the world's first 80-core COM-HPC server type module that eliminates power-performance limitations. The new server type module targets edge platforms that reliably and predictably process the most compute-intensive workloads, eliminating bottlenecks and restrictions typically caused by memory caches and system memory limits on edge devices. The COM-HPC Ampere Altra core is an Ampere Altra SoC (system on a chip) using the Arm® Neoverse™ N1 architecture, providing premium performance within a relatively modest thermal envelope, lower TCO than x86 designs, and significantly lower power consumption.
The COM-HPC Ampere Altra delivers an unprecedented performance-power ratio of up to 80 Arm v8.2 64-bit cores running at up to 2.8GHz with only 175 watts. The COM-HPC Ampere Altra provides three PCIe Gen4 x16 lanes with a homogenous architecture and valuable compute power for demanding workloads, such as real-time/near-real-time applications including autonomous driving, stationary and mobile robotics, medical imaging and robotic surgery, test and measurement, and video broadcasting. In addition, it is excellently suited as a native arm64 development and compilation system for lower power embedded arm64 designs.
"Ampere Altra delivers the scalable power and performance necessary to drive a variety of use cases in the embedded development community from autonomous vehicles to medical instrumentation and industrial robotics,"
said Jeff Wittich, chief product officer of Ampere.
"By delivering this family of COM-HPC modules in collaboration with ADLINK, we give these industries new choices for power efficient, high performance SystemReady design. These can be applied whether in a vehicle or in the many edge devices out there that have had only x86 options to choose from in the past."

"By teaming up with Ampere and Arm and using their Arm Neoverse N1-based Ampere Altra SoC, our high performance-per-watt COM-HPC Ampere Altra architecture allows our strategic partners and customers to process data intensive workloads at the edge without worrying about big upfront investments, hardware overheating, or ongoing maintenance costs,"
says Alex Wang, ADLINK's product manager of embedded boards and modules.
Ampere Altra is one of the first with Arm SystemReady SR certification; ADLINK is also working closely with Ampere and Arm to certify the COM-HPC Altra prototype system as a SystemReady SR device. COM-HPC Ampere Altra supports the open-source edk2 as a bootloader with UEFI. Existing customers can just download a stock aarch64 (arm64) ISO such as Ubuntu and install it through booting a live ISO directly on the target. The same convenience we have become used to by using x86 / amd64 target systems.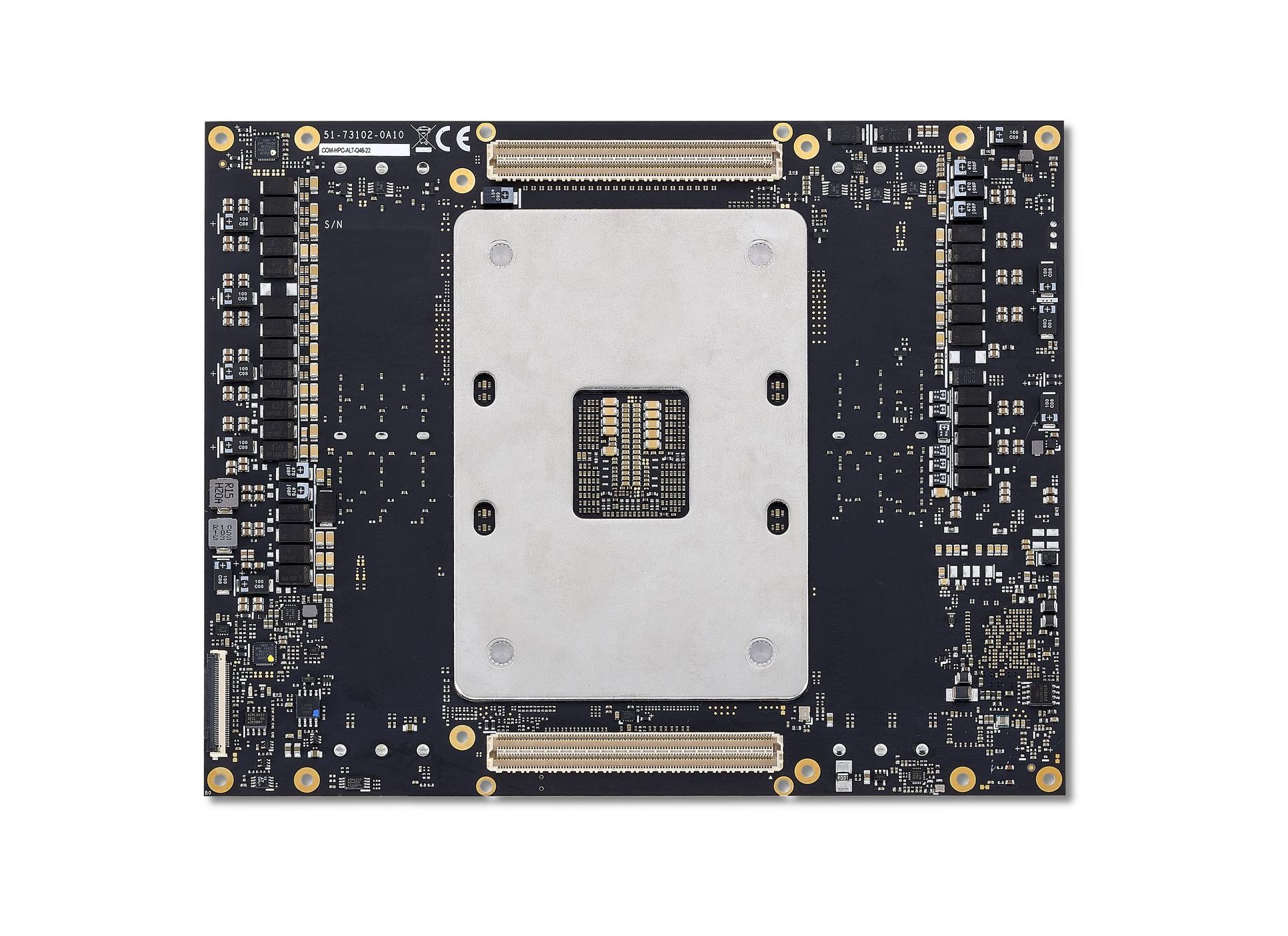 COM-HPC Altra key features:
Arm Neoverse N1-based architecture
Scalable, from 32 to 80 Arm v8.2 64-bit cores (60 to 175 watts)
768GB DDR4 with 6 individual memory channels for demanding workloads
64x PCIe Gen4 lanes
edk2 bootloader with TianoCore / UEFI
Arm SystemReady SR: ready to install stock aarch64 Ubuntu 20.04, Yocto Linux
Gigabit Ethernet support: 4x 10GbE and 1x GbE
SOAFEE-compliant
Find more information on the COM-HPC Ampere Altra module here,
Join 97,426 other subscribers

Archives