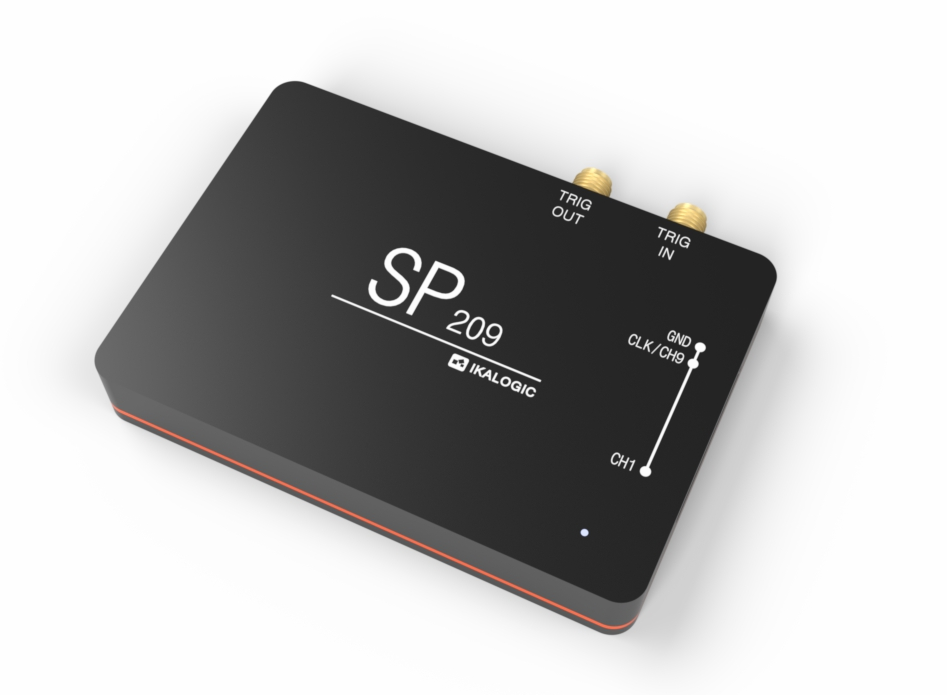 SP209 Series – 9 channel 200 MSPS logic analyzer with protocol decoders
SP209 series logic analyzers and protocol decoders offer in depth analysis of logic signals and protocols with 200MHz (5ns) timing resolution. 9-channel operation allows 8-bit parallel data to be captured along with a clock or strobe signal. SP Series is composed of two devices, SP209 and SP209i: The SP209 is the standard edition and SP209i is the industrial one with some additional features, like: Logic channels can be multiplexed with dedicated industrial inputs that can be directly connected to: RS232, RS485, CAN and LIN buses.
SP209 series logic analyzers rely on ScanaStudio software (runs Windows, Mac and Linux) to capture, display, analyze and decode signals. Most industry standard protocols can be interpreted, among which: SPI, I2C, USART, 1-Wire, CAN, LIN, I2C, RS232, RS485, TWI and much more (click for full list of supported protocol decoders).
Features
9 logic channels with adjustable thresholds (1.8V,  2.5V, 3.3V, 5V)
State of the art input stage, with Schmitt triggers that eliminate glitches on slow signals
200 MHz sampling rate, with all 9 channels used.
External clock option (state mode), up to 50MHz
Precise trigger-In and trigger-Out signals on SMA ports
Samples compression and streaming via USB.
2Gb DDR-3 memory kicks-in when USB isn't fast enough.
Embedded receivers on industrial version: SP209i (RS232, CAN, LIN, RS485).
Guaranteed performances on all hosts.
The standard edition costs 299€ with a -50€ discount on pre-orders.
Join 97,426 other subscribers

Archives