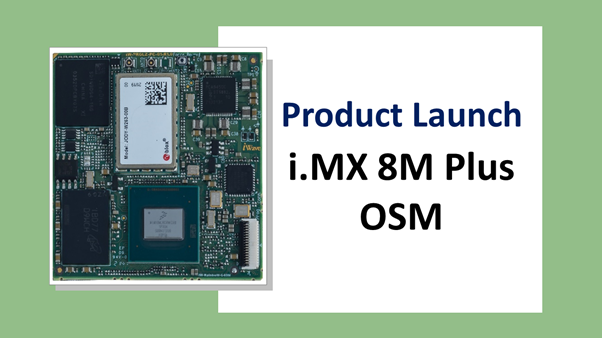 iWave Systems launches i.MX 8M Plus OSM Module: A Solderable System-On-Module
Building on the new industry standard "Open Standard Module (OSM)" defined by SGeT, iWave Systems launches iW-RainboW-G40M: The solderable i.MX 8M Plus OSM LGA Module. iW-RainboW-G40M integrates the powerful i.MX 8M Plus processor in the compact OSM 1.0 standard, delivering powerful AI and Machine learning capabilities on a compact edge device.
The OSM Standard defines a standard for a module to be soldered on the carrier board as a solder-on module LGA package, instead of relying on edge or board-to-board connectors. The module is built on a 45 mm x 45 mm "Size-L" Standard, provisioning for 662 contacts. The OSM LGA Size-L Standard, measuring 45mm x 45mm, is 28% smaller than the µQseven (40mm x 70mm), a standard also hosted by SGeT, and 51% smaller than SMARC (82mm x 50mm).
Two image signal processors (ISP's) and a dedicated neural network processor at up to 2.3 TOPS make the i.MX 8M Plus is an ideal fit in Smart Home, Smart City, Industrial IoT, and beyond with its Machine learning, vision, and advanced multimedia capability.
Key Features of the Module
MX 8M Plus Dual/Quad/Quad Lite
2GB LPDDR4 (Up to 8GB)
16GB eMMC (Up to 64GB)
Wi-Fi (802.11 b/g/n/ac/ax)
Bluetooth 5.0
2 * CAN-FD Ports
2 * RGMII Interfaces
PCIe 3.0 x 1
LVDS * 2
Size-L LGA Module
"i.MX 8M Plus powered OSM provides an ideal mix of small form factor, pricing, and scalability making the module an attractive option for product designers" said Ahmed Shameem M H, Hardware Project Lead at iWave Systems." The module provides designers a flexible and scalable option for their product, while shortening their up time to market.
With the provision for industrial interfaces such as CAN-FD, time-sensitive networking, and high-speed interfaces, the processor finds a fir in Industry 4.0 and automation systems supporting intelligent and fast processing of multi-media data.
Through a development kit and a production ready SOM, you can accelerate your time to market with reduced risk. The module is application-ready and come with all necessary software drivers and BSPs with software support of Ubuntu, Android and Linux.
Learn More:
Join 97,426 other subscribers

Archives