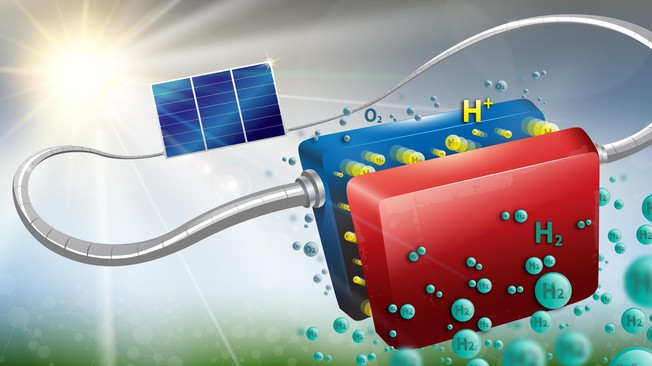 Efficient Low-Cost Solar Energy Converter
Researchers at the École Polytechnique Fédérale de Lausanne and the Centre Suisse d'Electronique et de Microtechnique have invented a new device to store solar power while the sun's not shining by converting it into Hydrogen. Although many current methods use the same approach to store energy, but this device rivals them in stability, efficiency and cost.
They combined commercially available components that have already proven effective in industry, such as Nickel, in order to develop a robust and effective system, that is  :made up of three interconnected, new-generation, crystalline silicon solar cells attached to an electrolysis system that does not rely on rare metals. The device is able to convert solar energy into hydrogen at a rate of 14.2%, and has already been run for more than 100 hours straight under test conditions."
In order to develop this device, the researchers used layers of crystalline silicon and amorphous silicon to allow higher voltages. Thus, three cells in series generate a nearly ideal voltage for electrolysis.
"We wanted to develop a high performance system that can work under current conditions," says Jan-Willem Schüttauf, a researcher at CSEM and co-author of the paper. "The heterojunction cells that we use belong to the family of crystalline silicon cells, which alone account for about 90% of the solar panel market. It is a well-known and robust technology whose lifespan exceeds 25 years. And it also happens to cover the south side of the CSEM building in Neuchâtel."
This method, which outperforms previous efforts in terms of stability, performance, lifespan and cost efficiency, is published in the Journal of The Electrochemical Society. You can check the scientific paper here.
Subscribe to Blog via Email
Join 97,456 other subscribers
Archives