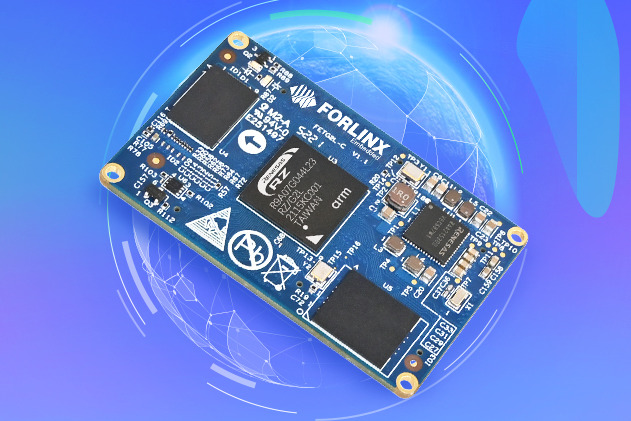 Forlinx launched Renesas RZ/G2L powered FET-G2LD system-on-module
Chinese embedded design manufacturer, Forlinx has announced the public availability of the Renesas RZ/G2L powered FET-G2LD-C system-on-module. The onboard Renesas RZ/G2L is a general-purpose microprocessor with a dual-core Arm Cortex-A55, a single-core Arm Cortex-M33, and an integrated 3D graphics and video CODEC engine. Forlinx FET-G2LD system-on-module is designed to handle extensive multimedia workloads and next-gen IoT applications.
The hardware is also equipped with a Mali-G31 graphics processing unit clocked at a frequency of 500MHz and supports a variety of display interfaces. The system-on-module can withstand industrial-grade temperatures with operating temperatures of -40°C to +85°C. The company guarantees that the FET-G2LD system-on-module has a 10-year+ life cycle, and its Linux kernel will also come with long-term support. The hardware platform supports a rich set of peripheral interfaces for industrial applications, including 2x Gigabit Ethernet controllers, 2x CAN-FD, 2x USB2.0, and several others.
Specifications of Forlinx FET-G2LD system-on-module:
SoC: Renesas RZ/G2L featuring an Arm Cortex-A55 processor core clocked at 1.2GHz, and an Arm Cortex-M33 core at 200MHz
GPU: Arm Mali-G31 graphics unit to support OpenGL ES 1.1/2.0/3.1/3.2, Vulkan 1.1, and OpenCL 2.0
VPU: H.264 up to 1920×1080 pixels at 30 frames per second
Memory: 1GB and 2GB LPDDR4 RAM
Storage: 16MB QSPI NOR Flash and 8GB/16GB optional eMMC storage

The carrier board leads out the SD signal through the TF card holder, which can mount the TF card

Display: 1x 4-lane MIPI display serial interface to support 1.5Gbps of up to 1920×1080 pixels at 60 frames per second
Camera: 2x 4-lane MIPI camera serial interface with up to 4000Mbps
Audio: WM8960 default onboard with support for headphone output and MIC input integrated on a 3.5mm headphone jack
USB ports: USB 2.0
Serial communication protocols: I2C, UART, SPI
Debug: JTAG through 1.27mm pins
Supply voltage: 5V DC
Operating temperature: 40°C to +85°C
Dimensions: 38×60 mm
Operating systems: Linux 4.19
The hardware meets the industry demands of human-machine interface and image acquisition for interfacing display, camera, and audio modules. The onboard VPU helps improve the HMI experience with support for H.264 encoding/decoding for 1920×1080 pixels at 30 frames per second. The target applications for the FET-G2LD-C system-on-module are healthcare, vehicle transportation, security, chemical industry, communication, and military applications.
The OK-G2LD-C single board computer consists of the FET-G2LD-C system-on-module and a carrier board to offer a rich functional interface and make product evaluation easier. There are also several optional modules available on the Forlinx e-commerce page, including a 4G module, OV5645 camera module, and a 7-inch MIPI display.
If you are interested in Forlinx FET-G2LD-C system-on-module, head to the product page, where you can contact the company for a quote.
Join 97,426 other subscribers

Archives