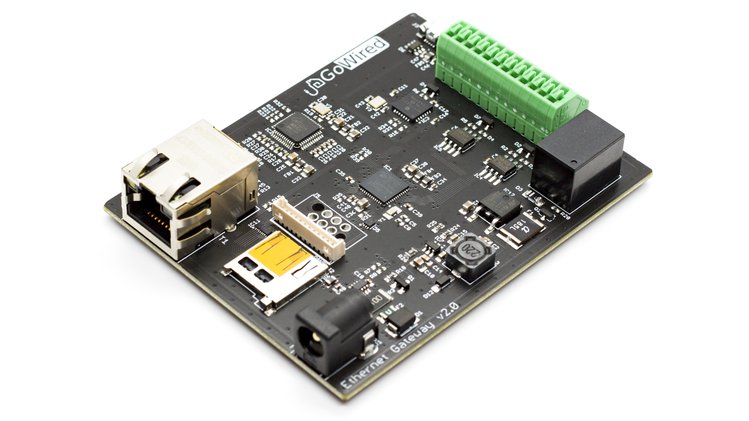 GoWired Multiprotocol Gateway is a Versatile hub for all wired communication
GoWired Multiprotocol Gateway is an evolution of one of our previous boards, the GetWired Ethernet Gateway, with more power, more features, more versatility, and better solutions for wired automation systems. It features powerful ARM M0+ microcontroller with eight times more ROM and 16 times more RAM memory. We doubled the RS485 transceiver to be able to utilize two different communication protocols at once (MySensors, MODBUS, etc.) and added a CAN transceiver, since it is also widely used in home automation. USB obviously must be included too. To ensure reliable Ethernet communication, we utilized a market-leading Wiznet W5500 chip. Microcontroller internal memory can be expanded by an SD card, e. g. for the purpose of gathering debug information.
GoWired Multiprotocol Gateway also features improved power supply circuitry which now can handle voltage ranges from 7-26 VDC. Onboard current and power monitor can regularly share power-related data, along with other information about the status of the device. This information might be displayed using an e-ink screen, for example. All this is designed with reliability and safety in mind, in general, and in terms of power (ESD, overcurrent, overvoltage, reverse polarity protection) and EMC & EMI precautions, specifically. The device fits in a compact, four-slot DIN rail enclosure.
Hardware Specifications
Powerful 32-bit ATSAMD21G18A ARM M0+ microcontroller with 32 kB RAM and 256 kB ROM, 48 MHz
Reliable Wiznet W5500 Ethernet transceiver with hardware TCP/IP stack
Support for three different communication standards (RS485, CAN, USB) and four different protocols in the same time (doubled RS485 transceiver)
Power and current monitoring for all connected devices (if the devices are powered from the Gateway)
uSD card slot for debug and other purposes
Designed with EMC & EMI protection in mind
Protected against ESD, overcurrent, overvoltage, reverse polarity
Extension board with e-ink display, LEDs and buttons mounted on the enclosure
four-slots DIN rail enclosure
Software Features
Compatible with Arduino
Open source, modifiable, configurable, ready to use
Plug & play compatible with most open source home automation controllers (Domoticz, Home Assistant, etc.)
Privacy friendly, can work without internet access, doesn't require any cloud services
Open Source Software
Our open source software is compatible with Arduino, includes a custom board definition, and can be modified according to the user's needs. Most importantly GoWired Multiprotocol Gateway is ready to use out-of-the-box and is plug & play compatible with the vast majority of open source home automation controllers (e. g. Home Assistant, Domoticz). We also have plans for extended software versions to be developed in the future. Our software is located on GitHub.
text and photos sourced from: https://www.crowdsupply.com/domatic/gowired-multiprotocol-gateway
Join 97,426 other subscribers

Archives