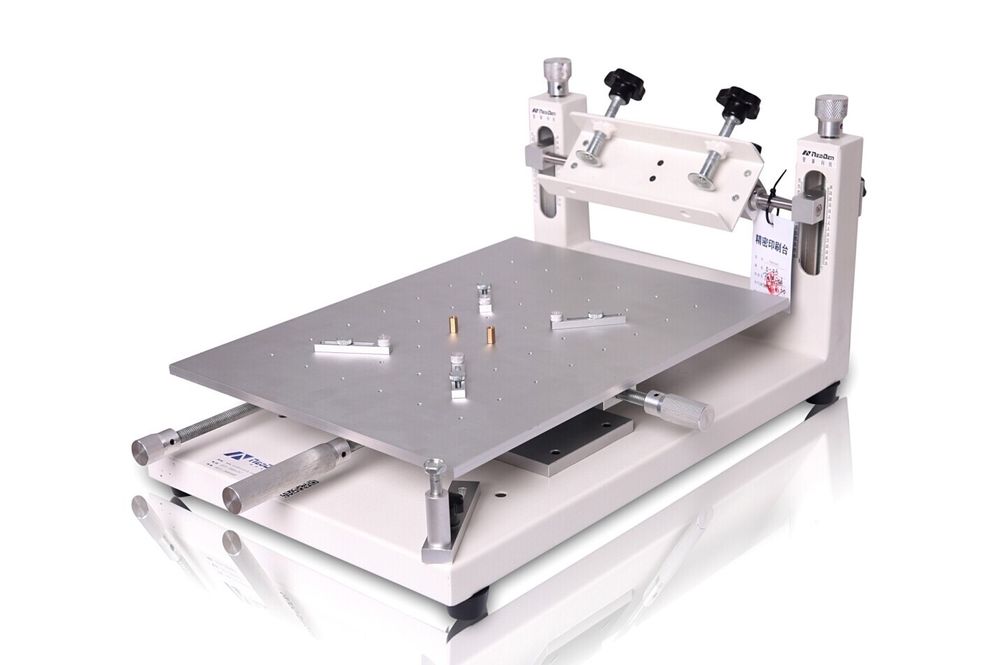 High Precision Solder Paste Stencil Printer
This is the most traditional size and classic high precision Solder Paste Stencil Printer for PCBs. The platform can be rotated 30 degrees at most, and the precision can be kept all the way when repeat works. Easy to locate PCB board, high flexibility ensure high printing precision.The brackets using the bolt bar to adjust the height, convenient for controlling the thickness of PCB.
Note, Stencil plate and frame is customized for your own PCBs which is Not included. The picture is only for reference. The solder paste stencil printer starting at $309 with additional accessories available.
Technical Parameters
Overall Dimensions(L*W*H) 580*320*259(mm)
Platform Size 300*400(mm)
PCB Size 270*370(mm)
Stencil Size 370*470(mm)
Platform Height 180mm
PCB Positioning Mode Outside/ Reference Hole
Weight 12.7kg
Introduction to Classic 3040 Solder Stencil Printer
This post is a contribution of www.robotdigg.com. RobotDigg offers motorized and linear Delta Robots, Cartesian XYZ, SCARA, SLA 3D Printer, Benchtop Surface Mount, CNC Laser, Robotics and many more products.