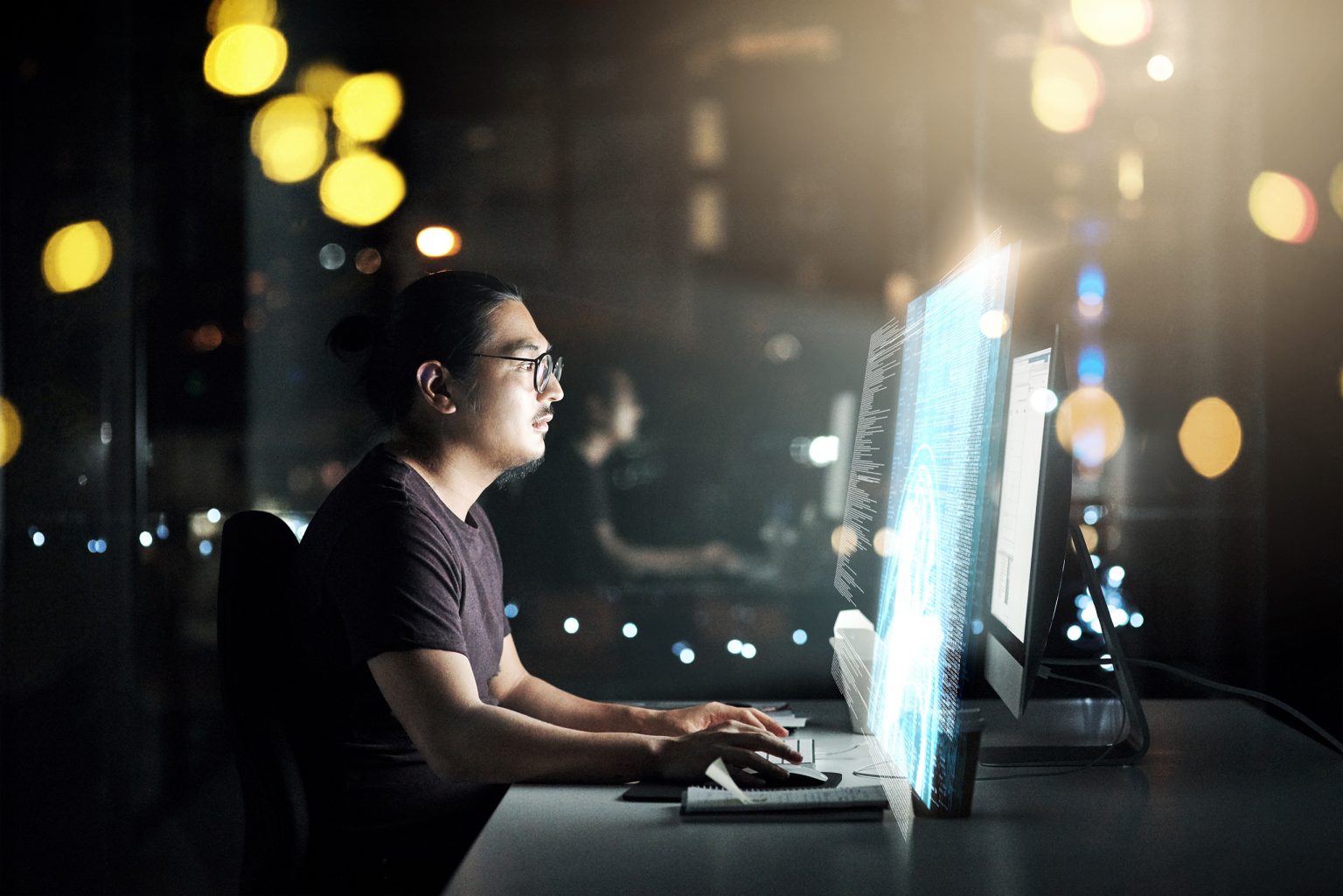 Intel Launches Pathfinder for RISC-V to Help Hobbyists, Academics, and Industry Build RISC-V Chips
It was indeed another win for RISC-V as Intel announced a big move to support the pre-silicon development of RISC-V devices with the launch of the Intel Pathfinder for RISC-V, a unified development environment for hobbyists and industries.
Though a major leap for the RISC-V movement, this announcement was quite anticipated as the renewed interest in the RISC-V open-source instruction set architecture which was brought on by ARM's uncertain fate has over the past few years attracted the attention of some of these industry giants including Intel and AMD.
"Intel Pathfinder for RISC-V represents our ongoing commitment to accelerate the adoption of RISC-V and catalyze the ecosystem around an open-source and standards-based vision." said Vijay Krishnan, General Manager at Intel's RISC-V Ventures Division.
The Intel Pathfinder for RISC-V is designed to ease the expansion of SoC architecture, saving time when building and testing different IP resources in a single environment. It provides a variety of RISC-V cores and a set of  IPs that can be used on FPGA and simulator platforms. It also has the ability to use leading-edge toolchains and operating systems that facilitate smooth scalability for a broad range of clients.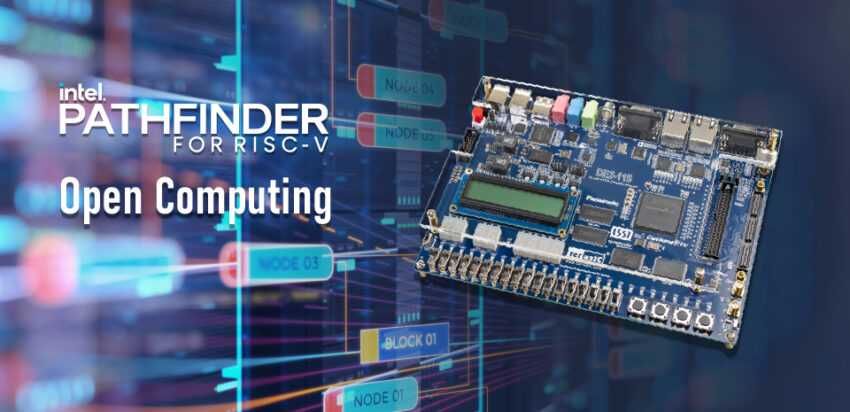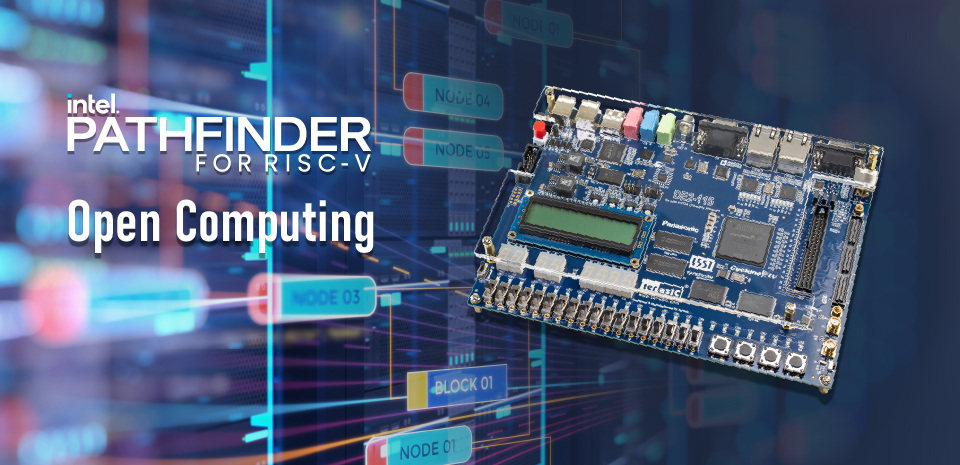 The Intel Pathfinder for RISC-V comes in two variants; a free Starter Edition aimed at hobbyists, academics, and the research community at large, and a Professional Edition targeted at businesses or commercial developers developing RISC-V-based commercial silicon and software. The Starter Edition which is available for free download includes support for the Eclipse IDE, QEMU virtual simulator, GNU/LLVM tools, and RISC-V CPU support for Linux and other operating systems, while the Professional Edition which will only be made available based on customers' needs and the underlying product capabilities, offers a wide range of ecosystem support and advanced capabilities like access to Amazon Web Services.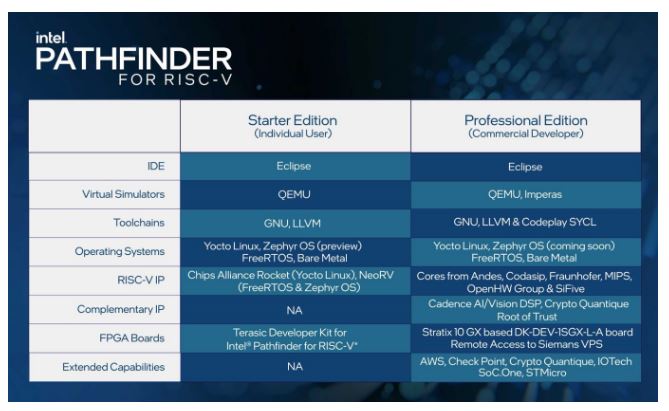 In support of this project, Intel is having major partnerships with key ecosystem participants including MIPS which is supplying its eVocore RISC-V technology to the platform, Codasip (a processor IP provider providing its 32-bit L31 RISC-V core), Cadence (an EDA software provider), Checkpoint Software Technologies (an IoT cybersecurity provider), AWS, SiFive, Linux Foundation, Taiwan's Andes Technology, Crypto Quantique, Chips Alliance, Codeplay software, OpenHW Group, Fraunhofer IMS, Siemens EDA, Soc. One, STMicroelectronics, IOTech Systems, TerasIC, Imperas Software, and of course, RISC-V International. This broad portfolio of participating partners will help expand the open-source chip design, creating more tools and resources within the RISC-V ecosystem.
According to Calista Redmond, chief executive officer of RISC-V International, the launch of the Intel Pathfinder for RISC-V is indeed a huge milestone that the company is very pleased to see, and it does not only signify
"the rapid adoption of RISC-V as an architecture, but also the valuable role that Intel is playing in making it easier for the ecosystem to benefit from the open and modular RISC-V architecture."

"The availability of Imperas RISC-V reference models for the Professional Edition of Intel Pathfinder for RISC-V further strengthens the tools available to developers as new silicon designs move from concept to production," Vijay Krishnan said.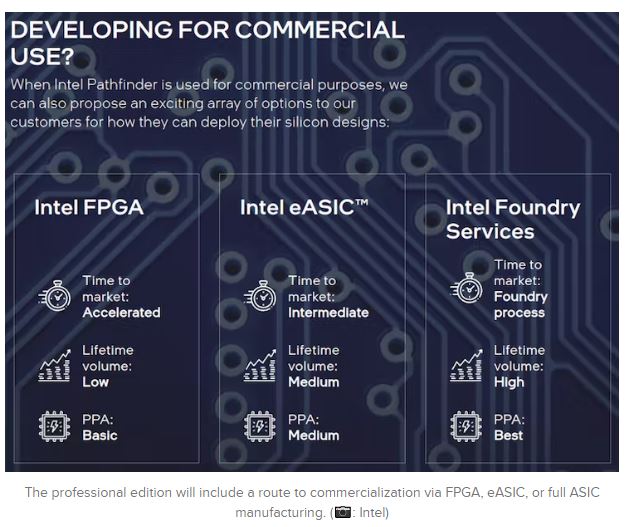 The latest announcements and updates on the Intel Pathfinder for RISC-V can be found on the news page of Intel's website.
Software download, documentation, and community support to get you started are also available on the website but you have to register or login with an existing account to access them.
Join 97,426 other subscribers

Archives