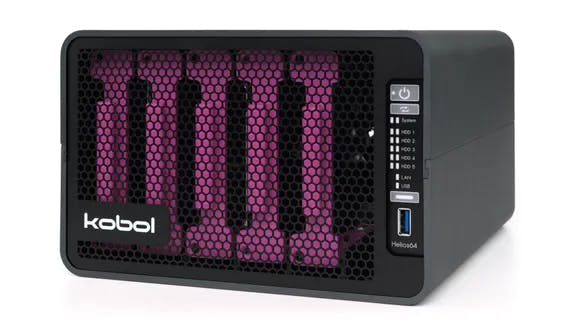 Kobol, the company behind Helios64 NAS system calls it quit and shut it's doors
Recent news reaching us is that Helios4 and Helios64 manufacturer, Kobol, has decided to call it quits promising to only give its support to its customers when available.
The three-man company behind the popular open-spec network-attached storage (NAS) devices made this announcement shortly after it returned from a two-month break which it took in April.
"We have decided to stop the adventure here," says Kobol as they break the news to their customers in a recent statement. "Quite a few reasons made us come up with this difficult decision, but it all comes down to two key points," they said. "There is still ongoing difficulties to manufacture electronics, to procure parts and mainly to control costs. [And] we made a rookie mistake of stretching ourselves very thin last year with the first delivery of Helios64 while being just a three-men show. We should have brought a few more people onboard sooner, but we waited too long until we were a bit burnt out," they added.
Helios64 network-attached storage system was first unveiled by Kobol about two years ago as a follow-up to its considerably more blocky Helios4 system. The stylish five-bay open-spec NAS system was initially supposed to be powered by a Rockchip RK3399K processor but was later stepped down to a slower version due to the shortage of components during COVID-19. There were also other issues that came along when the system was finally launched — ranging from a faulty Ethernet port to drive sleds which were slightly too big to fit in the chassis and then to other bigger concerns that possibly came from rushed software updates — which according to guesses were part of what led the three-man team to shut its doors.
Meanwhile, this big decision by the team has left those who have bought a Helios64 with quite an uncertain future, especially as no one knows what the next line of action will be. There is also uncertainty as to when there would be a second production run of the system hardware as well as newer revisions that will see to the fixing of some or all of the design flaws.
Thankfully, they did not completely throw in the towel as the team also said it will try to give its support to its customers when available. It promised to "post on the wiki all the blueprints of Helios64 [to] help people tinker or even troubleshoot their board when necessary."
We really do not know what's next for them, but if we get any further tips on this matter, we will be sure to give updates.
Join 97,426 other subscribers

Archives