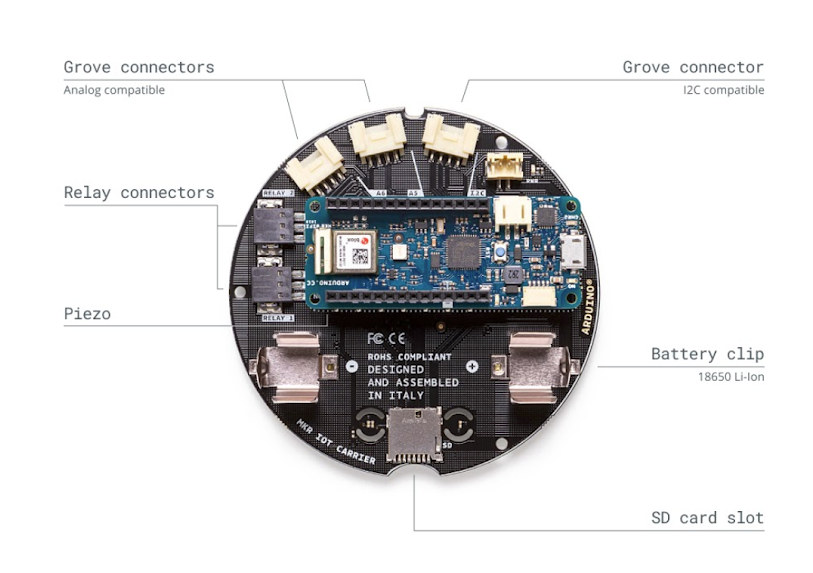 Launching MKR IoT Carrier Rev2 board with a Bosch SensorTech BME688
The Bosch SensorTech BME688 4-in-1 pressure, humidity, temperature, and gas sensor has replaced the HTS221 humidity sensor and the LP22HB barometric pressure sensor on the MKR IoT Carrier Rev2 board for Arduino MKR boards, and the LSM6DSOX has been replaced the LSM6DS3.
The Arduino MKR IoT Carrier, which first debuted as part of the Arduino Oplà IoT Kit, became available in February 2021, providing a display, sensors, and I/Os for Arduino MKR boards through wireless networks. To further serve its customers, the business has released an updated version of the Arduino MKR IoT Carrier, which includes additional sensors and the relocation of some of the original's parts.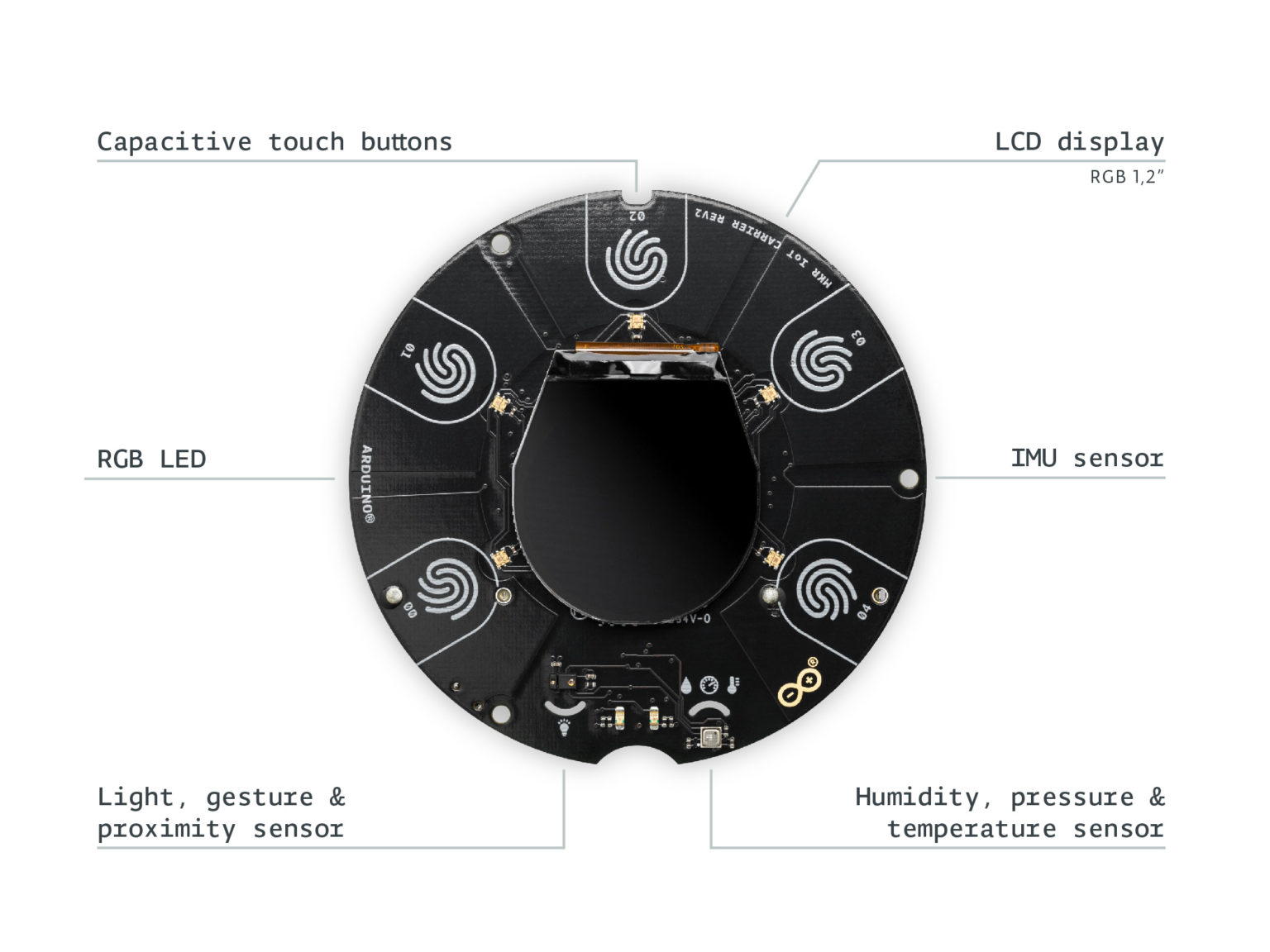 The Arduino MKR IoT Carrier Rev2 has an impressive list of features and specifications. Connectivity options like WiFi, LoRa, NB-IoT, and 3G cellular are supported by Arduino MKR family boards. A microSD card slot is available for more storage. The OLED screen is a full circle and is 1.3 inches in diameter, with a resolution of 240 by 240. Two 24V relays (V23079) and three Grove connectors (two analog and one digital, I2C) serve as input/output devices. The Arduino Nicla Sense ME utilizes the same Bosch SensorTech BME688 4-in-1 pressure, humidity, temperature, and gas sensor. In addition to the 3-axis accelerometer and 3-axis gyroscope included on the STMicro LSM6DSOX 6-axis IMU, it also features a digital RGB, light, gesture, and proximity sensor from Broadcom called the APDS-9960. In addition, there are 5x RGB LEDs, 5x capacitive touch buttons, a Buzzer, and a Reset button. MKR board featuring a slot for a 18650 Li-ion rechargeable battery provides the board's power at 5V. It does not include a battery, and the dimension is 85 mm.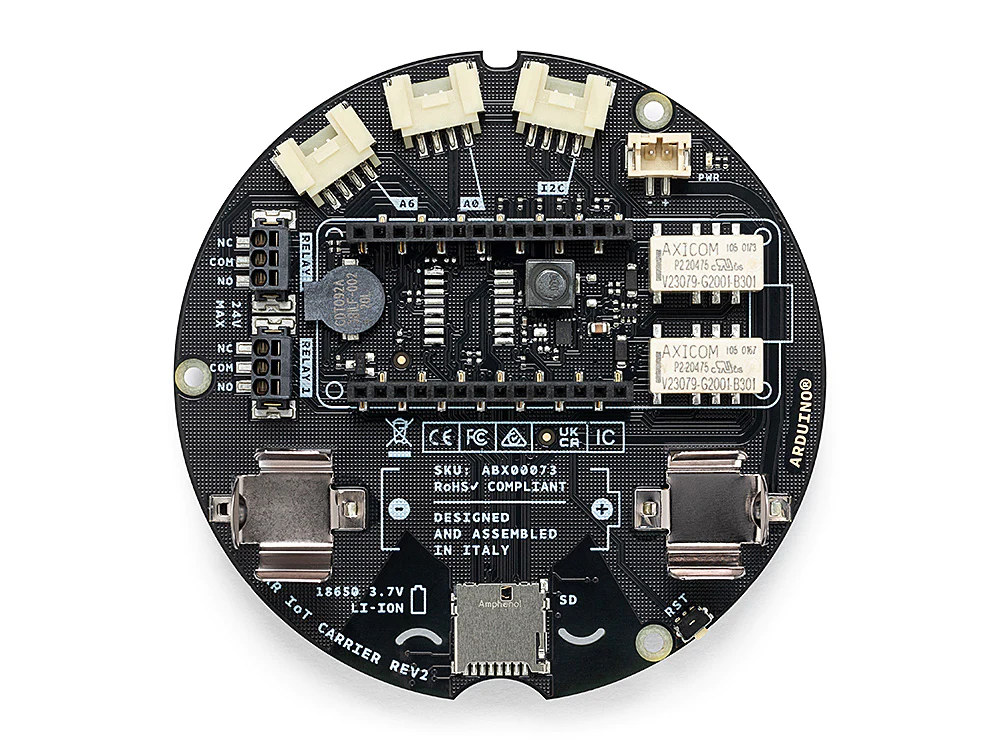 Aesthetically, the updated carrier board is not that different from the original design. There are a few alterations, such as the addition of a reset button, the rotation of the relay connections by ninety degrees, and the relocation of the light sensor (APDS-9960). The relays' control pins have been switched to 1 and 2. In addition, swap the roles of pins A5 and A6 on the grove connection.
With the most recent version of the Arduino MKRIoTCarrier library, the new MKR IoT Carrier Rev2 should work with your existing program without modification. In the same vein as traditional projects, the carrier board may be used with Arduino MKR boards to build monitoring stations, graphical user interfaces for the internet of things, and controllers for other devices. The Arduino documentation page contains further technical insights and tools for getting started.
The Arduino MKR IoT Carrier Rev2 is available for purchase on the Arduino shop for $63.60 (or 60 Euros). The Arduino MKR WiFi 1010 or Arduino MKR WAN 1310 MKR board is also required.
Join 97,426 other subscribers

Archives