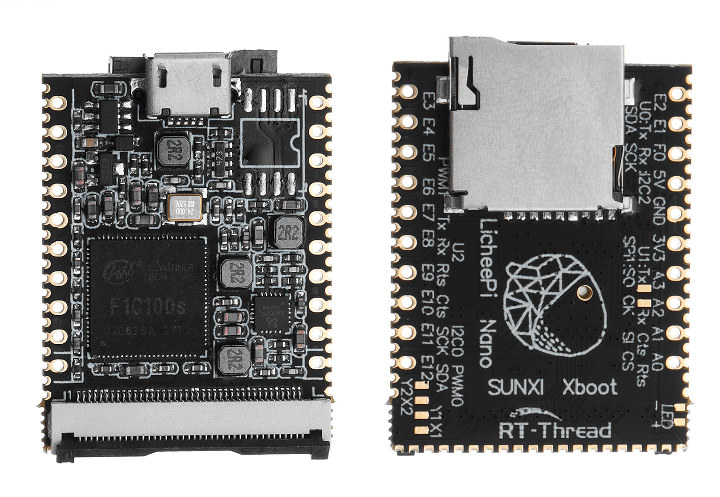 LicheePi Nano: high-performance SD card sized Linux board based on an ARM9 core
The diffusion of the A10 Cortex A8 processor did not stop the ARM9 market of the Allwinner F series. Since its foundation, Allwinner has released several SoCs for use in Android tablets, as well as in smartphones and camera systems. The A10 was the most successful Soc of Allwinner. The chip was mainly used on Android and Linux keys, even with tablets under $ 150 such as Ainol Novo 7 Aurora (India). The processor supports a maximum resolution of 1920×1080 pixels, although it has often been used in tablets with resolutions of 1024×600 or 1280×800 pixels.
The F series finds application especially in multimedia systems for vehicles and various audio solutions. LicheePi Nano is a small Single Board Computer (SBC) which marries the configuration of the F1C100, in a form factor of the size of an SD card. It provides a full support[MP1]  for LED and RGB displays. The F1C100 processor is based on the ARM9 CPU architecture with a high level of functional integration. F1C100 supports Full HD video playback, including H.264, H.263, MPEG1 / 2/4 decoders. The integrated audio codec and I2S / PCM interface enable the user for an excellent audio experience. The TV-IN and TV-OUT interfaces allow the use of video devices such as the camera and the TV.
The SoC implements two timers to provide the operating system's scheduler interrupt. There are three type of DMA, each can support 8-bit/16-bit/32-bitdata width. Moreover, The DRAM Controller (DRAMC) provides an interface to support up to a 1G bits memory address space.
The specifications of the LicheePi Nano board are summarized in the following points:
SoC- Allwinner F1C100s ARM926EJS processor clocked at up to 900MHz
System Memory – 32MB DDR integrated into SoC
Storage – Micro SD card, and optional 8M SPI flash (unpopulated in the photo above)
Display I/F – 40-pin RGB LCD FPC connector supporting 272×480, 480×800, 1024×600 and other resolutions resistive and capacitive displays
Video Decoding – H.264 / MPEG up to 720p
I/Os via 2.54mm pitch through holes and 1.27mmm pitch castellated holes
SDIO for WiFi module
2x SPI, 3x TWI (I2C),3x UART
1x TV out, 2x TV in
2x PWM
1x LRADC
2x speaker output, 1x mic input
USB – 1x micro USB OTG port
Power Supply
Input 5V via micro USB port, 3.3 to 5V via pin
Output – 3.3V, selectable input RTC voltage
Power Consumption – 54mA (idle) with Linux, 250mA with display
Temperature Range – Storage: -40~125°C; operating: -20 to 70°C
The LicheePi Nano board supports resistive touch screen with on-board driver and three operating systems: Linux, RT-Thread (RTT) and Xboot. XBOOT supports several Linux Distributions and allows to choice a Grub or Syslinux bootloader. It includes a built in QEMU emulator.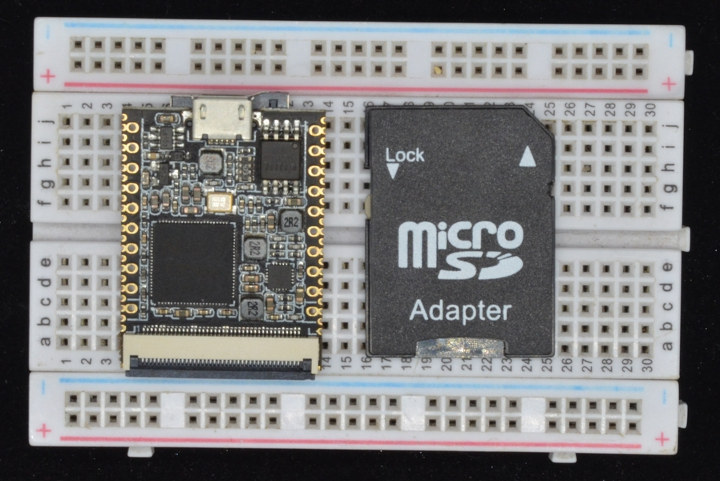 The amount of RAM present does not support desktop solutions. The parent company offers full support via Telegram to solve the various problems that may occur during the operations of use. The card is sold in a development kit with a 5 "display and a WiFi module for wireless communication in IoT solutions. The board is available on various web platforms such as Bang good for about 9 USD.
Join 97,426 other subscribers

Archives