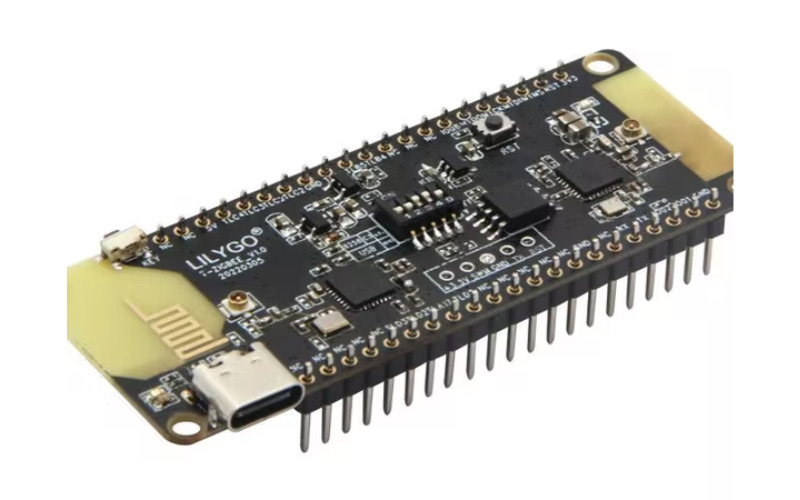 Lilygo released the T-Zigbee featuring the ESP32-C3 and TLSR8258 microcontrollers
The China-based embedded electronics specialist, Lilygo, has released a low-cost development board, the T-Zigbee board that combines the ESP32-C3 microcontroller and the Telink TLSR8258 multi-protocol wireless SoC.
The ESP32-C3 is a single-core Wi-Fi and Bluetooth 5 (LE) microcontroller SoC, which includes a 32-bit RISC-V core running at up to 160MHz alongside 400kB of SRAM. It achieves the ideal cost-effective solution for connected devices by striking the proper power, I/O capabilities, and security combination. Due to the device's availability of Wi-Fi and Bluetooth 5 (LE) connectivity, it not only simplifies configuration but also allows for some use-cases based on dual connectivity.
The board also features Telink's TLSR8258, a multi-protocol radio controller operating at 48MHz. It extends its support for the Zigbee 3.0 connectivity along with RF4CE BLE 5 Mesh, Thread, HomeKit, ANT, 6LoWPAN, and 2.4GHz proprietary connectivity.
Specifications of the T-Zigbee Board
MCU: ESP32-C3 RISC-V processor that supports Wi-Fi 4 and Bluetooth 5.0 LE connectivity and TLSR8258 multi-protocol radio controller
Antennas: Features 2x PCB antennas and 2x u.FL antenna connectors
USB: 1xUSB Type-C port for programming and power
Misc: Provides reset and user keys and for UART/programming selection between the ESP32-C3 and TLSR8258, the board provides a DIP switch
Power supply: 5V via the USB Type-C port
Dimensions: 7.5 x 2.9 cm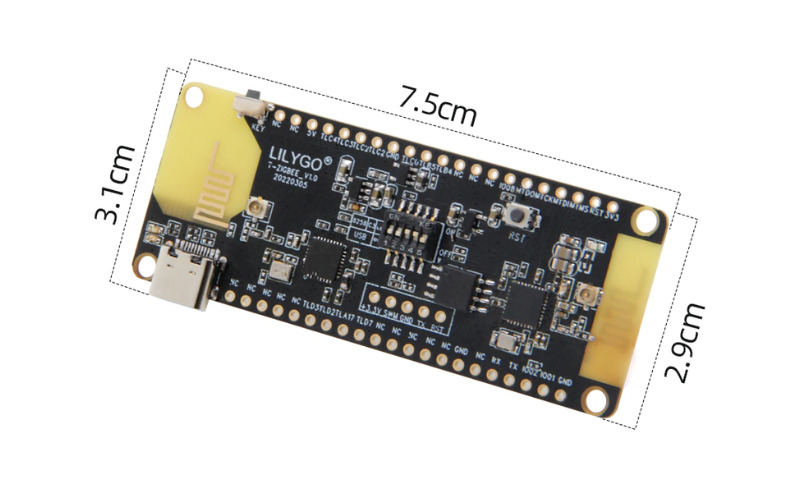 The MCU development board provides 21 general-purpose input/output (GPIO) pins shared between the two processors. It offers four analog inputs, three UART, two I2C, two SPI, a digital MIC, PWM, and I2S buses. The board also offers three user-controllable LEDs, a reset, and a single-user addressable button.
However, this isn't Lilygo's first board to feature the ESP32-C3 SoC. Lilygo's TTGO T-OI PLUS, released last year, was built around this chip, followed by the surface-mounted T-32C3 module a few months later. Despite employing an identical system-on-chip, the T-Zigbee does not use the T-32C3 module, most likely to save footprint on the compact development board.
Priced at $13.27, the T-Zigbee development board can be purchased from AliExpress, excluding the taxes and shipment costs. Further information on the dual MCU development board can also be found on the product page.
Join 97,426 other subscribers

Archives