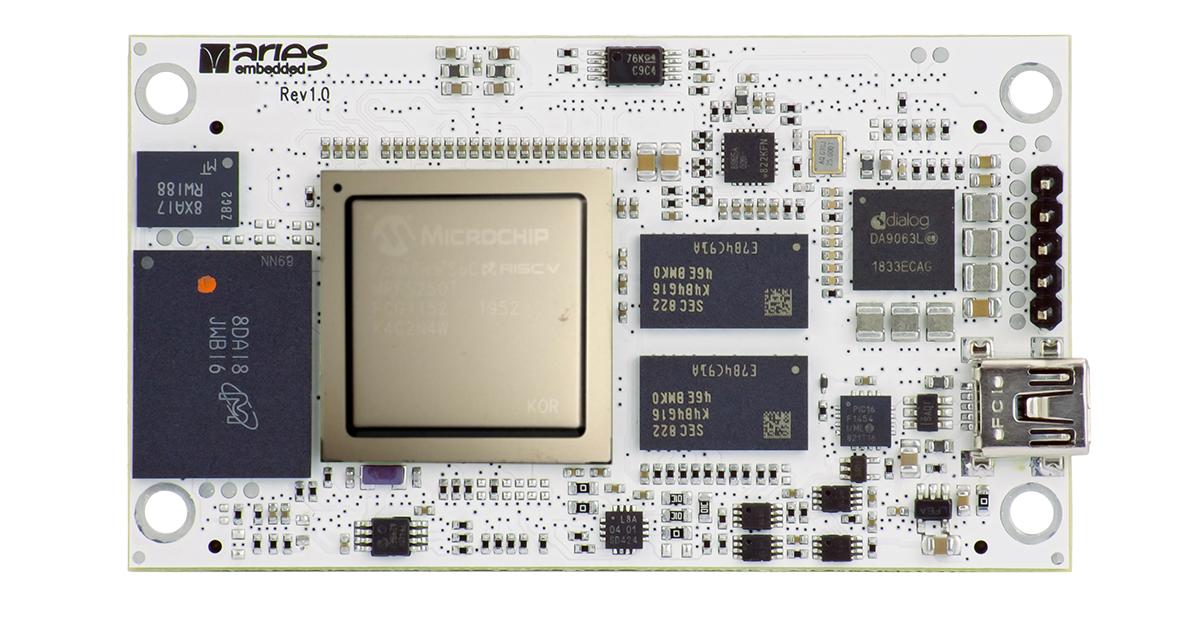 M100PFS – PolarFire RISC-V SoC-FPGA Module
The M100PFS is based on the PolarFire SoC FPGA architecture by Microsemi and combines high-performance 64-bit RISC-V cores with outstanding FPGA technology. The platform integrates a hardened real-time, Linux capable, RISC-V-based MPU subsystem on the mid-range PolarFire FPGA family, bringing low power consumption, thermal efficiency and defence grade security to embedded systems.
The RISC-V CPU micro-architecture implementation is a simple 5 stage, single issue, in-order pipeline that doesn't suffer from the Meltdown and Spectre exploits found in common out-of-order machines. All five CPU cores are coherent with the memory subsystem allowing a versatile mix of deterministic real time systems and Linux in a single multi-core CPU cluster.
Block Diagram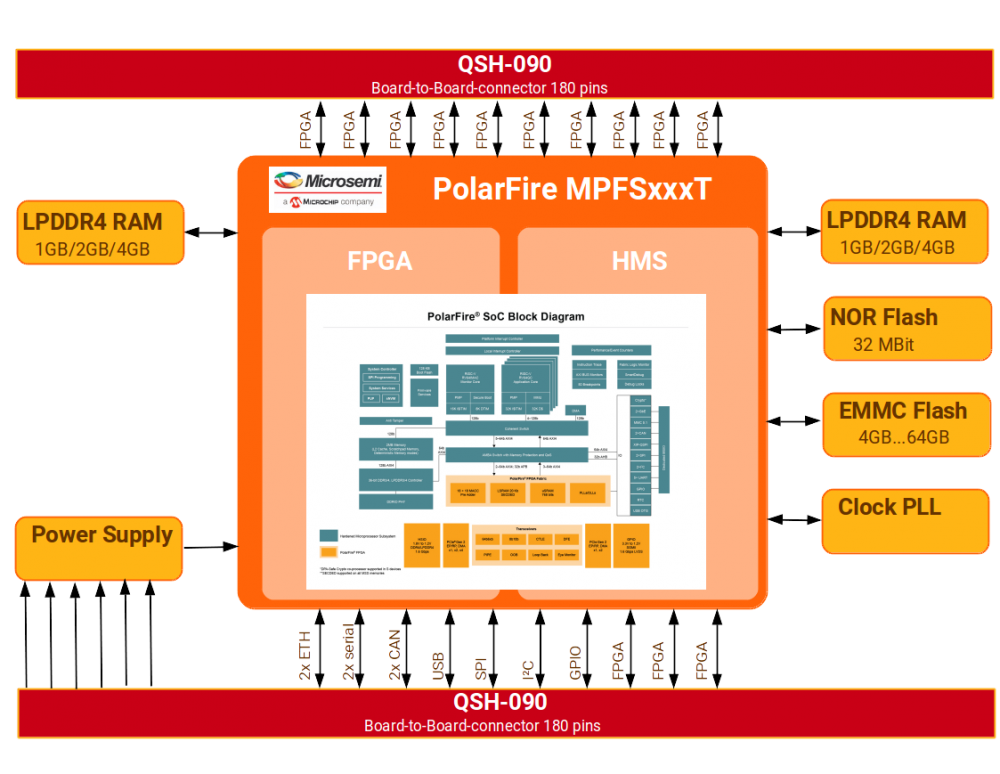 Features:
Microsemi PolarFire SoC FPGA

MPFS025T
23KLE, 68 math blocks, 4x SERDES 12.5Gbit/s, 2x PCIe root port/end point
MPFS095T, available on request
93KLE, 292 math blocks, 4x SERDES 12.5Gbit/s, 2x PCIe root port/end point
MPFS160T, available on request
161KLE, 498 math blocks, 8x SERDES 12.5Gbit/s, 2x PCIe root port/end point
MPFS250T
254KLE, 784 math blocks, 16x SERDES 12.5Gbit/s, 2x PCIe root port/end point

Quad 64-bit RV64GC cores, 667 MHz
64-bit RV64IMAC monitor core, 667 MHz
Processor I/O

2x Gigabit Ethernet
1x USB 2.0 OTG
1x MMC 5.1 SD/SDIO
2x CAN 2.0 A and B
Execute in place Quad SPI flash controller
5x multi-mode UARTs
2x SPI, 2 I2C
RTC, GPIO
5x watchdog timers
timers

Processor to FPGA Interconnect

2 64-bit AXI4 processor-to-fabric interfaces
3 64-bit AXI4 fabric-to-processor interfaces
1 32-bit APB processor-to-fabric interface

1/2/4 GByte LPDDR4 RAM dedicated to the HMS
1/2/4 GByte LPDDR4 RAM dedicated to the FPGA
32 Mbit NOR Flash
4 – 64 GByte eMMC memory
Clock distribution
default configuration:

Gigabit Ethernet
UART
CAN
SPI
I²C
USB

single 3,3V supply
size 74mmx42mm
2 x Samtec QSH-090-01-F-D-A board-to-board interconnect
Schedule & Availability
The M100PFS are currently under development, first boards are to be expected appr. in Q3/2020
Subscribe to Blog via Email
Join 97,456 other subscribers
Archives