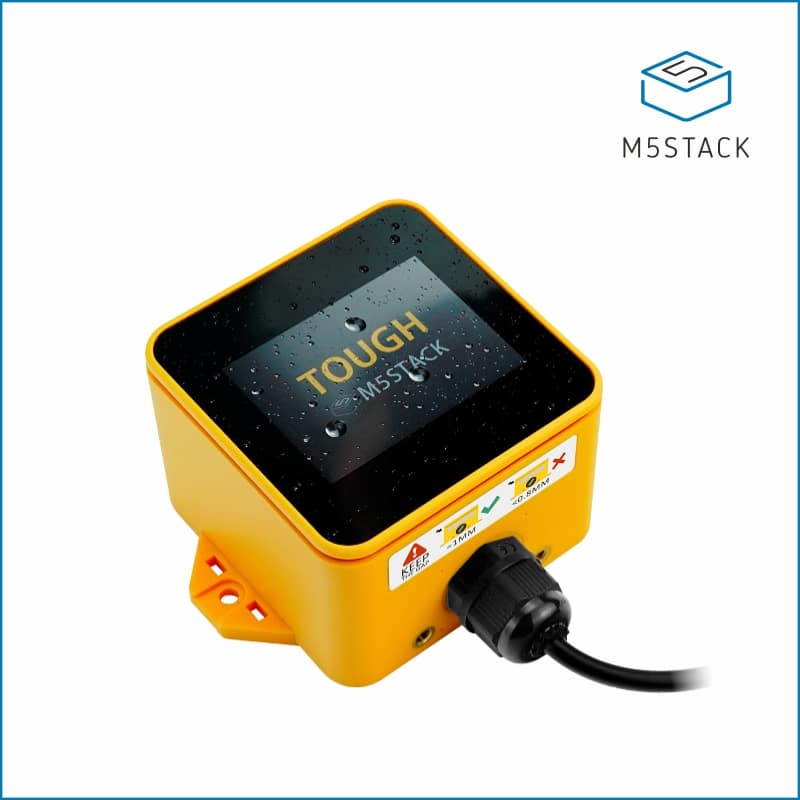 M5Stack Full Coverage ESP32 Embedded Controller with low-power Xtensa® 32-bit LX6 Microcontrollers
M5Stack just expanded its M5 controller series with the introduction of the M5Stack TOUGH. Incorporating ESP32 Wi-Fi & Bluetooth MCU and full coverage, The M5 TOUGH operates at frequencies up to 240 MHz include 8M PSRAM with 16M FLASH memory, Each M5 TOUGH integrates 2 inches LCD capacitive touchscreen that is sensitive to the human touch. The low-power M5 TOUGH is ideal for Industrial control and Smart buildings which require outdoor node data acquisition.
BEST-IN-CLASS UV resistant enclosure design protection: Water-resistant with an o-ring sealing contains Waterproof M12 Connectors can complete against solid objects, dust, sand, dirt. A variety of installations such as Screw/Rolled strip/Magnetic/Adhesive Back.
HIGH INTEGRATION: AXP192 Power management with HY8563 RTC allows M5 TOUGH to provide advanced low power techniques. M5 TOUGH comes with 2 inches LCD capacitive Multi-touch screen,1W/NS4168 I2S speaker, TF card slot. Delicate RF circuit delivers robust and consistent wireless communication.
STRONG EXPANDABILITY: Programable Expansion Board 3x Grove Interface.Effortless access to M5Stack's hardware and software ecosystem: rich sensor extensions. M5 TOUGH is supplied from 12v->5V flexible DC/DC converter with RS485 Converter Circuits.
LOW-CODE DEVELOPMENT: M5 TOUGH supports UIFlow graphical programming platform, scripting-free, cloud push; and fully compatible with Arduino, ESP32-IDF, and other mainstream development platforms. Executing Dual-core processor on FreeRTOS to run multiple tasks for better performance.
Note: Please DO NOT immerse the enclosure in water. There is no protection from immersion.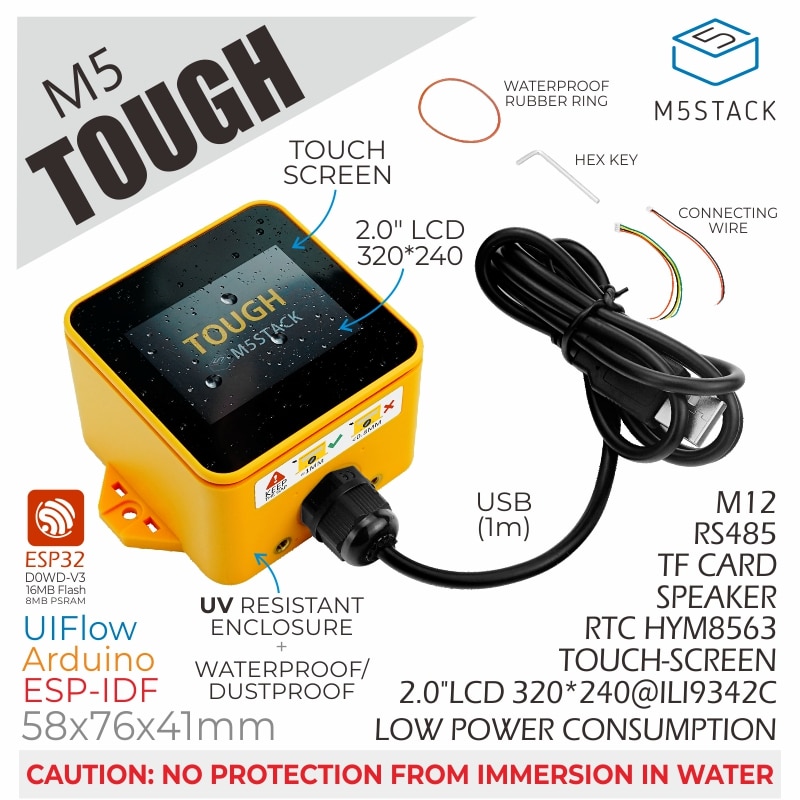 Product Features
ESP32-D0WD-V3
16MB Flash + 8MB PSRAM
Waterproof and Dustproof
UV resistant enclosure design protection
2 inches LCD capacitive Multi-touch screen
Advanced low power techniques: Wake Up with an RTC Alarm Clock
Integrated with 12v->5V flexible DC/DC converter. Flexible power supply
RS485/I2C/GPIO/UART interface
Development platform:Arduino/UIFlow/ESP-IDF
Applications
IoT Controller
Data Acquisition/Touch Screen Terminal
Timing controller
more information: https://m5stack.com
Subscribe to Blog via Email
Join 97,623 other subscribers
Archives