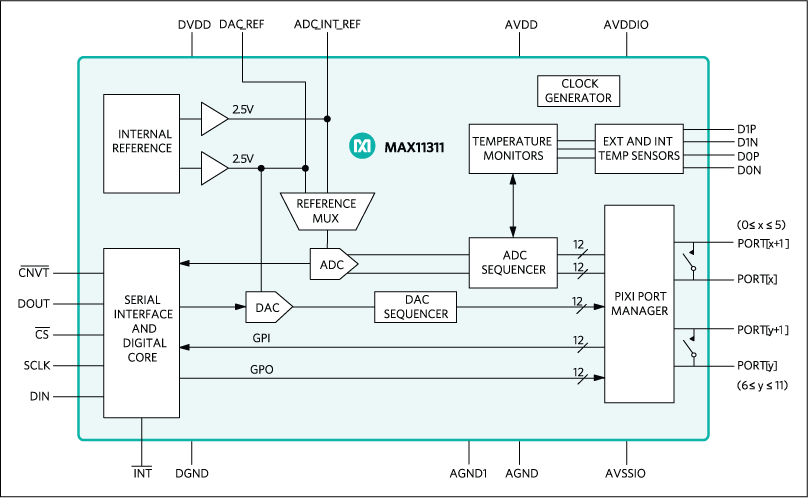 The MAX11311 is industry's first configurable high-voltage mixed-signal I/O that allows user-defined ADC, DAC, or GPIO functionality.
Programming MAX11311 is very easy. A nice GUI tool helps to generate the right register values. If you want to make a universal signal processing board with a good number of I/O, it often gets very difficult to select a correct microcontroller. Finally, when you select one, it either has less I/O than you need or has fair enough number of I/O but burns your pocket. But if you know about MAX11311, then you've got a perfect solution.
Description:
The MAX11311 integrates a PIXI™, a 12-bit analog-to-digital converter (ADC), and a 12-bit digital-to-analog converter (DAC) in a single integrated circuit. This device offers 12 high voltage, bipolar ports. Each of the ports is configurable as an ADC analog input, a DAC analog output, a general-purpose input output (GPIO), or an analog switch terminal. One internal and two external temperature sensors track junction and environmental temperature. This feature prevents thermal runaway. Adjacent pairs of ports are configurable as a logic-level translator for open-drain devices or an analog switch.
Features:
Up to 12 12-Bit ADC Inputs

Single-Ended, Differential, or Pseudo-Differential Range Options: 0 to 2.5V, ±5V, 0 to +10V, -10V to 0V
Programmable sample averaging per ADC port
Unique voltage reference for each ADC PIXI port

Up to 12 12-Bit DAC Outputs

Range options: ±5V, 0 to +10V, -10V to 0V
25mA current drive capability with over-current protection

Up to 12 General-Purpose Digital I/Os (GPIO)

0 to +5V GPI input range
0 to +2.5V GPI programmable threshold range
0 to +10V GPO programmable output range
Logic-Level Shifting Between any two pins

60Ω analog switch between adjacent PIXI Ports
Internal/External temperature sensors with ±1°C Accuracy
Applications:
You can use this chip as an expansion module to MCUs in various applications. Let's see the list:
Base station RF power device bias controllers
Control for optical components
Industrial control and automation
Power supply monitoring
System supervision and control
Universal signal processing
Conclusion:
The MAX11311 adapts perfectly to specific application requirements and allows for easy reconfiguration as the system needs further change. It also reduces BOM (Bill of Materials) cost with fewer external components in a small footprint.
To know more about this awesome chip, refer to the datasheet.
Join 97,426 other subscribers

Archives