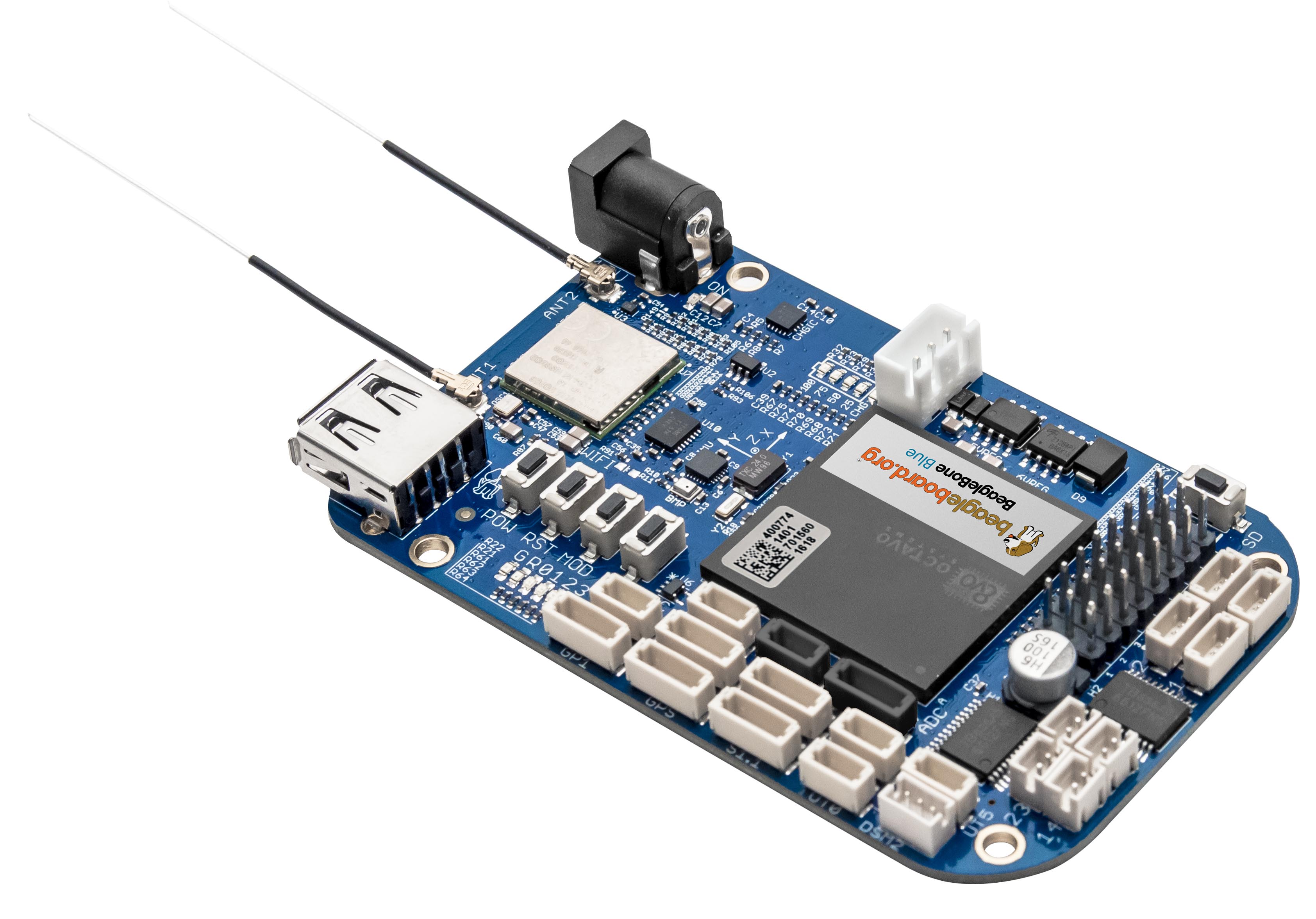 A new development board by BeagleBoard has been just unveiled: BeagleBone® Blue! The new board is dedicated for designers, hobbyists and professional featuring a Linux-enabled robotics controller complete with an extensive set of peripherals for building mobile robots quickly and affordably.
It is easier today to build your robot using BeagleBone Blue since it has onboard 2 cell (2S) LiPo battery management with charger and battery level LEDs, 8 real-time software controlled PWM/PPM outputs for 6V servo motors or electronic-speed-controllers (ESCs), 4 PWM-enabled DC motor drivers, 4 quadrature encoder inputs, on-board sensors including a 9-axis IMU and barometer, a wide array of GPIO and serial protocol connectors including CAN,4 ADC inputs, a PC USB interface, a USB 2.0 host port, a reset button, a power button, two user configurable buttons and eleven user configurable LED indicators.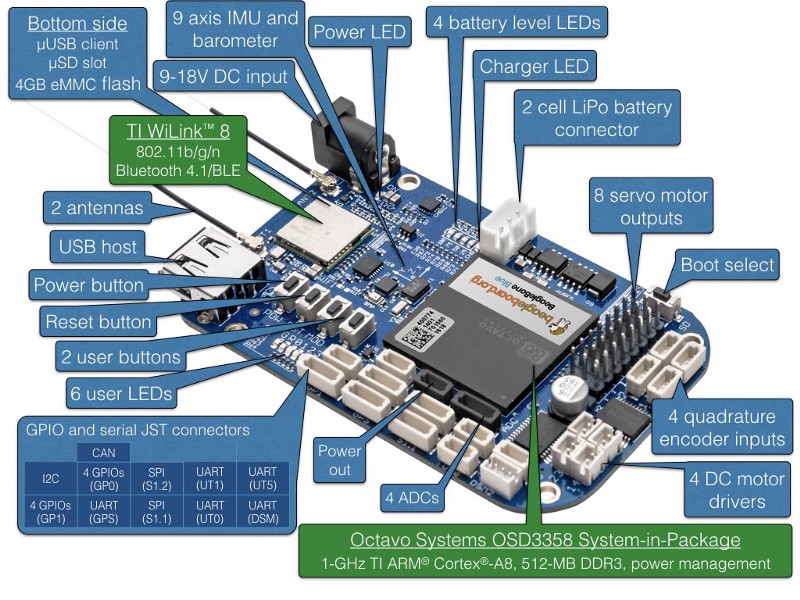 BeagleBone Blue also has a pre-configured Wi-Fi access point that enables the process of connecting a battery and coding through a web browser. The board is compatible with Debian, ROS, and ArduPilot software, in addition to Cloud9 IDE on Node.js and other graphical programming options.
Key Features
Processor: Octavo Systems OSD3358 1GHz ARM® Cortex-A8

512MB DDR3 RAM
2×32-bit 200-MHz programmable real-time units (PRUs)
4GB 8-bit on-board flash storage programmed with Debian Linux distribution

Connectivity and Sensors:

Battery: 2-cell LiPo support with balancing, 9-18V charger input
Wireless: 802.11bgn, Bluetooth 4.1 and BLE
Motor control: 8 6V servo out, 4 DC motor out, 4 quadrature encoder in
Sensors: 9 axis IMU, barometer
Connectivity: HighSpeed USB 2.0 client and host
Other easy connect interfaces: GPS, DSM2 radio, UARTs, SPI, I2C, analog, buttons, LEDs

Software Compatibility

Debian, ROS, Ardupilot, …
Graphical programming, Cloud9 IDE on Node.js
plus much more
Designed and developed in coordination with the UCSD Coordinated Robotics Lab, BeagleBone Blue will the best board to use  for your next robot!
BeagleBone Blue is available today from Arrow, Element14 and Mouser for around $80. For more details, visit https://beagleboard.org/blue.
Subscribe to Blog via Email
Join 97,571 other subscribers
Archives