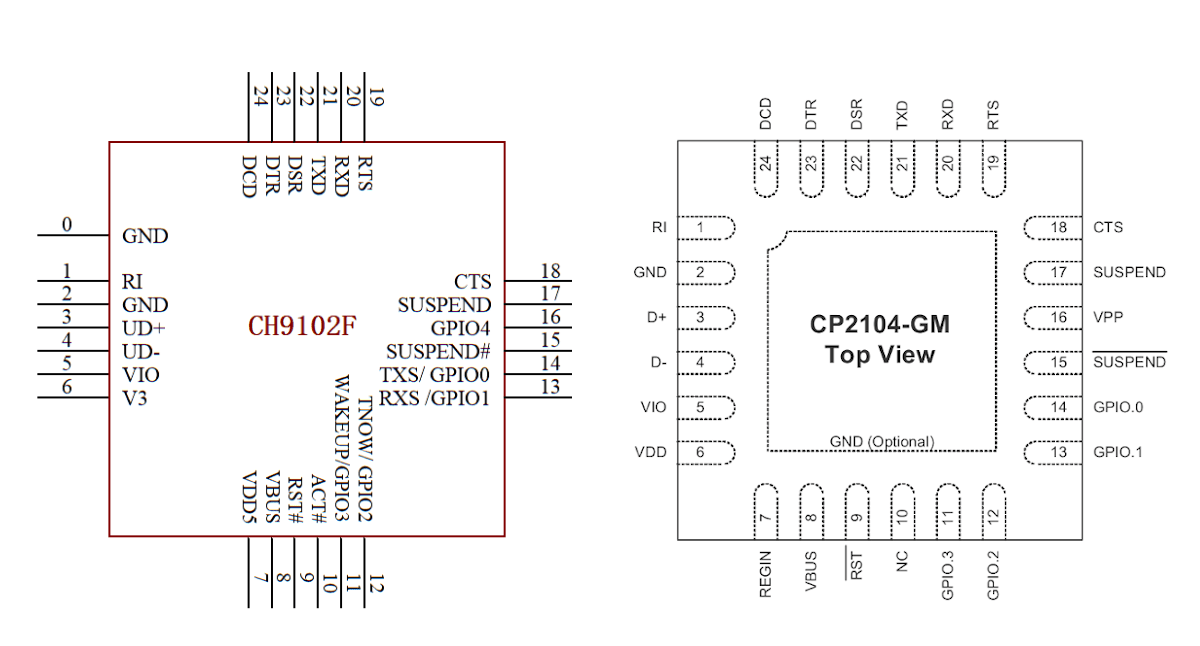 Meet CH9102F, a Low-Cost Alternative to CP2104 USB-to-UART Bridge
As the applications of USB interfaces on computers, MCU boards, devices, and other I/O peripherals increases, there's a parallel increase in demand for cost-effective and high-power USB bus converters for serial and parallel interfaces. CH9102F, a low-cost USB to high-speed serial port chip manufactured by Nanjing Qinheng Microelectronics, is one of such.
The CH9102F is a CH9102 family of USB to single serial port chips that features a full-duplex serial port, transceiver buffer, and a maximum baud rate of 4Mbps. The chip supports an operating voltage of 3.3 – 5V and serial port I/O interface signals of 1.8 – 5V range, as well as support RS232 and RS485 interfaces. The chip is also compatible with modem interface signals: CTS, DSR, RI, DCD, DTR and RTS, defined and controllable by computer/user application which makes it a versatile and flexible chop for professional and DIY projects.
The CH9102F comes as a 4x4mm ultra-small square with 24 pins, supporting 485 direction control, a built-in crystal oscillator, built-in power-on reset, and a USB 2.0 interface. It features an EEPROM, configurable with chip VID, PID and other relevant parameters that can be seen on its datasheet. Going further, when compared to CP2104, apart from lower cost, the CH9102F has 6 GPIO pins while the former has 4 GPIOs with similar pin-outs. For makers, these extra pins make an advantage allowing for more peripheral expansion. This is a big reason it should be a favorite chip to makers, DIY users, and hobbyists alike.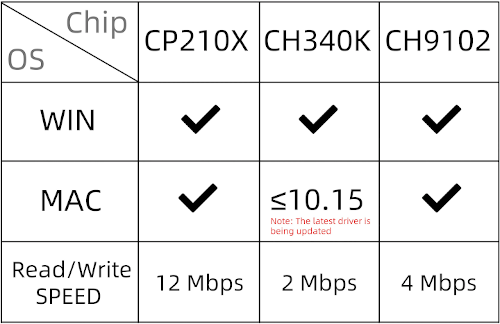 Features and Specifications
The features of the chip gotten from its datasheet are given below:
Power supply: 3.3 – 5V
A full-speed USB device interface, USB 2.0 compatible.
Serial port interface I/O powered independently, supports 5V, 3.3V, 2.5V, 1.8V power supply voltage.
A built-in firmware, which emulates a standard UART interface, is used to upgrade the original serial peripherals or expand additional serial UART via USB.
Its original serial applications are compatible without any modification.
It supports a free-installation operating system built-in CDC driver or multi-functional high-speed VCP manufacturer driver.
It has hardware full-duplex serial UART interface, integrated transmit-receive buffer, supports communication baud rate varies from 50bps to 4Mbps.
It supports 5, 6, 7 or 8 data bits, supports odd, even, blank, mark and no parity.
It supports common MODEM interface signals RTS, DTR, DCD, RI, DSR and CTS.
It supports CTS and RTS hardware automatic flow control.
Supports half-duplex, provides sending status TNOW supports RS485 switch.
Provides further RS232 interface, through external voltage conversion chip.
Built-in power-on reset, built-in clock, no external crystal required.
RoHS compliant QFN24
On the software part, the CH9102F runs on a high-speed virtual COM port (VCP) manufacturer's driver or a free-installed OS built-in communication device class (CDC) driver. It supports CTS/RTS hardware flow control protocol to handle frame collisions during data transfer.
Applications:
To expand the UART interface of the computer and MCU.
To upgrade serial devices: MCUs to the USB bus.
USB to RS485 conversion.
USB to RS232 conversion.
USB to TTL serial port conversion.
CH9102F is available for purchase on 1688 for ¥5.50.
For further information and configurations, download the datasheet.
Join 97,426 other subscribers

Archives