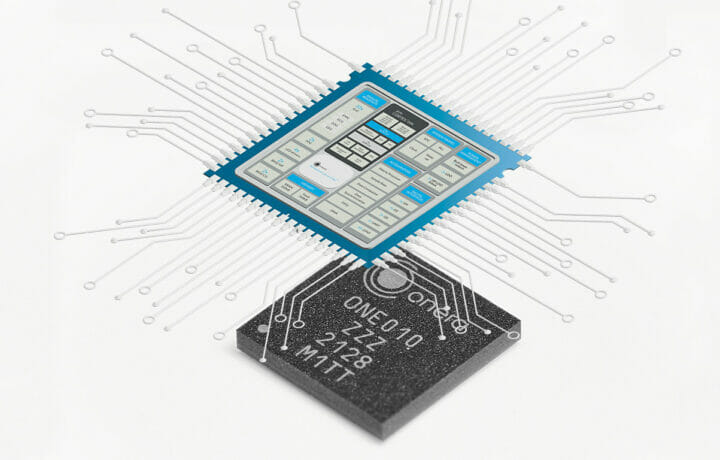 Meet the Biomedical-Lab-On-Chip from Onera; An Ultra-Low-Power Biomedical Sensor Hub
MedTech Company, Onera Technologies in league with IMEC recently announced the launch of its latest product; the Onera Biomedical-Lab-On-Chip – an ultra-low-power biomedical sensor hub, designed to accelerate the development of wearable health devices.
Announced barely two days to the just concluded CES 2022, the biomedical system-on-chip is the first in the class by Onera, following its celebrated sleep diagnostic solutions, and it embeds clinical-grade physiological measurements and analysis systems to revolutionize the development of high-grade miniaturized wearable devices.
Based on Arm Cortex – M4f CPU, the Onera Biomedical-Lab-On-Chip is equipped with a multi-channel sensor readout system along with built-in power management, data processing, and interfacing features. It supports on-chip biomedical sensing and data retrieval with ten readouts for ExG, including EEG, ECG, EMG, EOG, and two readouts for photoplethysmography along with two bioimpedance readouts. The chip also embeds a 320kB SRAM and 768kB flash, along with embedded digital filters and an accelerator block which features a data compactor, sampling block, processor, FIFO, and DMA and synchronization engines all of which facilitate on-chip data processing and support for a broad range of wearable health applications and devices.
Designed for use in wearable devices and applications across the medical health and wellness industry, the Biomedical-Lab-on-Chip features digital interfaces like SPI, I2C, I2S, UART, and GPIOs which aids its integration with other subsystems.
Key features and specifications of the biomedical sensor hub SoC include:
CPU:

Arm Cortex – M4f with DSP, FPU, 3x AHB – Lite, JTAG, supporting ITM trace, Data watchpoint, Nested Vectored Interrupt

Power Input: 0.8V – 3.6V (single supply)
Memory: 320 kB SRAM
Storage: 768 kB flash
Analog Readouts: 

10x ExG including EMG, ECG, EOG, and EEG; 2x PPG – photoplethysmography, 4x LED drivers, 2x Bioz MF, 2x Bioz CG

Digital Interfaces:

4x SPI, 4x I2C, 2x I2S, 2x UART, 48x GPIO

Accelerators:

Matrix processor, Sample rate, Data compactor, DAT synchronization, FIFO, DMA

Misc:

System timing, Power management: 2x HP LDO @ 50mA, 2x LDO and Buck -boosters (7x outputs)
Onera plans to make the Biomedical-Lab-on-Chip available for commercial use to all and sundry and while there is no clear distribution/price information yet, it is said to be in the works and should hit the shelves soon.
More information on the Biomedical Sensor Hub SOC and other giant strides by Onera can be found on Onera's website.
Join 97,426 other subscribers

Archives