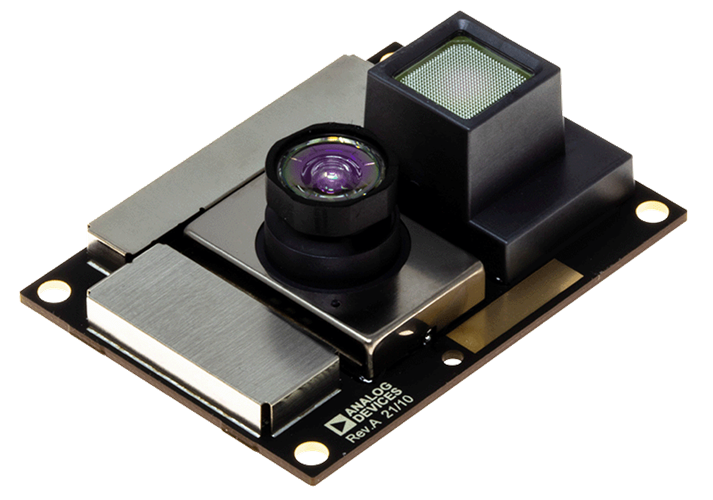 Meet the First High-Resolution Module for 3D Depth Sensing and Vision Systems
Analog Devices has unveiled a robust high resolution, indirect Time-of-Flight (iToF) module for 3D depth sensing and vision systems — the first ever in the industry.
"Machine vision needs to make the leap to perceiving smaller, more subtle objects faster in industrial environments that often include harsh conditions and multiple stimuli," said Tony Zarola, the company's senior director for ToF. "The ADTF3175's unmatched resolution and accuracy allows vision and sensing systems – including industrial robots – to take on more precision-oriented tasks by enabling them to better understand the space they're operating in and ultimately improve productivity. Bringing this to market helps bridge a major gap and accelerates deployment of the next generation of automation solutions and critical logistics systems."
The module is designed to help accelerate time to market with its scalable, fully engineered and calibrated depth system that can be integrated into 3D sensing and vision systems. This means that there would not be any need to design specialized optics or deal with challenges that come with electromechanical integration. The module can also do well in a range of environmental settings. It leverages Lumentum Operations' VCSEL (vertical-cavity surface-emitting laser) technology to enable sensing in a wide range of lighting conditions. It also comes pre-programmed with operating modes that cover both long and short ranges.
Key Features and Specifications Include: 
1024 × 1024 ToF imager with 3.5 μm × 3.5 μm pixels
75 × 75 degrees FOV
Imager lens subassembly with 940nm optical band-pass filter
Illumination subassembly with eye safety support
4-lane MIPI CSI-2 Tx interface (1.5 Gbps per lane)
4-wire SPI and 2-wire I2C serial interfaces for programming and operation control
NVM (Flash) for module boot-up sequence
Power regulators for local imager and illumination rails
Calibrated modes at 1024 × 1024 and 512 × 512 resolutions
0.4m to 4m depth range
± 3 mm depth accuracy
Dimensions: 42mm x 31mm x 15.1mm
The high-resolution module is suitable for machine learning applications ranging from industrial automation to logistics, healthcare and augmented reality. It offers a highly accurate +/-3mm iToF technology, enabling cameras and sensors to perceive 3D space in one megapixel resolution. Markets and Technology where it can be used include:
Design of industrial robots
Home theatre and gaming
Building safety and security solutions
Electronic test and measurement
Precision measurements
Disease management and wellness
Life science and medical instrumentation
Activity tracking and fall detection, etc.
The ADTF3175 module will be sold at $197 for 1000 units. Coming along with it is an open-source reference design for implementing the full system as well as access to the company's sophisticated depth processing capabilities. Other useful details on the module can be found on the company's website.