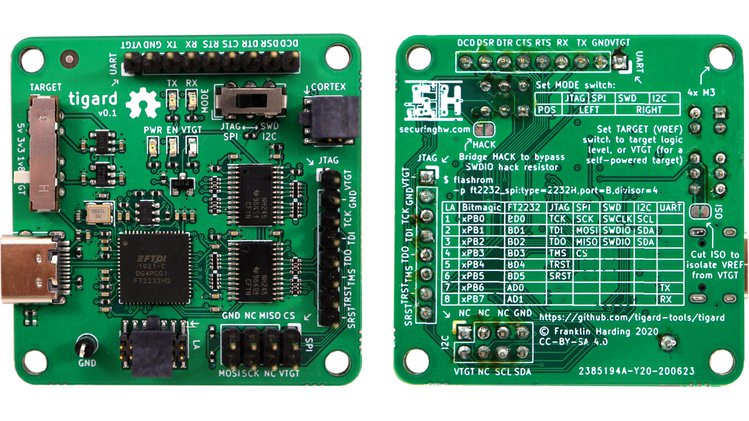 Meet the Tigard Board; A new FT2232H-Based USB Serial Adapter/Debuggers
SecurityHardware.com is set to take FT2232H-based USB Serial Adapters and Debuggers to the Next Level. The Portland-based company will soon be launching a Crowdfunding campaign for its latest design, an open-source FTDI FT223H-based multi-protocol, multi-voltage hardware hacking device called Tigard.
Tigard is a one-stop board for developers looking for something a little more than the average USB-UART debugging tool. Speaking on the idea behind the product, the team behind Tigard said
"There are plenty of -232H series breakout boards, but they are generally designed to be an easy way to adapt it to a specific use, and not designed for regularly plugging into all different target systems. The two exceptions are the Exodus Intelligence Hardware Interface Board which is not open hardware or commercially available, and TIMEP which is the origin and heritage of this project."
the company writes.
Tigard features a rich set of features that places it above and beyond a simple serial adapter. It incorporates commonly used pinouts, logic analyzer connection, onboard level-shifting, and labeled wiring harness, specifically for "attaching to and communicating with low-speed interfaces on reverse-engineered hardware targets."
The board comes with a USB Type-C connector and is made available under the permissive Creative Commons Attribution-ShareAlike 4.0 license.
A look at some of its hardware features:
Dual serial interfaces; one completely dedicated to UART, with access to flow control signals and the other shared among dedicated headers for SPI, JTAG, I²C and SWD.
Bi-directional level shifters for operations between 1.8 – 5.5V
Power supplier switchable between on-board 1.8, 3.3 and 5.0 V and off-board vTarget supplies
Switch to choose between I²C/SWD and SPI/JTAG operations,
Logic analyzer port to quickly access the device-level signals, and,
Some indicator lights to help in the debugging process
What's more? Its high compatibility with a number of tools and libraries that already support FTDI's X232H family-like PySpiFlash, USB-serial drivers, UrJTAG, PyFtdi, OpenOCD, Flashrom, PyI2CFlash, and LibMPSSE. This suggests that the board can be used as a simple serial console, a JTAG debugger, an SPI flash chip dumper or an OLED display driver and analyzer.
More details on Tigard can be found on Crowd Supply. The board is yet to be launched on the Crowdfunding page but you can sign up for updates and notifications when the campaign finally goes live.
The project is open source and all hardware design files, documentation and usage are available on the project's GitHub repository.
Join 97,426 other subscribers

Archives