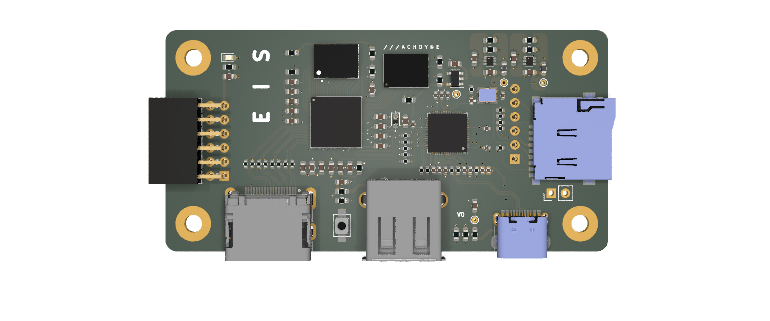 Meet the upcoming FPGA-Based Eis Board from Machdyne
Machdyne is an American technology company focused on developing small general-purpose computers, modules, and tools optimized for timeless applications. The company recently unveiled a small FPGA-based board named Eis, which they have been working on for a while now and plan to make available to the public soon.
"Eis is an FPGA-based computer board designed for timeless applications,"
says the company.
Eis is powered by the Lattice ICE40HX4K FPGA. The Lattice ICE40HX4K FPGA is an ultra-low power, non-volatile FPGA fabricated on an advanced 40nm CMOS low power process and with flexible logic architecture, embedded and distributed memory, programmable low swing differential I/Os, up to 2 analog PLLs (Phased Locked Loops) and 7680 LUTs (Look-Up Tables).
The board also comes with the high-performance low-cost RP2040 MCU, Raspberry Pi's debut microcontroller with large on-chip memory, a rich peripheral set augmented with a unique Programmable I/O subsystem, and a polished micropython port. There are also other features embedded inside the FPGA-based board including one Digilent Pmod compatible expansion port, one MMOD socket, one microSD card slot, and one DDMI port with support for DVI output over HDMI cable.
The board is actually smaller than a credit card, measuring 80 mm by 40 mm. It shares similar features with one of Machdyne's other products named Riegel. "Eis is a slightly smaller reimagining of Riegel," the company also said, comparing the two boards. One notable difference between the two, however, is that:
"Eis has a USB keyboard port and DVI over HDMI video output instead of PS/2 and VGA."
Board Specifications for the Eis Computer Include:
Lattice ICE40HX4K FPGA

Logic Cells (LUT + Flip-Flop): 3520
RAM4K Memory Blocks: 20
RAM4K RAM bits: 80K
Phase-Locked Loops (PLLs): 2
Max Programmable I/O pins: 95
Max Differential Input Pairs: 12
High Current LED Drivers: 0

RP2040 microcontroller (dual 32-bit ARM Cortex M0+) with:

USB-C for power and programming
USB host port for keyboard
8Mbit QSPI NOR flash for firmware

32MB OSPI PSRAM
1MB NOR Flash
512MB of Static RAM
1x microSD card slot
1x MMOD slot
1x Digilent Pmod compatible port
1x Differential Data Multiple Interface port which supports DVI over HDMI video output
Dimensions: 80 mm x 40 mm (Smaller than a credit card)
Not many details were released about the board and there is no word yet on how much it will cost or when it is going to be available for purchase but the product page has other useful information including datasheets for the iCE40 family of FPGAs, the PSRAM, and the SRAM.
Join 97,426 other subscribers

Archives