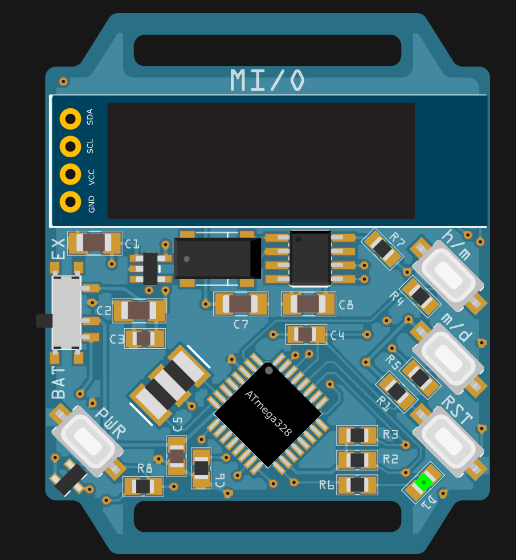 MI/O- ATmega328 Based Smart Watch By Markus Bindhammer
Wristwatches are an integral part of our dressing, and also help us plan our day to day activities, making sure we don't miss meetings, gym, exams, parties etc. These days, a good looking watch speaks volumes about the wearer, because it's one of the most noticeable accessories a person wears. We have seen smartwatches taking over the conventional analog watches gradually, due to a host of features smartwatches offer. To this end, Markus Bindhammer has committed to the design and production of his own, slimmed-down "smartwatch" called the MI/O, which looks quite different from conventional smart watches. We can visibly see the components it is made of. It features a Microchip ATmega328 MCU at its core, with its primary aim at functionality rather than fashion.
The MI/O functions by powering down the OLED display and ATmega, rather than dropping the controller into a low-power mode. Unlike other watch designs where the microcontroller is put into sleep mode, MI/O completely switches off everything except the RTC when the watch is not in use. This method of power control is remarkable, and effective, because there is a high level of difference between the lowest of power modes, and actual shutdown in almost entire MCU, so utilizing an external low-power mode of arranging things is ideal. When you turn the MI/O over, you find some extra functionality that enables you to input your own feature sets, with the MI/O acting as the core for any creations you have in mind.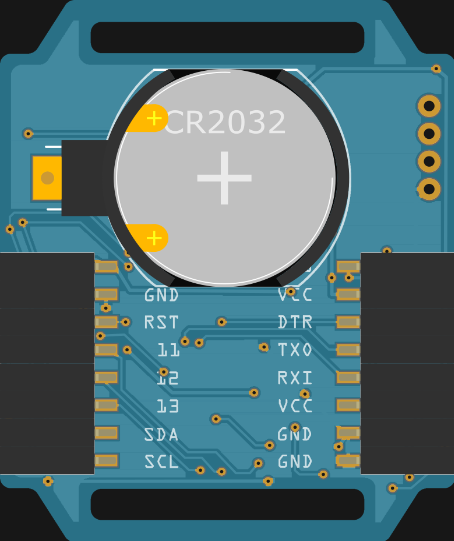 When you look at the rear of the MI/O, it features an array of connectivity, which includes GPIO, I2C, SPI, and the UART of the ATmega can be found on the headers that are visible from the middle of the boards back face. In one of Bindhammer's demonstration, we see him showing a wing which enables MI/O to be powered externally by a Micro USB connection and a reading light extension. These days, watches are fitted with WiFi, cameras, social media features, and health apps. However, MI/O is built for basic functions.
Bindhammer says:
"The watch itself is finished as far as the hardware is concerned and is in pre-production. However, there is still some work to be done on the software side. In the future I would like to develop more add-ons for MI/O."  About sales, Bindhammer says "I am planning an Indiegogo campaign with MI/O. I've teamed up with makerfabs. They will assemble the wristwatch (100 pieces for now). Meanwhile I designed the packaging, a folding box 94 x 94 x 14 mm, 4-color print, glossy look, printed in Germany."
For now, there are no sources from Bindhammer, but you can find more information on his project page.